Opening
Thursday, 30 April, 6-8pm

Opening hours
Wed-Fri 1-5pm, Sat 12-3pm

Talk with Ruth Brolly and Declan Hill (FAB)

Thursday, 07 May, 5-6pm
Free and everyone welcome
5 arterial routes & 1000 commercial signs
Part of the Cathedral Quarter Arts Festival
Ruth Brolly
Ends 09 May 2015
On Belfast's culturally rich arterial routes, pivoting around an increasingly postmodern city centre, the image of place is created through a combination of buildings, signage, green and vacant spaces. Commercial signs can be the most obvious indicator of socio-economic conditions of people living in neighbourhoods in and around these arterial routes. The level and impact of economic decline, as a result of these routes sometimes being cut off from the central business district, through the creation of major carriageways and other physical barriers in the geography of the city, may be observed in the appearance of commercial signs.
These signs surround us in our city streets, everywhere we look we can see their words, materials and colour on buildings, telling us where we can purchase goods or services. We are so used to seeing them we rarely give them much thought, yet what would our streets be like without them? On red brick Victorian terraces in Belfast, once homes and not businesses, the words on signs tell us what is sold, they speak when doorways and windows are mute. Signs interpret the built environment for us much in the same way as captions on pictures tell us what is happening within the photographic image. Wherever we go in the world signs on shops give us information about the sort of place we are in. Even when we cannot read the language on signs the letterforms, colour and materials can give us visual clues on our whereabouts. The condition of signs can even be an indicator of whether a place is safe or not.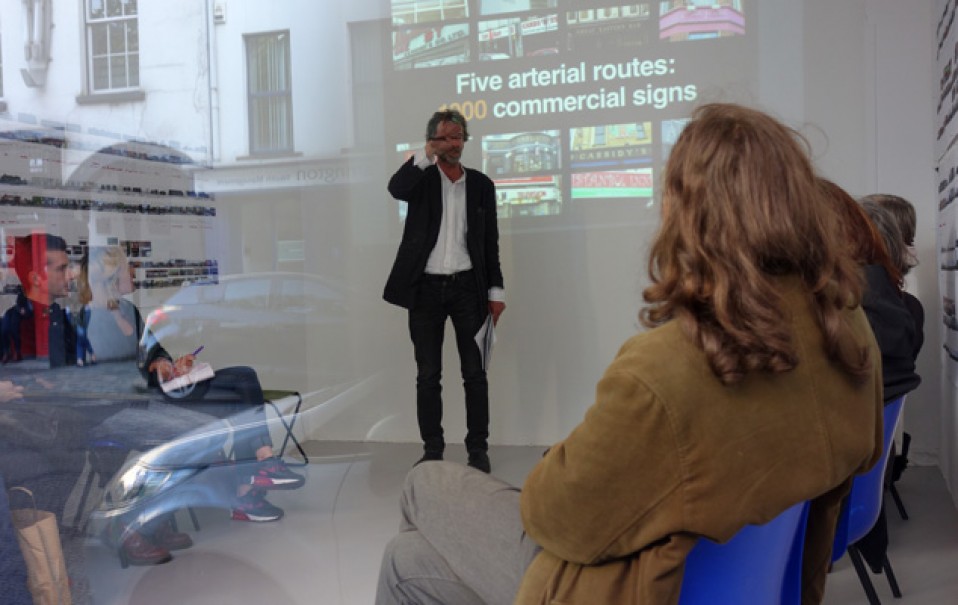 Declan Hill: talk, 07 May 2015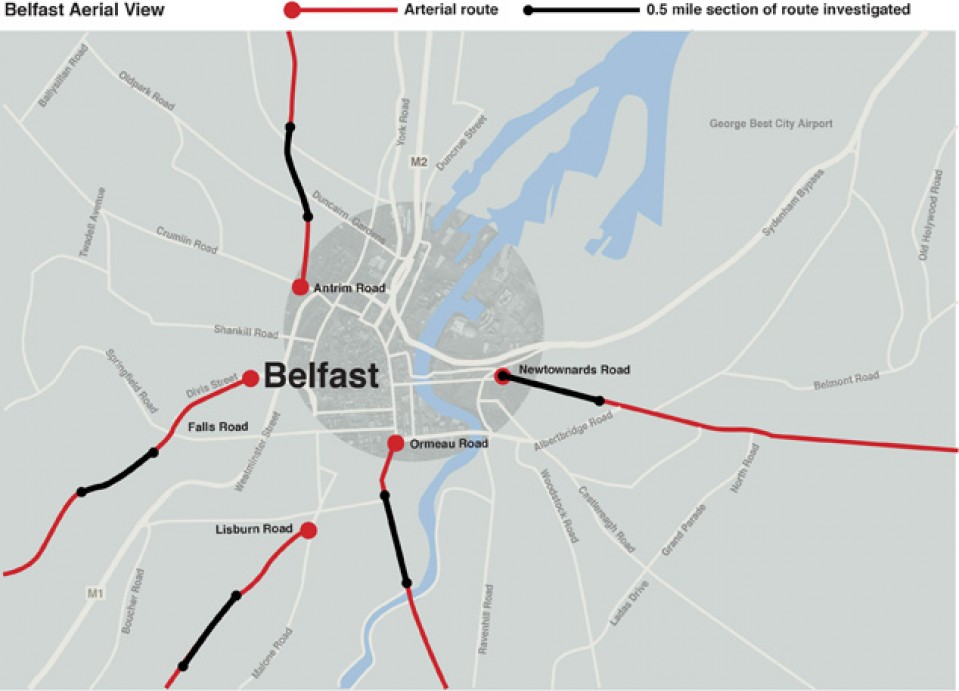 Businesses choose letterforms to reflect the character or goods and services sold. Solicitors offices, for example, might commonly choose an uppercase font to reflect the seriousness of the business, whereas hairdressers might commonly choose an ornate script and the colour pink to enhance the idea of femininity and beauty. Chinese restaurants regularly use red, yellow and white in their signs, colours culturally associated with luck and wealth. Whatever the business the character of letterforms and colours on signs may provide additional information on the type of goods or services it provides.

Only fairly recently have researchers worldwide become interested in the value of local commercial signs as cultural artefacts unique to place. With weathered, broken or faded signs being increasingly replaced, often in the interests of urban renewal and to bolster ailing economies, its worth considering how replacing 'old' with 'new' signs might affect local character, as colours letterforms and materials used on the signs may change.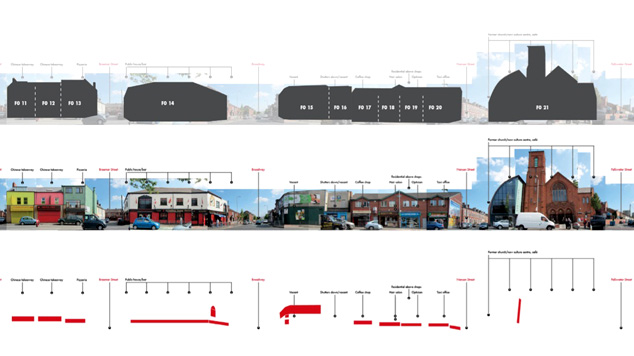 5 arterial routes & 1000 commercial signs examines buildings and commercial signs on five arterial routes of Belfast, the Antrim, Falls, Lisburn, Newtownards and Ormeau Roads, to show how commercial signs help to create the image of each of these places.
A photographic archive captures the buildings and signs as a snapshot in time in a city that is constantly changing.

A discussion session on 07 May with Ruth Brolly and Declan Hill from Forum for Alternative Belfast, FAB, will illuminate on the above themes and of the value of Belfast signage as a cultural artefact.

Talk, 07 May 2015
Ruth Brolly is graphic designer who has worked in industry for over twenty years. Currently she is a researcher and part-time lecturer at Ulster University, Belfast, within the Faculty of Art, Design and the built environment. Her research for the university has embraced an interdisciplinary approach informed by design, graphic design, typography and architectural theories. She has recently completed her PhD, the thesis of which examined the interface between signage and buildings, their role in creating the image of the built environment of arterial routes of Belfast.

Declan Hill is an architect and director in the Forum. He is a former associate in charge of housing in Todd Architects where he had worked since 1998, having won a number of national awards for housing. Previously Declan worked for six years in Hamburg, Dresden and Berlin where he completed a number of large housing and office projects.

The Process
A map was created of Belfast showing the location of the arterial routes in relation to the city-centre. Left and right hand sides of each route were determined according to orientation towards the city-centre.
For each route, start and end points established for the 0.5 mile (0.8km) section were marked by properties to the left and right hand side of the start and end points.
One side of the road was walked along the footpath from the start to end point and photographs of buildings on the other side were taken, to capture elevations. This process was repeated, taking photographs from the other side of the road. The result was a set of elevation images of buildings on each side of the route.
Each photograph was taken 12 paces apart, hundreds of photographs were obtained on each of the 0.5 mile route sections. Images were photographed at similar times of day, during business hours. Photographic images were adjusted digitally, to reduce the size to a scale suitable for analysis in a studio setting. No other changes were made to images. Photographic compilations generated front elevations of each side
of the route as a continuous photographic montage.
The photo-montages measure, on average, three metres, 10 feet/9in, 118 inches or 299.72cm. As the scale of the environment was 0.5 miles, 804.67 metres this makes the scale of the final set of images/model for analysis, approximately 0.37% or 1:268.
As footpaths were used to take the photographs, wider roads affected the size of final images – there was a greater distance between the camera and buildings.
The photographic images were analysed according to a rich set of criteria on qualities of the built environment and signage. From left to right of each route buildings were assigned numbers, from one to whatever number designated the last building on the route section. So from left to right, from the beginning of the route to the end, on the side of the road headed into Belfast, 'Belfast in' the first numbered building is BI1, On the opposite side, the way out of Belfast, 'Belfast out', the first building is numbered BO1. For the Antrim Road this translates to AI and AO.
Although the route length, 0.5 miles (0.8km), was the same for each route examined, the number of buildings on each route varied.
Signs were plotted against the background of the photo-montages. They were drawn as red boxes on top of the photographs to indicate position and then moved beneath the photo-montages on a separate line to highlight the location, size and densities of signs on each route.
Footprints of buildings on routes were marked beneath the photo-montages. The basic footprint was taken to be the width of a red brick Victorian terraced house, the most common architectural denominator on arterial routes.
Signs are extracted at the bottom of the panel for each route.

Qualities of the built environment observed were:
Building materials
Treatment of facades/painted frontages
Usage of buildings on route/business/residential or mixed
Proportion of buildings with signage
Location of signage/density of signage
Side of road with greater density of commercial premises and signage 'Footprints' of buildings
Number of storeys/one, two, three or more high
Colour palettes for buildings and signage on route
Types of commercial premises on route/goods or services provided
Number of junctions/other roads feeding into the arterial route
Car parking on route
Architectural modifications for commercial purposes such as bay windows removed
Number of vacant buildings

Qualities of signs observed were:
Language
Letterform
Colours
Materials
Maintenance (condition of signs)

For each of the routes findings differ significantly.

This project is part of the Cathedral Quarter Arts Festival