Opening hours
Mon- Sat 3-5pm
A Malin Head to Mizen Head Approach
Susan Lynch
Ends 26 May 2012
Between the Belfast Marathon (a few weeks ago) and the Olympic Torch Relay (passing Donegall Street in early June), it seems appropriate to host a project about, no, not running, but walking in PS².
A subject not so unusual in contemporary art, with Richard Long and Hamish Fulton as two prominent artists whose work centres around the activity of walking. An outside activity within an urban but mostly rural environment, which could be loosely linked to the tradition of landscape painting in the 18th and 19th century.
'A walk can exist like an invisible object in a complex world' writes Fulton. Art in his understanding is not about the production of an object at all: the intentional activity itself is a form of creative expression. Yet, like Richard Long and his stone circles, Fulton produces photographs and texts to communicate his thinking and experience.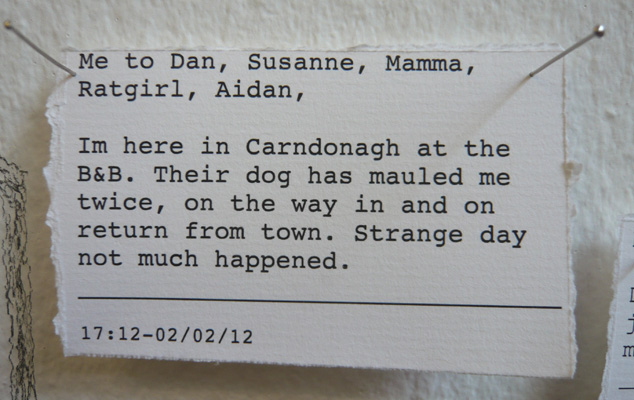 Installation view
In February and March 2012, Belfast based artist Susan Lynch, walked from Malin Head, Co. Donegal to Mizen Head, Co. Cork over the course of a month. The walks were undertaken with her ambition to create an opening for encounter, connecting with people, context and site while passing through and sharing the experience with a wider audience by blogging, sms and through the media. No archaic mud- or stone circles here or contemplated imagery, but everyday communication means.
This installation uses visual media to reflect and translate different aspects of the work from the physical experiential nature of the walking and places to the visceral relationships developed during the process. An installation which uses light as a medium to convey feelings of home coming, shelter, rest and the structure of a tower as a distant object of the destination. Within these silent markers, the text messages, printed out and pinned to the wall, function as lifelines of support, connections and voices in the isolation of the walker.
This is the third of Lynch's long-distance walks, having walked from Belfast to Newry and Belfast to Galway in 2011.
Her interest in encounter and public art practices have developed over the last two years on the MA course 'Art in Public' at the University of Ulster.
To read her project blog see