Opening
Thursday, 09 November 2017, 6-9pm

Opening hours
Wed- Fri, 1-5pm, Sat 12-4pm
Friday 10 November, Queer at Queens symposium: with Amber Hawk Swanson, for tickets.
Saturday 11 November, 1 pm, PS²: Talk by Amber Hawk Swanson at 1pm. Free and all welcome
AMBER HAWK SWANSON
Curated by Clare Gormley. Part of Outburst Queer Arts Festival
Amber Hawk Swanson
Ends 02 December 2017
This is the first UK solo exhibition by New York based artist Amber Hawk Swanson, whose performative video, photographic and sculptural works draw on her experiences as a long-time member of the silicone sex doll community.

Cataloging her relationship with 'Amber Doll'—a sex doll made in her likeness who became her artistic and romantic companion for five years—as well as her engagements with "doll husbands"—men who for various reasons have formed intimate relationships with dolls—Hawk Swanson's work confounds and dislocates itself from the misconceptions and stigma that tend to surround our society's singular understanding of sex dolls and those who use them. Her work complicates our reading of both the human subjects and doll objects it portrays by exposing them as situated within complex narratives of queer desire, transgender fantasy and feminist politics, with the doll body ultimately revealed as a performative vessel through which fixed notions of gender, sexuality and identity are critiqued or destabilised.
This exhibition foregrounds two particular bodies of work from Hawk Swanson's wider exploration of the sex doll as subject over the past eleven years: a selection of works from Amber Doll Project (2006-present), which focus on Hawk Swanson's relationship with her silicon replica; and a project called Doll Closet (2014) which was produced in collaboration with doll owner "Jesse" and centres around conversations about the closet as a space of queer secrecy and the anonymity of doll ownership. In these bodies of work, the doll is revealed as a surrogate for queer desires: a means of both self-expression and self-transformation.

Amber will give a talk on her work at 1pm on Saturday 11 November at PS². Free and all welcome.
She will also be presenting at the Queer at Queens symposium, 'Queer Sex? Now?' on Friday 10 November.
To register for free visit.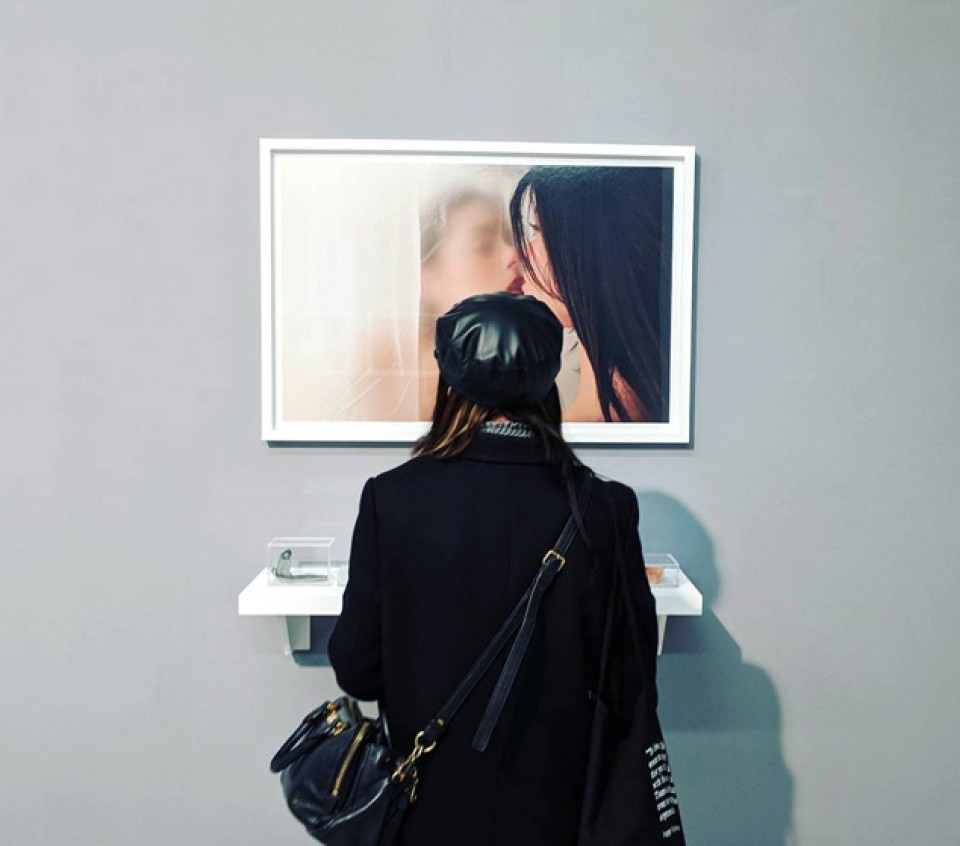 For more information about the Outburst Queer Arts Festival see.
-------------------------------------------------------------------------------------------------------------------------------
Amber Hawk Swanson (b. 1980, Davenport, Iowa) is a video and performance artist living and working in Brooklyn, New York. Recent exhibitions and screenings include Palais de Tokyo (Paris), Momenta Art (Brooklyn), and Locust Projects (solo, Miami). Recent residencies include SPECULATION (New York, NY); Workspace (New York, NY); Atlantic Center for the Arts (Florida, curated by Coco Fusco), and Elizabeth Foundation for the Arts (NYC). Hawk Swanson holds an MFA from the School of the Art Institute of Chicago (Studio Arts, 2006). She currently teaches in the Sculpture Departments of Rhode Island School of Design and Virginia Commonwealth University, USA.
Clare Gormley is Assistant Curator at the MAC, Belfast and is also an independent curator, researcher and writer. She is a graduate of the Glasgow School of Art (BA), The Courtauld Institute of Art (MA) and is an alumnus of the Independent Curators International 'Curatorial Intensive' programme. Previously, Clare was Co-Director of Catalyst Arts (2016-17). From 2015-16 Clare worked for Tate as a writer and research project assistant on 'Performance at Tate: Into the Space of Art' and organised Tate's major international conference, 'The Place of Performance in the Museum'. From 2011-2014 Clare was Gallery Manager at Pangolin London sculpture gallery, where she delivered a wide-ranging exhibition programme of modern and contemporary art.
This is the second project Clare Gormley curated for PS², following her first project We speak silent, 2017.