Starts - Monday 3 July 2023



Ends - Friday 30th July 2023


Opening times will vary over the residency
week 1 (3rd - 8th July):
Online content - see Instagram/Facebook/Twitter and more details below on Rachels' blogspot.


week 2 (10th - 15th July):
Closed to public but with online content (Rachel will be working onsite from 11th - 13th)


week 3 (17th - 22nd July):
Closed to public but with online content


week 4 (24th - 29th):
In person and Online content - On Thursday 27, you are invited to drop by to an all-day performative drawing event by Rachel in the project space.


Artist parents/artist carers residency
Selected artist: Rachel Macmanus
Rachel Macmanus
Ends 30 July 2023
We're excited to announce that the artist selected for the PS2 artist parent/carer residency is Rachel Macmanus.

Rachel works through drawing and performance around themes of physical and mental endurance. During the residency, she will develop a new body of work which focuses on the many repetitive movements that carers make on a daily basis whilst managing the needs of whom they care for. She will also explore the idea of cathartic expressive movement for the carer through performance.
Rachel will document her residency experience and process through a series of blog posts – hosted both on our website and hers – as well as sharing imagery of the developing work.
Image credit:
Rachel Macmanus: Nobody Home. Part of Ad Spatium, The Musikhuset, Gävle, Sweden. 12 February 2022. Photos courtesy of Paula Boyle.
week 1 (3rd - 8th July)
Check out Rachel's first blogspot
"I am embarking in my residency with PS2 this week. I've been going about my days thinking, plotting, planning. I've been thinking about the stuff I do each day with slightly more subjectivity. I go around as standard in a frenzied trot all day doing stuff, making lists in copy books and backs of envelopes.
I have been writing down thoughts. My initial proposal was to explore this idea of carer/artist. I think it's interesting to think about what actions, meanings or preconceptions that people connote with the word carer.
Like, a caring person.
Someone who cares. (Click the link for more)"
image "Red lines, Dying daisies" By Rachel Macmanus from the blogspot.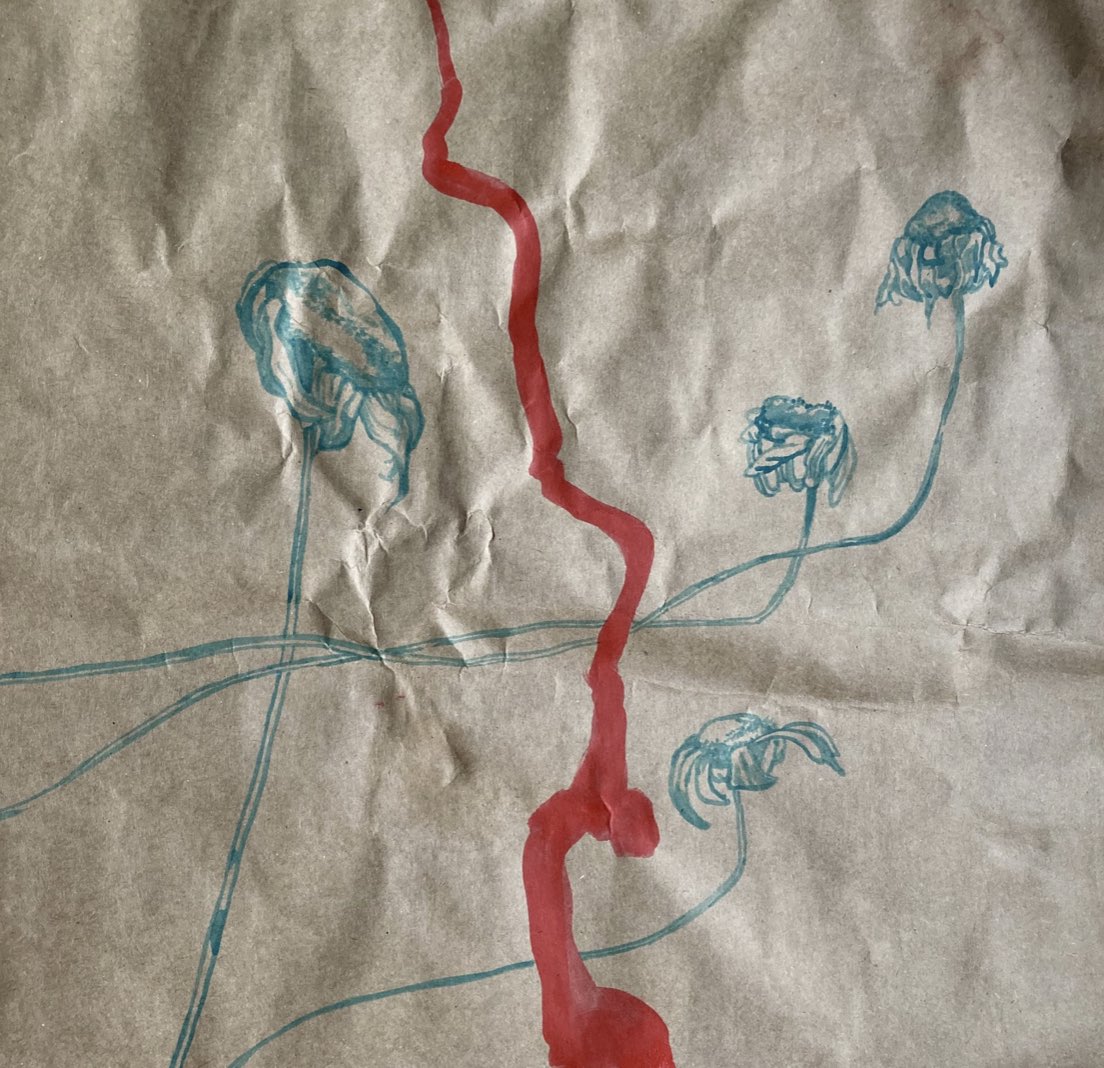 For the next part of the week 1 blogspot click here
"I am just laughing at the blog title, it sounds like quite the easy read :) which begs the question, should I try harder to create catchy titles? I struggle with titles- I go with ones that do what they say on the tin rather than obtuse phrases hinting at the contents.. I tried being pedantic with this title but maybe I will add a few words at the end to make it more interesting. Anyhow, that is another conversation about the utter inaccessibility of highbrow art speak that I read in reviews and journals, which can be for another day..."
Week 2 (10th - 15th July)
For week 2 blogspot click here
"Week 2 PS2 Residency
arrived up to Belfast today, Tuesday 11 July, grey skies and rain, I felt right at at home :)
PS2 is right smack bang in the middle of the city, not hard to find- google maps and my cautious knowledge of the city from previous visits got me there.
Had gotten no work on the residency done yesterday or at the weekend really, so was itching to get going. Given the total openness of this residency I was able to mould it in whatever way I wanted for it to work for me. So I could have used the time completely at home and not come up to Belfast, but I wanted the connection and experience of at least one trip. Otherwise where's the magic? So I am here until Thursday morning and then back at the end of July."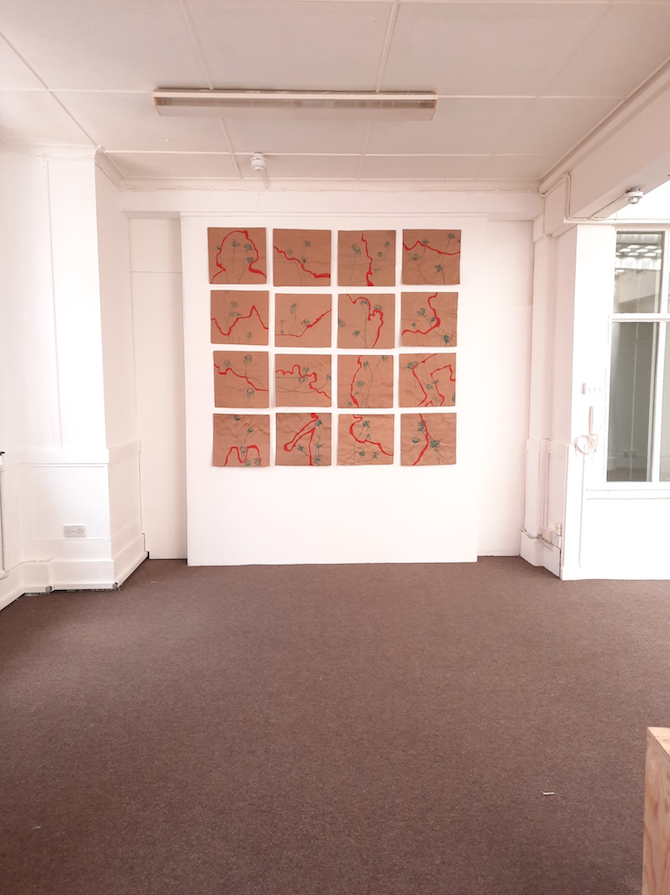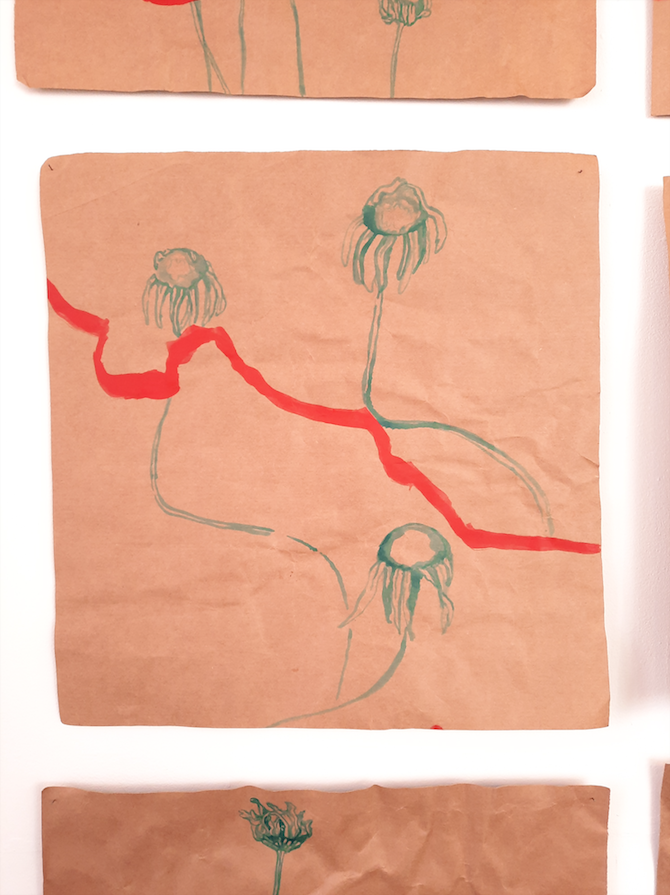 Week 3 : (17th - 21st July)
For week 3 blogspot click here
"I was experiencing a low level anxious hum in my centre of bodily gravity yesterday, over the pressure to produce. I find the days go by in a kind of moving escalator of activity, trying to tick off the to-do list and deal with the daily extras that crop up unanticipated. Finding time and space to be centred and to consider things objectively is not something I always manage. I can't get access to a studio this week to make more movement studies either so I'd started flinging ideas around in my head, in order to meet this production level I'd set myself. And that fact is important, this pressure to produce is entirely self inflicted..."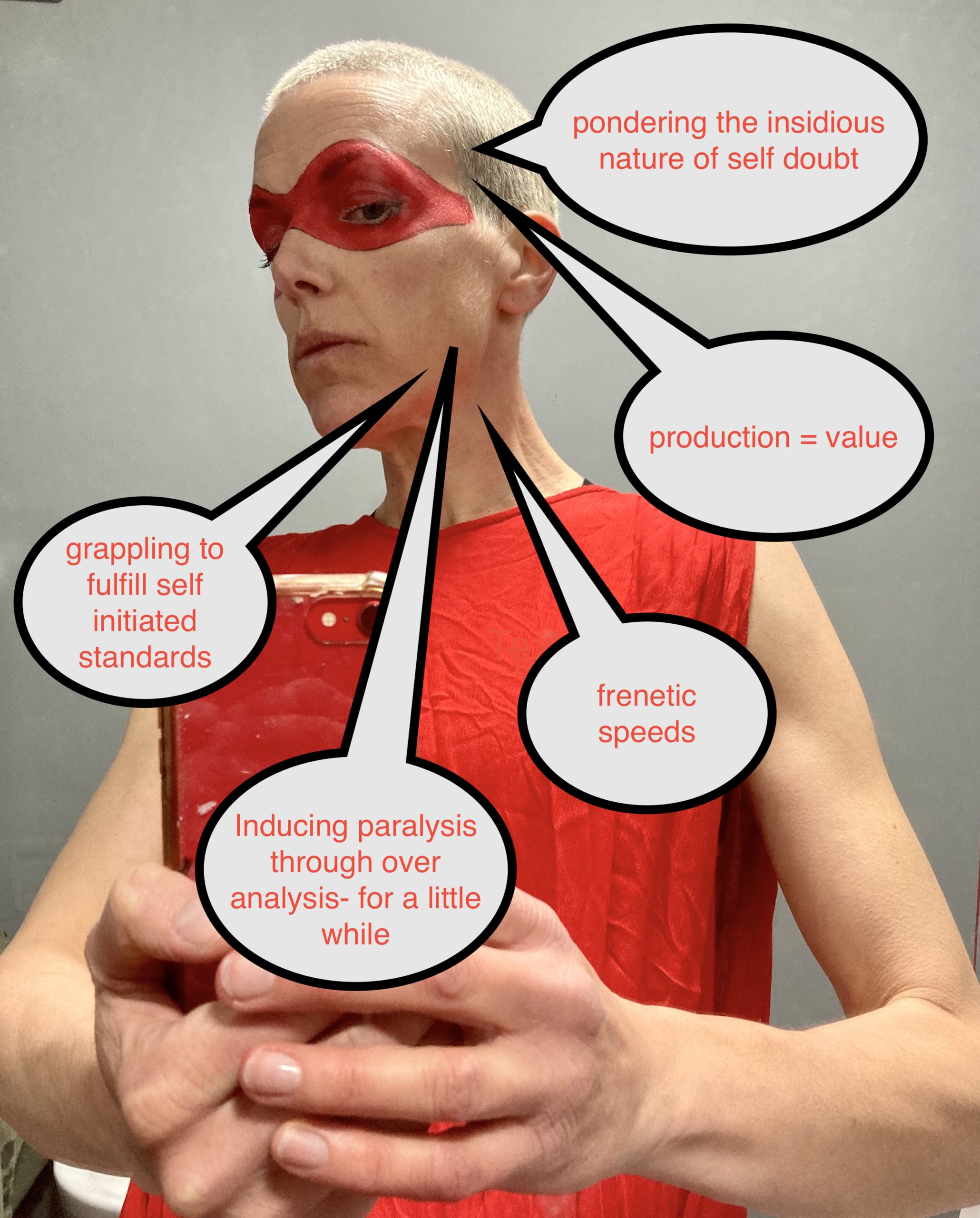 Week 4 : (24th - 29th)
For week 4 blogspot click here
"What I have achieved so far with my residencyStarted the development of a significant body of work featuring drawings, writings and performance sequences.Spent time reflecting and considering how my carer job and identity has shaped my work and my relationships. My everything really. Its as if the award of the residency gave me permission to go down a rabbit hole with this subject matter, and sort of officialise a subject thats been unofficially influencing my work since forever. I was able to spend time looking objectively at how my carer role shapes everything."
Rachel is back in the space this week to round off her parent/carer residency with us and has been a total pleasure to work with. So prepare for more drawings and performances. On Thursday, you are invited to drop by to an all-day performative drawing event by Rachel in the project space.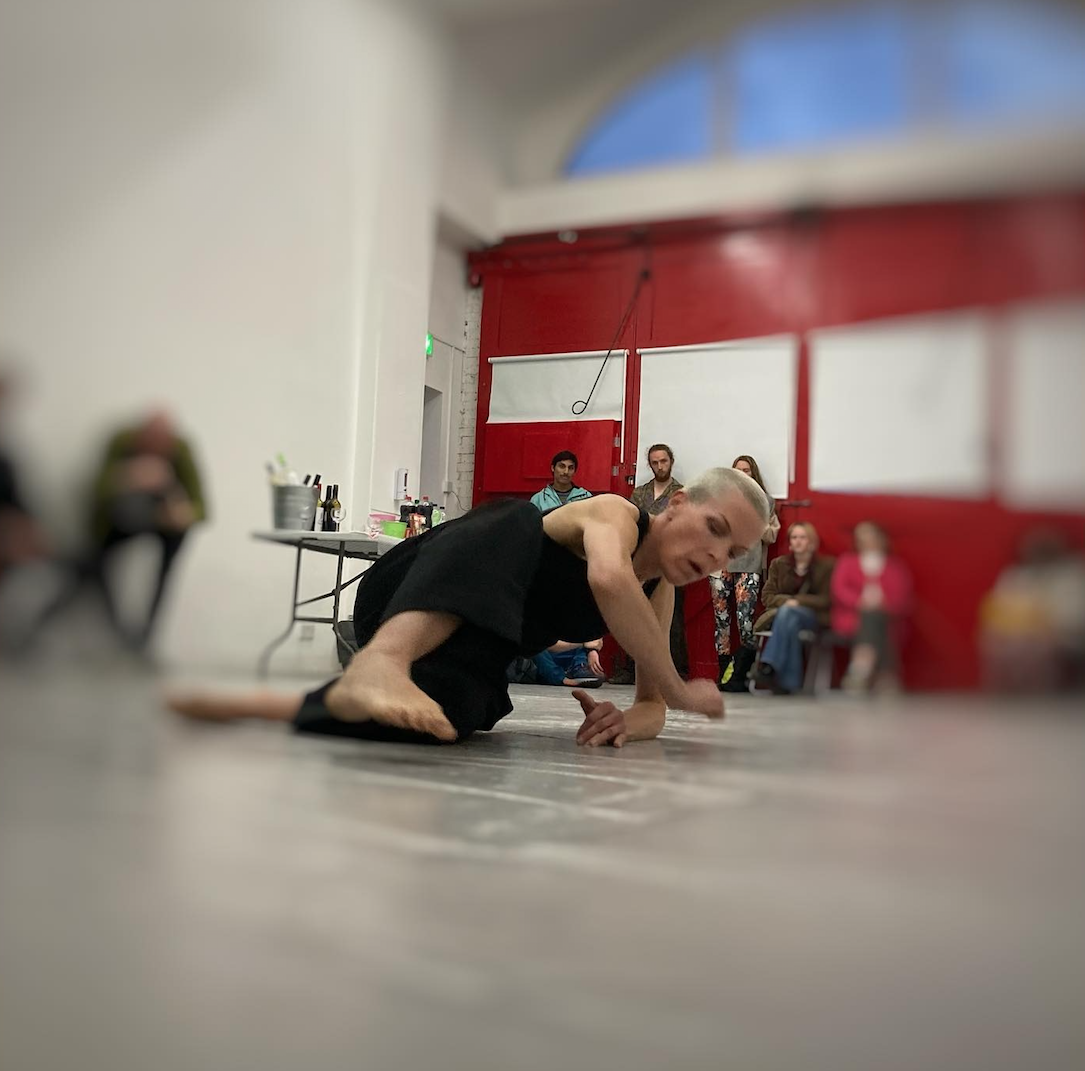 Image from Livestock Live, 2022, Mart Gallery
Thursday 27th of July, Rachel McManus is running an all day performative drawing event, the photo of which you can see here.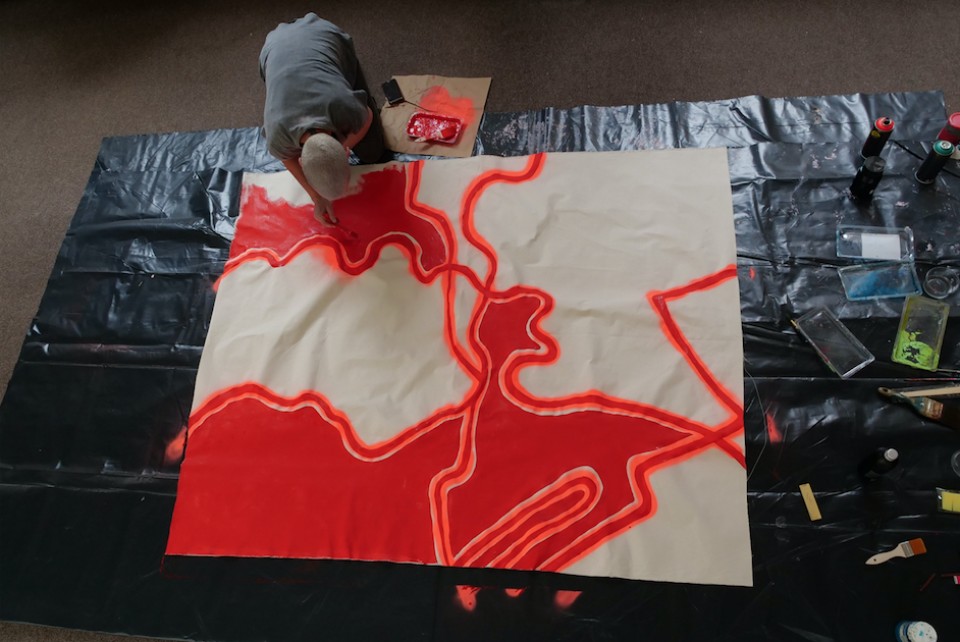 Rachel MacManus, performative drawing, PS2
Wed 2nd Aug updates, Rachel is back home and reflecting on the residencey and what it meant to her.
click here for the blogspot.
"...When I was selected for the residency with PS2, and then had the chance to actually think about how I was going to spend the time, I decided to explore the notion of being a carer, and how it informs my practice. I had not deliberately set out to do this before, and ironically when I started to take a deep dive into the subject, I realised quickly it had indirectly been informing and pretty much shaping my practice for nearly 10 years. It was an audacious prospect for me, to address this theme, and I had to grapple with privacy- how to look at such deeply personal subject matter.
The residency allowed me, literally gave me permission, to take a step away and think about things. I had the official support of an organisation for a month, to use in any way I felt suitable. A significant opportunity for any artist, and for one who is a carer, much more so."
This opportunity is funded by Belfast City Council's Arts & Heritage Small Grants scheme and the Arts Council of Northern Ireland.