Opening
Thursday, 06 August, 6-9pm

Opening hours
Tues-Fri 1-5pm, Sat 11am-3pm
Because these reds
Sound-video-text installation
Ciarán Wood
Ends 15 August 2015
Ask someone what he or she associates with the name Liverpool and- just now- many might answer Cilla Black.
Or.....The Beatles...?
Or perhaps the post-industrial fall and part-regeneration as a cultural capital city? Similar and un-similar to Belfast.
What else?
Football.
Football as cult, football as culture? The young artist Ciarán Wood, born in Liverpool, 'grown up' in Northern Ireland, uses this question as the starting point of his creative investigation into forms of collective expression and behaviour of football fans, that is, of Liverpool F.C. supporters.
For his project in PS², he edits scripts of match commentary, passes it to his auto-biographical self, runs free on the playing field of imagination, out-dribbles stereotypes, makes the spectator wonder and- raising my own voice- scores a spectacular art project, framed in red text banners.

Ciarán Wood (b. 1988 in Liverpool, UK) is an artist based in London who works predominately within video installation. He graduated from Goldsmiths in 2011. The artist Laure Prouvost writes of Wood's attention to the "capacity of owning images, by looking and re-looking at a captured image from the past for a new reading, making it yours. Wood works from personal historical footage, questioning its function in recording a moment, its framing decisions, and what was captured turning into fiction."
Special thanks to Neil Atkinson, Dunya Kalantary, Austin Williams, Darius Rodrigues and Irene Ferrando Gonzales.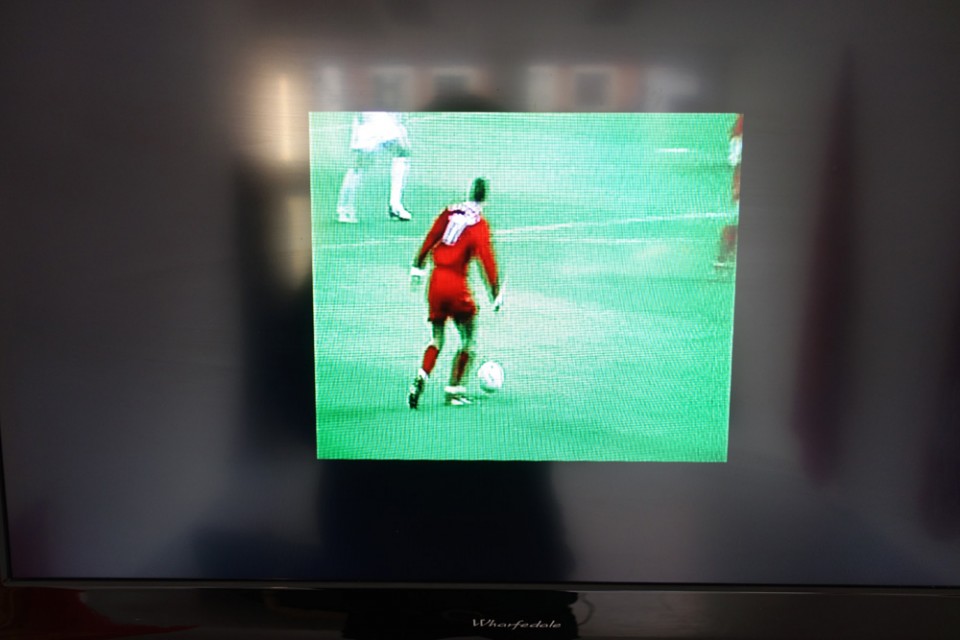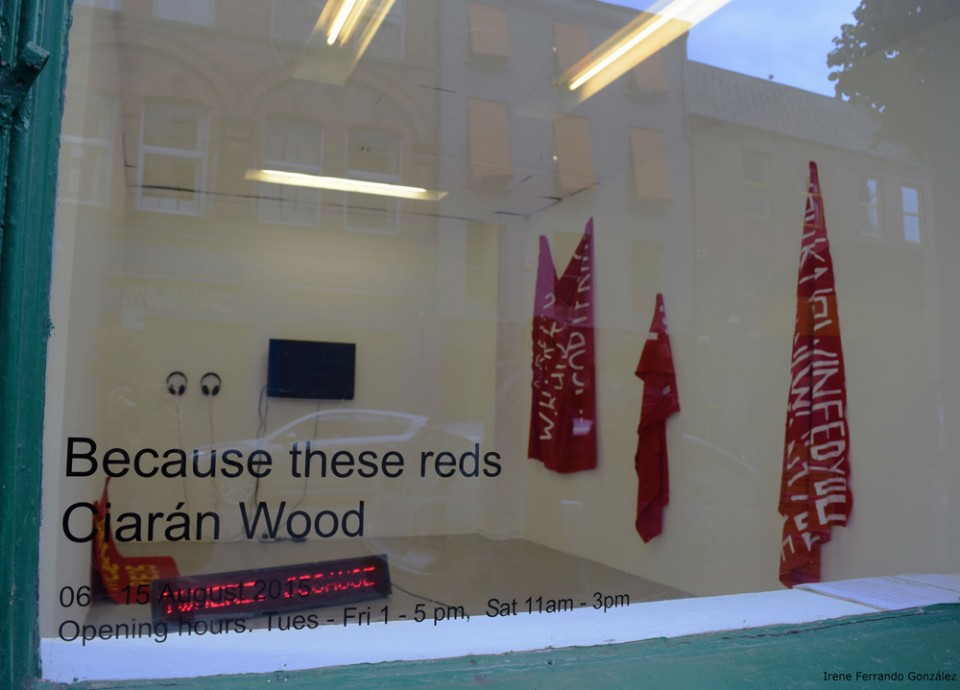 Dunya Kalantery
Surging Forward, Falling Back. Red Resplendent.
On 2nd May 2015, Steven Gerrard scored his last goal for Liverpool at Anfield. "He got there, he was decisive…" [1] and in those seconds of jubilation the player, the goal, The Kop, the team, the city were as one, 'exactly when [they] needed and deserved it… Surging forward, falling back.' [2]
Any Liverpool fan will tell you that Liverpool is different: that the team is a part of Liverpool, and Liverpool is a part of the team. The fans are the 12th man. Red resplendent, they are in each other's blood.
In 1959, Bill Shankly took charge of what was then 'a wallowing second division club' [3], turning it into the grounds and heart of Liverpool football culture. Shankly was a staunch socialist who believed in Liverpool FC - its players and its fans - as a community of people pursuing a common goal, united in belief and voice.
"The socialism I believe in is not really politics. It is a way of living. It is humanity. I believe the only way to live and to be truly successful is by collective effort, with everyone working for each other, everyone helping each other, and everyone having a share of the rewards at the end of the day."Bill Shankly.
As Gerrard rushed forward to celebrate what would be his final goal at Anfield, so did the team, and the minds and hearts of the crowd: breaking like a wave at The Kop. Gerrard had been Liverpool's own player – born in Liverpool and wedded to Liverpool for seventeen years, refusing foreign transfers and lucrative deals for his entire career. For Neil Atkinson, 'writer, fighter and host of The Anfield Wrap' [4] and voice of Wood's work - this moment was one that could be pitted against his individual life and the collective Scouse history. "He is badly like us… he is this man who isn't perfect but who has carried everything and there in that moment he is our man… vulnerable to the passing of time." [5] Atkinson's deeply emotional match report recalls football matches of his 7th, 17th, and 27th year, "listening obsessively to things being there on repeat on radio on a tape recorder and pressing down stop and pressing down record and pause and going over and over." [6] Setting the place – Liverpool – and his relationship to it in stone, with the obsessive act of repetition and reiteration, like a game of ninety minutes.
"Everywhere you go you think about Steven. Steven not sleeping. Steven stressing. You realise you have spent a great deal of your life thinking about Steven." [7] Like religion, or any similar collective belief, the act of thinking about Steven is the act of thinking about Liverpool. Being with yourself and your community in collective experience through past and present. Because These Reds is an act of thinking about Steven, an act of reminiscence and the creation of community.

1 Sky Sports, Live match commentary, Liverpool vs QPR, May 2 2015.
2 Neil Atkinson, Match Report: Steven Gerrard'last game at Anfield, penultimate game of Liverpool career, May 2015.
3 Christopher Scott, 'The Culture of Liverpool FC and its fans' www.christopherscott11.wordpress.com, March 2012.
4 The Anfield Wrap http://www.theanfieldwrap.com
5 Neil Atkinson, Match Review Liverpool 2 QPR 1, May 2015.
6 Ibid.
7 Neil Atkinson, Match Review Liverpool 1 Crystal Palace 3, May 2015.

'And there he is wheeling away, just arching away, and doing the thing, the natural thing making ball meet net in front of all those people, those people, our people, exactly when we needed and deserved it and when those other Reds needed and deserved it and it is there, bouncing being there
Because these Reds know about it that it blasts you

Knowing that it being there is the purest thing and that is what he does all tall and strong and there it is when all we did was need and deserve it and there he was this hero when he was needed rising rising rising

Red resplendent

And I am surging forward and falling backwards and there he is in front of the Kop end and he's everything you've ever wanted isn't he?

Understand us through them
But he isn't perfect and he can't be he is flawed and he is gnarly and he is badly like us and like me because he just is, he just has to be