Viewing hours
10 hours window viewing + feeding sessions: Tues, Thurs, Sat 1-2pm

Budgie Butlins
A bird's view on the Butlins holiday camps
Catherine Roberts
Ends 25 September 2010
Budgie Butlins is an installation in form of a diorama, a three dimensional model landscape, beautiful to view and to dream of past holidays. It is also a real aviary, populated by 45 budgies, donated for the duration of the project by the Northern Ireland Budgerigar, Zebra Finch and Foreign Birds Society.

Budgie Butlins is a bird's view on the Butlins holiday camps, which were popular and affordable in the 1950's and 60's with their seaside resorts in the UK and Ireland. As the brochure would say: it promises a unique Butlins themed holiday, exclusively for budgies; with nesting boxes in the form of a caravan park and leisure, pool and recreation facilities for the birds.
Catherine Roberts fascination with birds and her anthropomorphic approach to the subject of bird houses, translates urban issues into the realm of animals. 'Budgie Butlins' is an engaged and witty project about animals, architecture and recreation.
'This is an uplifting project and its foremost objective is to make people smile. I try to create an outer worldly scene, a voyeuristic spectacle, an updated still life influenced by early Victorian encasements of the natural world. I am looking, whether it is possible for animals to derive pleasure (in a good way) through architectural means etc. My work isn't so much about the critical aspects of bird keeping, it is about the positive. It's optimistic! Yes there is questioning, but I would like people to come to their own conclusions.' Catherine Roberts
(email exchange).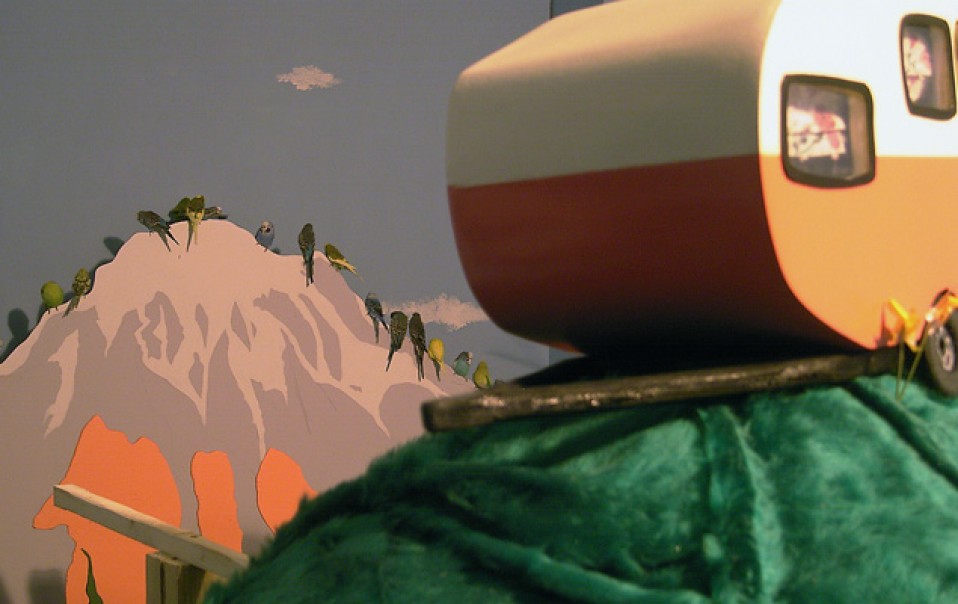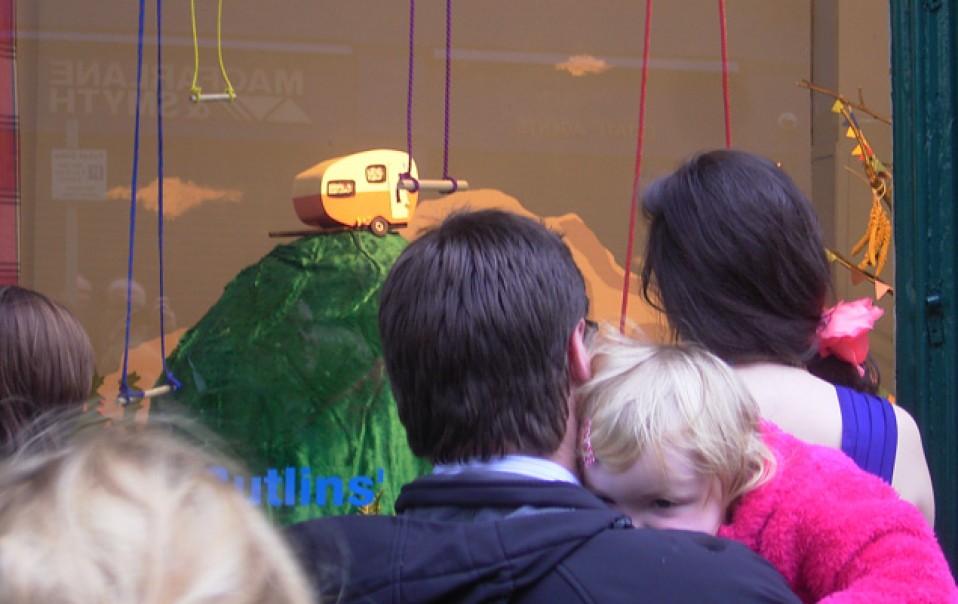 Many thanks to the Northern Ireland Budgerigar, Zebra Finch and Foreign Birds Society for their assistance and help, namely to Trevor MCFeigh and Twilla Gage and the Department of Agriculture and Rural Development, Northern Ireland.

Great care is taken for the well being of the birds and the project is conducted with the help and advice of the Birds Society. The budgerigars are regularly looked after and cared for and a curtain is closed in the evening to shelter the birds from light.