Opening
Thursday, 16 Aug, 6-9pm

Opening hours
Tues-Sat 1-5pm
Converge
PRIME collective @ PS²
PRIME collective- Charlotte Bosanquet, Alissa Kleist, Tonya McMullan
Ends 19 August 2012
Since September 2011, the PRIME collective is the 'curator in residence' in PS² 's store room. To mark the end of their residency, they are handed over PS² to realize their ideas of curation and artistic interventions. Belfast based artists Charlotte Bosanquet, Alissa Kleist and Tonya McMullan initiated PRIME in January 2011.
PRIME aims to provide a mutually supportive context in which to develop work, benefiting from networking and learning opportunities amongst the group and with other art professionals. The group meets on a monthly basis to further understand and analyse their own practices and that of others as well as actively seeking opportunities for the group to exhibit and curate works. The meetings also serve as a platform to discuss any research including films, literature, critical texts and visual art. The group actively encourages collaborations with other artists and organizations. These collaborations can take the form of guest artist / curators, seminars, talks and critiques.

Converge aims to bring together, support and act as a platform to an array of creative outputs, from art making and facilitating to collaborative practice, public art, workshops, talks and screenings.

PRIME collective will curate/organise/facilitate a varied programme of events for the four week duration of the show. Events include talks, screenings, exhibition of new works, an urban fishing trip reclaiming some of the city's underused public space, a Converge Zone reference area of inspiring items and much more.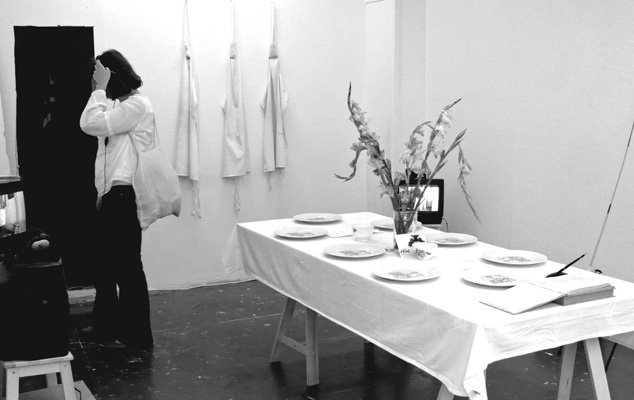 Installation view
Triangulation Workshop @ PS²

Wednesday 15th August 2012, 11.00am- 7.00pm
Facilitated by Zones of Response
Open call for participants to take part in a prototype experiment in knowledge transfer. This is an open experiment investigating a visual arts response to ideas of the collective mind. If you are interested in contemporary practices of collaboration, co creation and convergence... this is the workshop for you, we need participants to work as an instant response team and reactionaries.
Pre- workshop registration is required there are nine places available on a first come basis Full day commitment required - lunch provided please bring a digital camera email zonesofresponse[at]gmail.com with your name and contact number and triangulation in the subject line.

Programme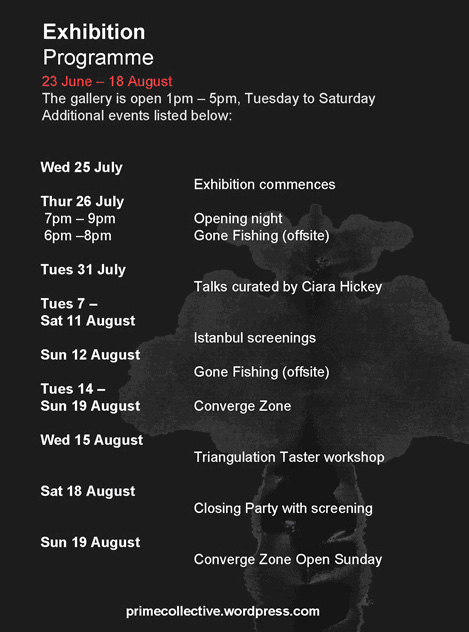 Statement
Text: Alissa Kleist

'Over the four-week course of the exhibition Converge, the PRIME collective will use PS², to curate/organise/facilitate a varied programme of events, exploring collaboration, curating and participatory practices in a transparent and engaged way.
PRIME's involvement with PS² began in September 2011 when the collective, as 'curators in residence', commenced an archival investigation in the PS² storeroom; documenting the layers of objects and remnants of past shows while turning the space into an office. For Converge the collective has linked the storeroom in the back to the gallery at the front of the building by cutting a doorway in the wall, thereby merging the two spaces. PRIME's continuing desire to investigate the past and current status of the building that houses the PS² storeroom and gallery has resulted in a series of interviews with the residents of 18 Donegall Street, exhibited in the gallery on monitors during Converge. The interviews were first shown on 23 July at a dinner party the collective held for the building's residents in the gallery. PRIME is interested in using different mediums and approaches to both art making and curating. The collective views the act of preparing and sharing a meal – while simultaneously listening to the residents' stories – as an integral part of their artistic process. By documenting the conversations with the residents as interviews PRIME has created a visual record and considers this as a method to artistically archive a space and its inhabitants. After Converge concludes, PRIME will continue this line of questioning with an archival intervention in an East Belfast building during the East Belfast Festival in September.
PRIME is not only interested in examining internal spaces, but also in the way the city's inhabitants negotiate their environment. For Converge the collective led an urban fishing trip to the Gasworks (off the Ormeau road) to open up a discussion focusing on municipal planning and the use of public space in Belfast city.
The next urban fishing trip will take place on Sunday the 12th of August as part of PS2 Sundays in the City. The Triangulation Taster workshop (at PS² and in various city locations on the 15th of August), led by Tonya McMullan and Acitore Artezione, will encourage participants to use their locality as inspiration for the creation of new work.
In a bid to explore the local creative community during their residency PRIME has hosted a number of peer reviews over the last few months, inviting local practitioners to present old, new and works in progress to a small audience of critics, curators and artists. For Converge PRIME welcomed Ciara Hickey's proposal to help facilitate a series of talks curated and organised by her. For the talks, entitled Tell Me What You Know, held on the 31st of July, Hickey invited experts in their field to present and share research on their chosen topic, subject and/or passion with an audience. Colin Darke gave an overview of Bertolt Brecht's practice and discussed Courbet's painting 'The Bathers' from a Brechtian perspective, and Ricki O'Rawe provided an introduction to Spanish Mexican surrealist painter and anarchist Remidios Varo.
On the 14th of August PS2 will feature Converge Zone, a collection of shelves with items selected by local creative practitioners that will give an intriguing insight into what influences and inspires the artistic community in Belfast.
PRIME's projects aim to be mutually inclusive and actively seek to involve and invite collaboration between different people. The collective sees itself as an experimental, socially engaged group with a keen interest in the local (artistic) community and collaborative practices, and has chosen to utilise Converge as a platform to showcase this.'