Culture Night 2012
Pretty City PING-PONG & AGOLDENPROMISE- urban sports&Love Banners
Robin Price, Yvonne Kennan
Ends 21 September 2012
For culture night, PS² dresses up in two outfits: in trainers to play ping- pong and as wordsmith, equipped with scissors, glue and ladder.
Sports and poetry, an unusual combination, but definitely two expressions of culture: one popular, the other more private. But if one places short statements or mini poems in the public, hangs them like bunting in windows and public spaces, individual expression becomes public, for all to read: immediately accessible. And if a leisurely or competitive match of ping pong is played on a 'prepared' table, wired with microphones, computer programmes and amplifier, the hit of the ball will trigger possibilities of acoustic compositions, noise- and sound making which goes beyond common use and perception.

That is probably what PS² likes the most- extending existing cultural forms to 'high art', from embroidery, DIY building and budgie keeping to art installations, craft sessions and performances. Culture night is an ideal opportunity to activate the urban environment with more than shopping and traffic and to re-appropriate public spaces for common use.


Pretty City Ping-Pong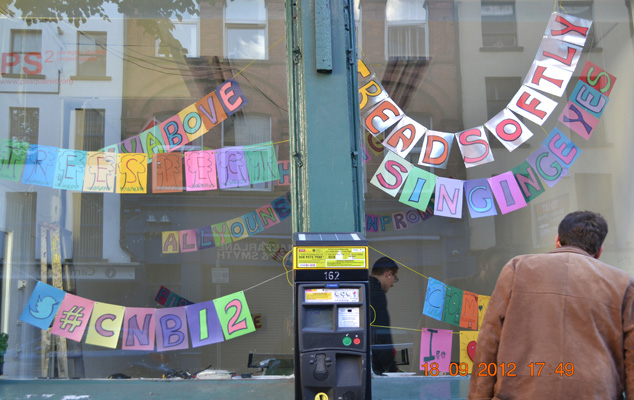 Technical data
ping-pong table; four piezo mics
one condenser mic
macbook pro running MaxMSP
Live and Reaktor
45 high power LED lights
one Arduino

Where
PS² and two outside locations within the Cathedral Quarter

'This table tennis table has been prepared in the Cageian sense by applying contact microphones underneath the board. These feed a network of resonators and interpolating delay lines which sonify each ball bounce and control a battery of lights that spark up with every strike. The total effect is as if your ping pong game had been used as a musical score for a piece by the bastard love child of Autechre and Basic Channel. The work utilizes PS2's table tennis table which has itself been used over the summer for a series of happenings in the city, re configuring public spaces for urban sports.'
Text: Robin Price

Robin Price: Prepared table-tennis-dub. Work in progress.
To listen please click here.
'Prepared ping pong table'.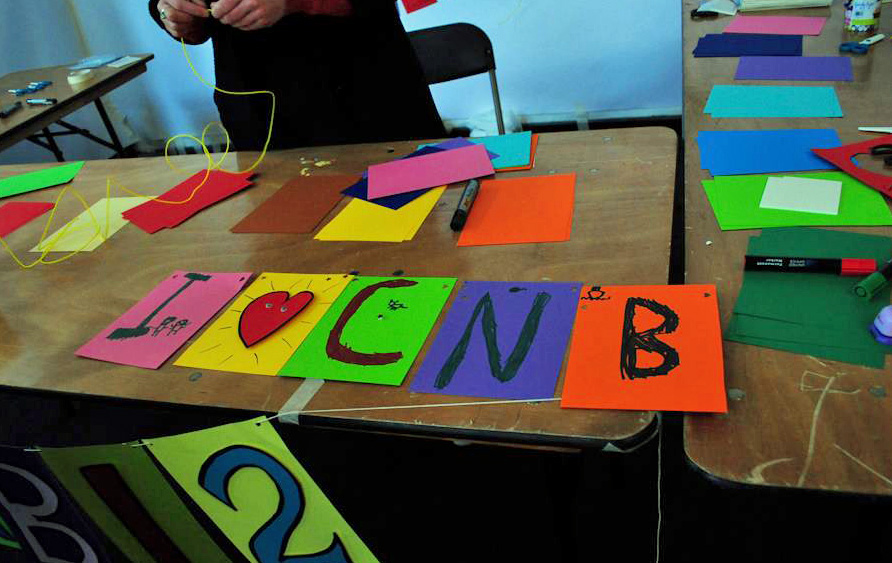 Workshop
Love Banners
Technical data
Coloured cardboard
scissors
crayons
sticky tape
thread


Where
PS² and outside locations within the Cathedral Quarter
Simple words or short poems, the buntings by Yvonne Kennan spell out public declarations, personal feelings, sense- and non-sense meanings. Like speech bubbles, the words flutter over benches, hang between trees or look out of a window. Shorter than a twitter, they communicate in a simple and direct way and open a dialogue.
AGOLDENPROMISE?
If you missed the Community Workshop, you still can make your own banner during culture night. All materials are provided, just think of the words.
Open and free workshop for 'Love Banner Making' with Yvonne Kennan.
Saturday, 15 September, 2 - 4pm at The Assembly Rooms, Donegall Street. Pre- culture night.

Use hashtag #CNB12