Outdoors
Sounds every full hour 8am-8pm for 1 min

Environmental Data Transformer
Part of the series: art &... [3] art and coding
Robin Price
Ends 31 December 2023
Environmental science, coding and audiovisual art are the different aspects in this outdoor project.

This project has had a long germination time, similar to some seeds, some need many winters and summers under the surface to finally emerge above ground.*

Initially the plan was to install DIY built air quality sensors and climate measuring systems in PeasPark, North Belfast. The incoming data would then be translated into an interactive sound and image display in the form of a sculptural installation, a kind of visible, audible science.
But this plan later seemed to be too obvious. How about measuring not the air quality but the amount of love and hate in the environment? As a measurement of wellbeing or indicator of sectarian potential?
Well with clever algorithms and an analysis of keywords of Twitter feeds in the close urban environment that could be done. The translation into sound is still to come....

Through a workshop, local groups will select sounds and imagery that have connotations of both warning and serenity which will form part of the final display. The project connects with the growing concern about our changing physical and emotional climate and works both with scientific data as well as with our subjective understanding of colour, imagery and sounds/music.

*It took 7 years to finish the project in autumn 2022, matching the sleepless resilience PeasPark has shown since its beginnings 9 years ago.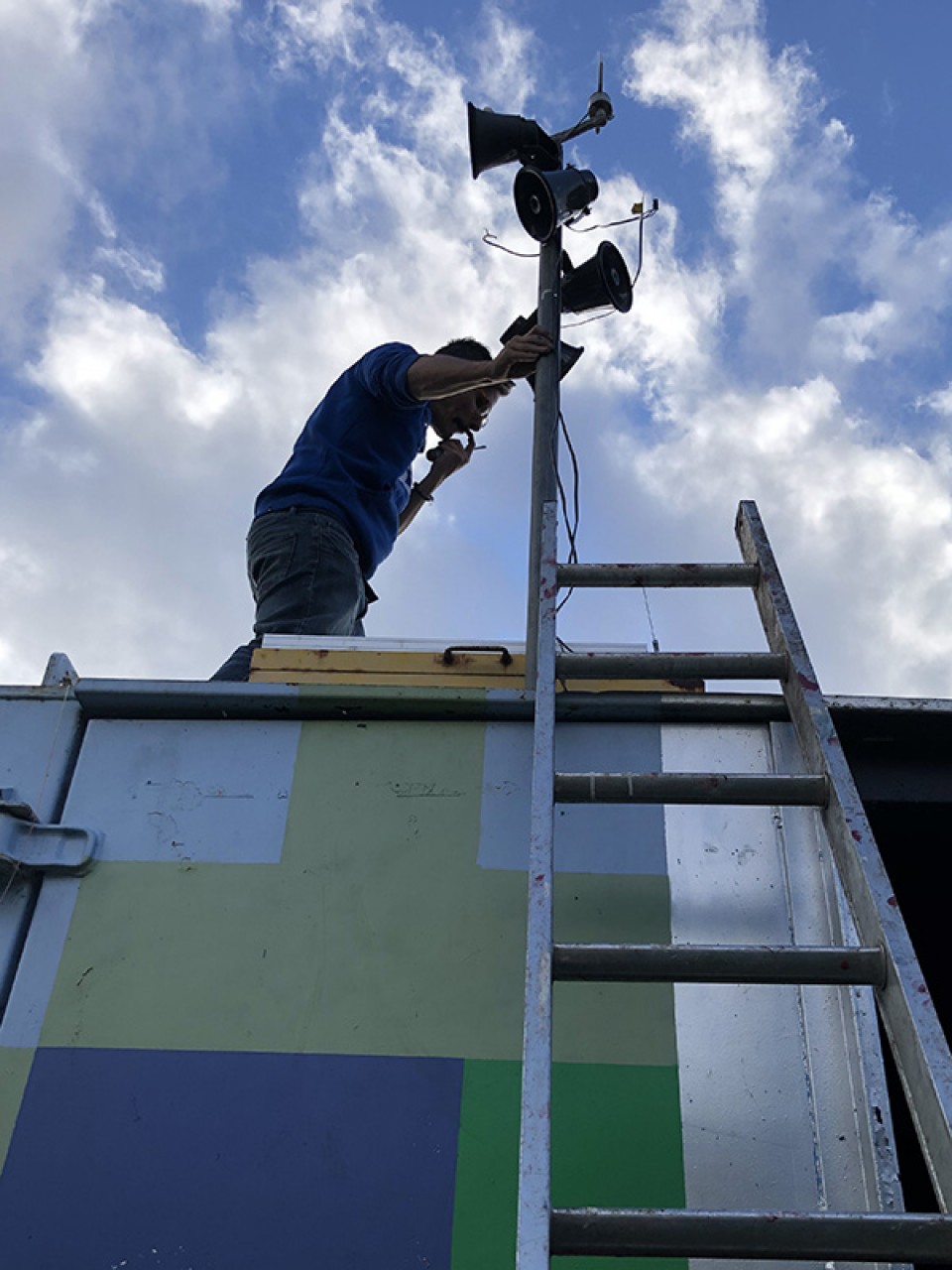 Final completion, October 2022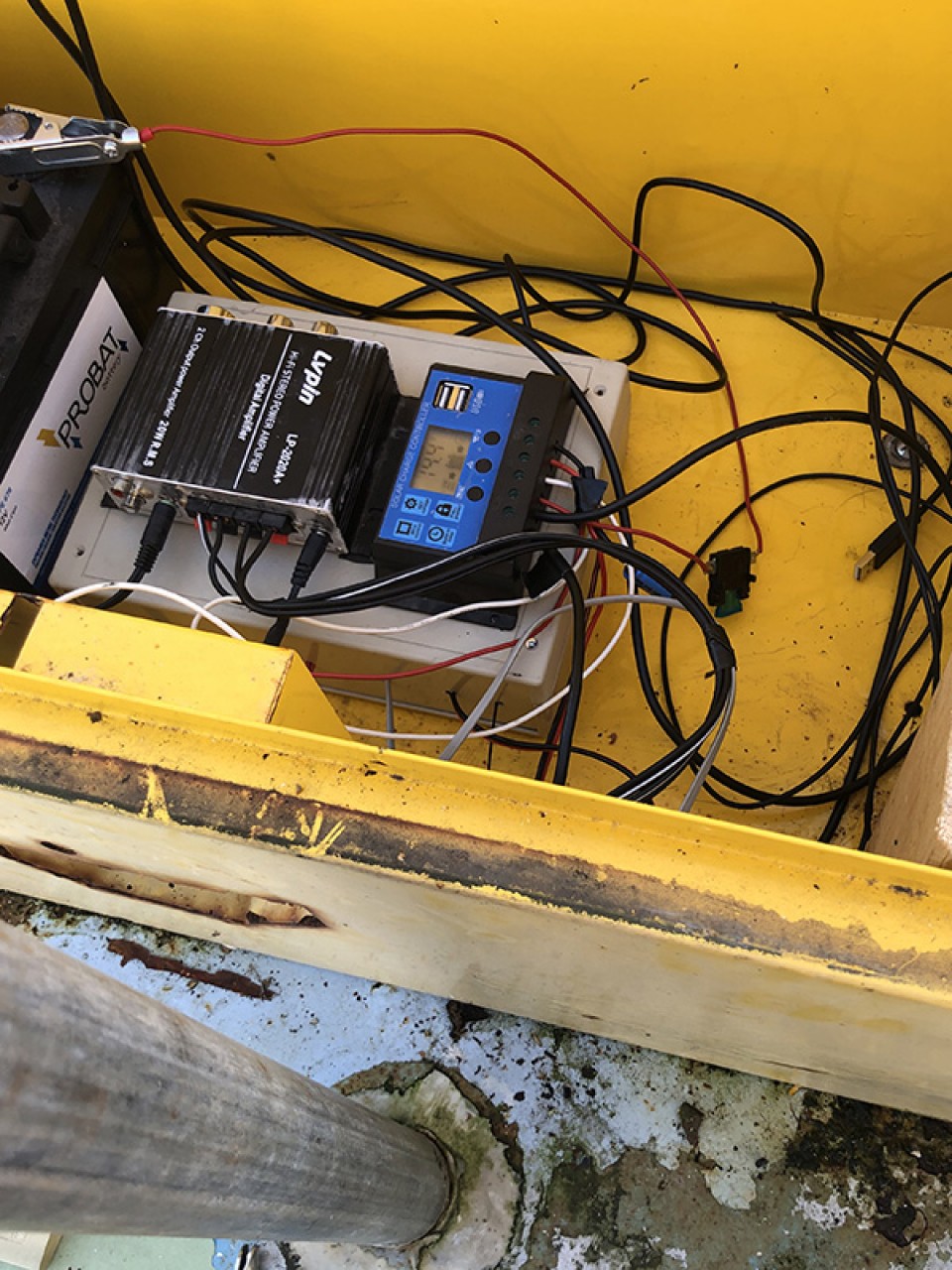 Inner workings: Battery, software and whatever
Robin Price is an artist-inventor, transdisciplinary physicist, musician and cat enthusiast. He holds an MPhys in Theoretical Physics from the University of Wales, Swansea and a PhD in Composition and Creative Practice from Queen's University, Belfast. Recent solo exhibitions include Escape Sequence at CCA, Derry~Londonderry, Lambent Ambient, R-Space, Lisburn and Air of the Anthropocene at University of Atypical, Belfast. His work is held in the Arts Council of Northern Ireland's public collection and has been covered in Source Magazine, New Scientist and the Guardian.



"I use electronics, algorithms, code, glitches and hacked objects to push at the boundaries of what is technologically and ecologically possible, permissible and ethical. My approach is playful, experimental and publicly engaged.
My work comes from personal experience. I'm an outsider artist who trained not in art but physics and music who works primarily with new materials to try and make concentrated moments of wonder or joy an audience can carry away with them; making a memory that stands out against the background urban hellscape. This approach came out growing up around the tail end of the UK rave scene, living for the weekend and beginning my creative practice putting on visuals for local promoters. I often work with children and first became interested in the environment at a young age, this points towards the playfulness, connection with the inner child and environmental themes in my work. Theoreticians that have influenced my practice are Rachel Carson, Lev Manovich, Timothy Morton, Simon Reynolds and Lakoff and Johnson."

This project is the final part of art &....

About art &....
In this series of 3 projects, PS² will work with specialist practitioners, to curate a project and programme around their subject and the link between art and other practices.. Contemporary art crosses many traditional borders incorporating other disciplines like film, performance, theatre, music, animation, dance… Yet there still are distinctions and hierarchies: who mixes with whom and to what degree? And does this interdisciplinary collaboration really produce new outcomes, valuable for all 'professions' involved? The series initiates collaborations and presents examples and processes of fruitful projects, some will be in partnership with organisations and Festival i.e. NI Science Festival; Art&Design Festival; Ulster University; SARC, Queen's University.
1. art and craft: Jane Rainy, Nicola Drennan.
2. art and sound- curated by Min Kim
3. art and coding- curated by Robin Price