24hour viewing + one special screening
Thursday, 17 April 7 and 9 pm
Film Festival @ PS²
Nicole Hewitt; Kalle Hamm; Aisling O'Beirn; Susan Kelly
Ends 18 April 2008
Programme
1. Nicole Hewitt IN BETWEEN, 20 min BETA, produced by Zagreb Film 2002 Every summer the City of Zagreb organises the collection of large household refuse starting in the periphery of Zagreb and moving towards the city centre. The collection points change every two or three days so that at various points around the city the streets become overrun with piles of rubbish. These discarded objects are objects in transition. They are in between - they have not yet acquired the condition of 'rubbish' where all traces of their previous identities are extinguished, but they are recognisably out of place, a threat to good order as unwanted bits of whatever they came from. The film focuses on these objects in transition and the reactions and interactions with the citizens of Zagreb. The film is a combination of live action and stop frame animation and is neither documentary, animated nor experimental.

2. Kalle Hamm RE-NAMED HELSINKI, 2007, DVD 11 minutes, This video is a result of Hamm's long-term research work in the deep, stratified structures of culture and history in Helsinki, and as in many of his works, adopts a strategy of remembering, of recalling things to mind. In Renamed Helsinki Hamm employs visual means to highlight the city's officially erased, yet still present multiculturalism, which appears to live on in ever new and surprising forms. The piece responds to a time when localism and nationalism are seeking to close their eyes to a multi-toned reality. Nicole Hewitt: 'In Time-Episodes'.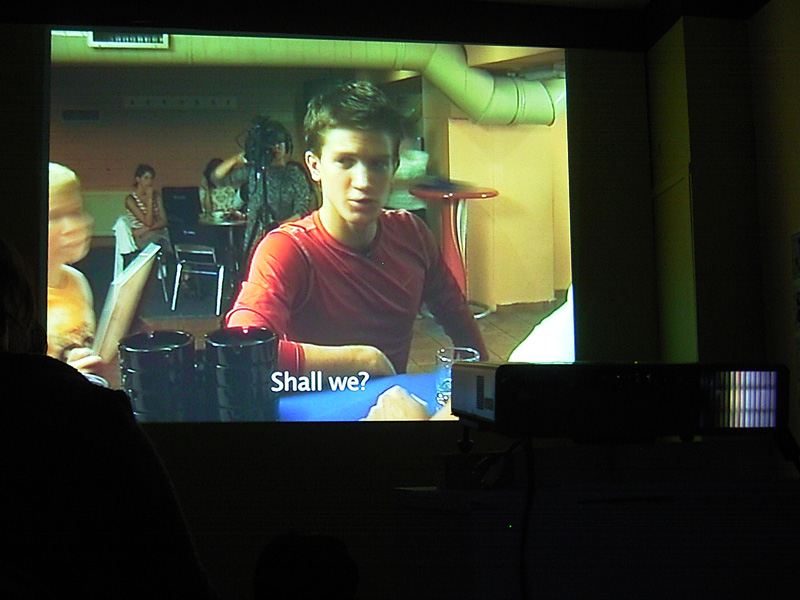 Nicole Hewitt: 'IN TIME – EPISODES', film still
3. Aisling O'Beirn AND OTHER STORIES, 2006, animation, 12 minutes ..and other stories is part of is a body of work derived from an ongoing collection of urban anecdotes and place nicknames collected from a variety of cities over a number of years.
The animation refers to various landmarks whose stories talk about the politics of place. The work is concerned with how people describe their locality and use local knowledge to navigate the urban environment.

4. Susan Kelly SEVERAL SILENCES, 2007, DVD, 12 minutes Recorded in various public sites in Helsinki, 08.09 – 10.09.2007. People were invited to sit and have a conversation with me, without saying anything for three minutes. These three minutes were recorded, including the sound of the silence. The piece refers to Bertolt Brecht's Conversations in Exile, written in Helsinki in 1940 and is concerned with the cultural specificity of modes of communication, and a sense of the bankruptcy of words and language. What does silence mean in a time when 'communication' is called an industry, and when many art projects cite their 'raw materials' as communication, co-operation, exchange and dialogue? Is it possible to be silent in more than one language?


Thursday , 17 April, 7 and 9 pm- special screening
Nicole Hewitt 'IN TIME – EPISODES', (approx. 60 minutes) , 16 mm film, High 8, mini DV transferred to BETA Produced by HFS and Pangolin, 2006. 'In Time – Episodes' is a series of cinematic episodes based around the Latin American dancing schools and clubs of Croatia, Bosnia and Herzegovina, Montenegro and Slovenia. For two years, a small crew and I have been attending dancing lessons and competing at international competitions while proposing to make a film where we are all actors and producers. We archive everything on video, to use our own memories and the video archive as an aide memoire to chose moments that occurred in reality to transform them into cinematic events. This offer is open to everyone in and around the clubs. Each of the episodes focuses on an event and a retelling of this event, in the process experience is turned into narrative. The project sets up a negotiating field between the choreography of grammar, its expression in discourse and history and its performance in the narrativisation of experience or story telling.

Also see Centrifugal- Sequence IV and VI