Opening (finally)

Friday 11 December 2020, 1- 4pm
Opening hours
Tues- Sat 1- 4pm




Flowers from the East
John Baucher
Ends 19 December 2020
We are very happy to welcome you back to our project space.
We have the following safety measures in place: please

-wear a mask
-keep social distanced
-sanitise your hands
-give you name and phone number
No pre-booking is required and no more than 4 visitors are allowed at the same time. Despite all that, we hope you will enjoy your real encounter with art again.


John Baucher started to install his project in October, initially with confidence, but increasingly anxious this project might not be open to the public at all.
Now we know, that we have to delay the opening again - and again- until Saturday 19 December.
Our daily experience that life is in limbo, that plans for holidays, meetings, activities are gone, pickled and preserved for future dates, are hitting the arts like everything else. Does this change the art? Does it change the way we see art?
No doubt, the turn to Zoom-alongs and online presentations of art has most of us glued in front of the screen with some fallouts along the way, of fatigue and the desire of physical experience.
Like the trigger for this project, which was inspired by a charity shop find of a tourist souvenir album of postcards and pressed flowers entitled 'Flowers from the Holy Land', dated 23/12/26.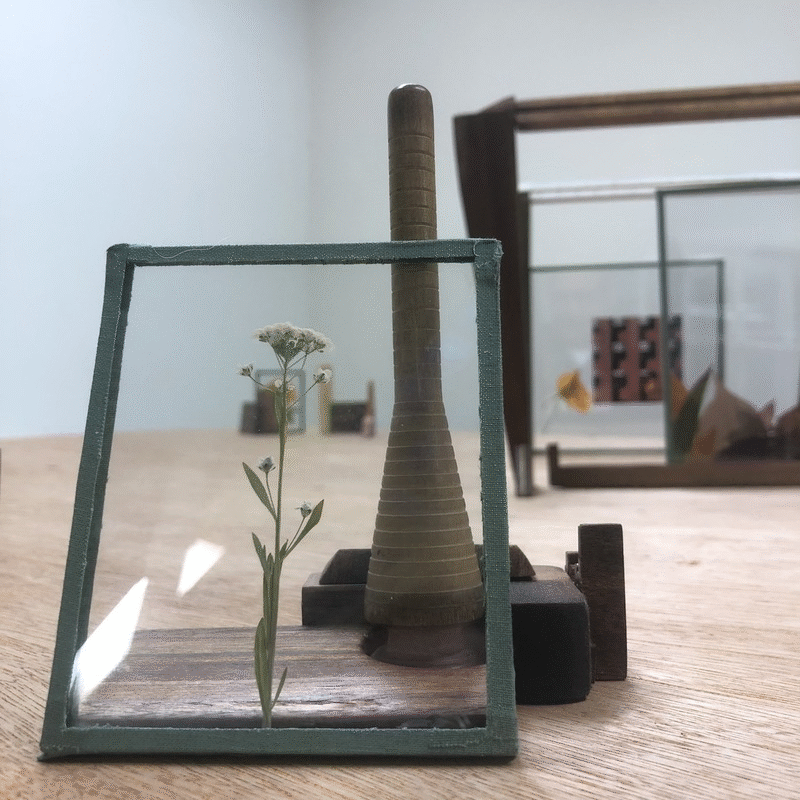 John Baucher is referencing this album depicting city views of Jerusalem combined with specimens of flowers. City views contrasted or complimented with flora, the urban side by side with nature. Yet the original book, displayed in the installation, also reveals the underlying ideology of its time: that of Imperialism.
Belfast and East Belfast, where the artist lives and works, was once a power house in the economic success with its shipbuilding and rope works. Baucher sees the yellow cranes every day from his studio building, and he quotes their structure using wooden imperial measurement rulers. They become key objects and playful metaphors in this project, together with locally collected dried flowers, preserved between glass.
Over the past 3 years Baucher has documented flowers growing in the cracks of overlooked urban spaces in his neighbourhood. For the artist, they signify resilience and the circle of life and despite being sprayed annually with pesticides, they still persist.

Flowers from the East celebrates in a tender and playful way the harsh industrial heritage of Ballymacarrett, East Belfast: a tribute to Baucher's neighbourhood and a challenge for its future.


To read an interview with John Baucher with CAP see
Because of the current closure of our project space, John Baucher and PS² have put together a 10min documentation of the project, mainly with video footage by the artist and PS².

John Baucher lived in the Armenian Quarter of Jerusalem as a 22 year old, but sadly there are no photographs of that period of his life. For the artist is partly a chance to examine his emotional response to this tourist memento having found it here in Belfast. It is also a statement about the built environment particularly in the area that he lives in close to The Short Strand/Bryson St interface. Furthermore, the increasing awareness within the loyalist community to take ownership of their history to provide a "tourist offer" also informs the work. The dichotomy of wild flowers flourishing within the harsh urban environment is a statement of fortitude.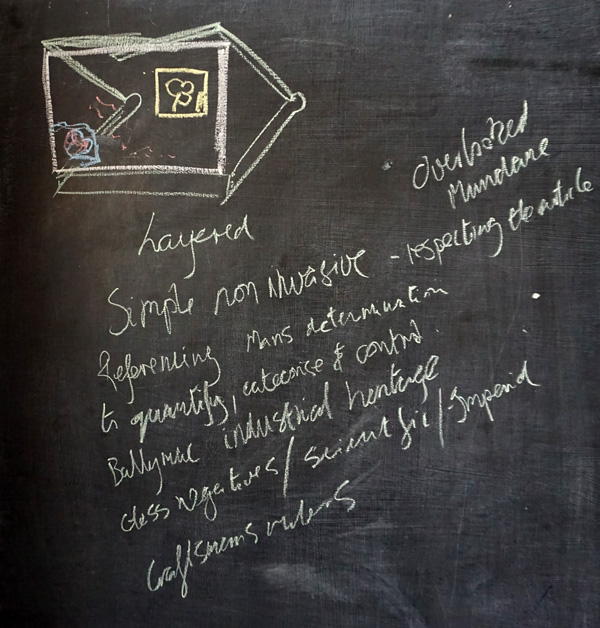 Research, studio wall, 20.10.2020