Outdoor project around the city centre

going up the wall
outdoor project
Ends 30 June 2021
To counteract any online fatigue, this project will show large posters, placed around the city on possible sites, empty shop windows, walls, fences, hoardings… to enable a real encounter of visual arts in unexpected places and with surprising images or messages.
Since the lockdown, a lot of art making and display refreshingly happens/ed outdoors. This project will adopt this format as an inspiring intervention to bring art into the public, ideally situated in an interesting spacial and social context.
The contributions by artists and creatives will be selected through an open call and the posters of the work will be distributed/ pasted at possible (permitted) locations around the city in multiple editions.
Please submit images of your work which resonate in and for the public and has a sense of urgency.
This could be a text, a photograph, a video still, drawing, painting, object...
Please send up to 3 images, together with short captions to PS2@pssquared.org
Artists whose work will be printed will receive a small fee.
All displayed images and the artists biogs will be added to web.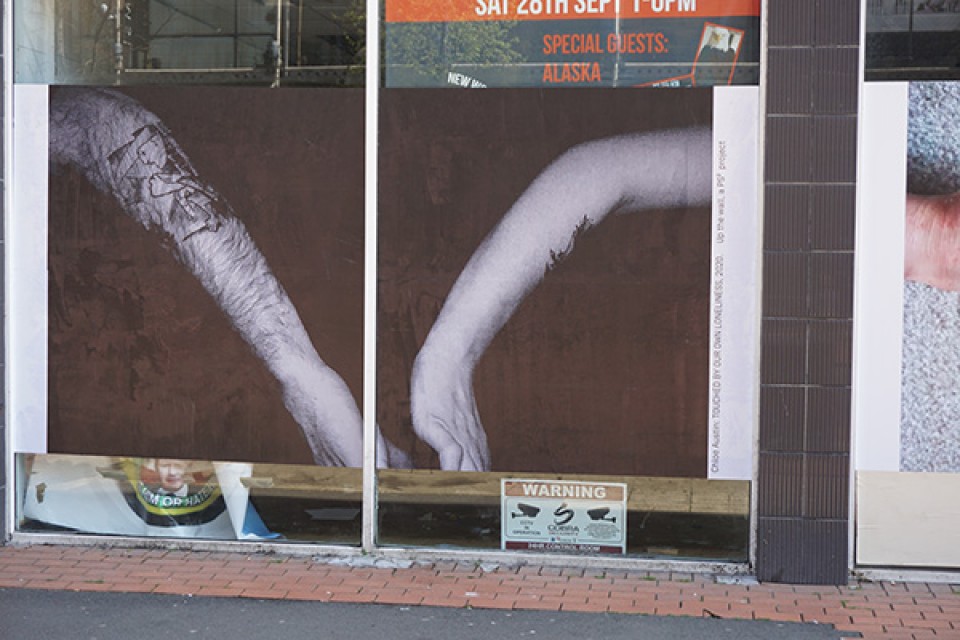 Chloe Austin- Touched By Our Own Loneliness', 2020, Royal Avenue, Belfast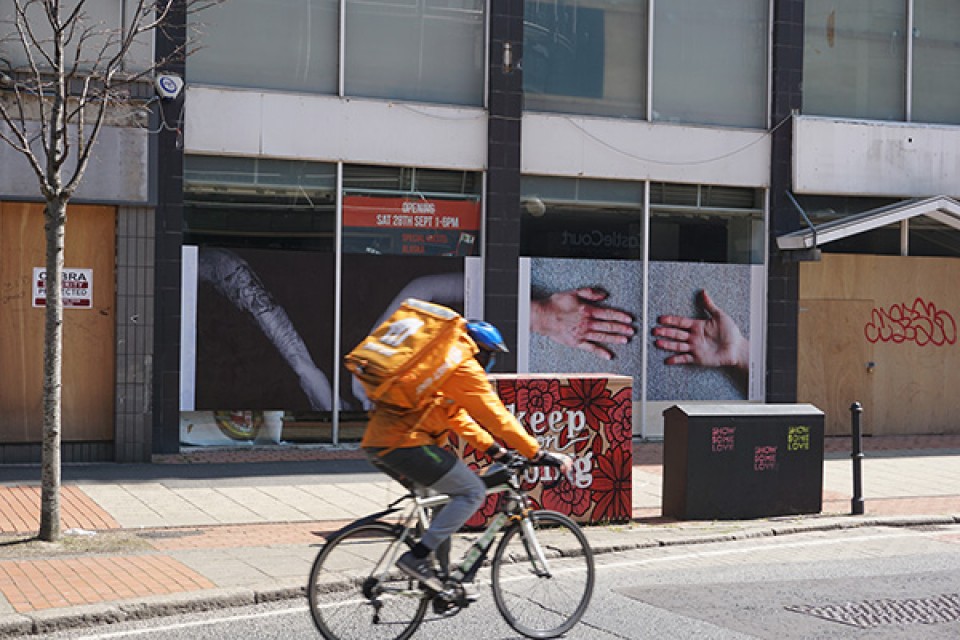 Chloe Austin- Touched By Our Own Loneliness', 2020, Royal Avenue, Belfast
Chloe Austin (b.1995) is a multidisciplinary artist, working with performance, video, photography and creative writing within her current practice. She completed her MA in Fine Art at the Belfast School of Art, Ulster University in 2020 with Distinction, after receiving her BA in Fine Art and Design at Crawford College in Cork in 2017. She is now a member of Flax Art Studios in Belfast.
Her work revolves around the effects on the body due to our ever-changing environment, emerging from an autobiographical context and exploring processes of division and otherness, closeness and distance. Interweaving language, identity and gesture, she creates narratives with multiple layers of meaning.
Within her practice, Chloe uses techniques of repetition and duality to capture the fragmentation, frustration and fluidity of human consciousness and sensation. Engaging in experimentation and creative writing, the work puts emphasis on the artistic process rather than finalised work.

Chloe's work has been exhibited and published throughout both Ireland and UK. In 2019, she was awarded the Alice Berger Hammerschlag Award from Belfast School of Art and was also awarded the Cork Film Centre Exhibition Award in 2017. Her work has been displayed in galleries such as The MAC International, GOMA Waterford and Catalyst Arts. Chloe's writing has been published and featured by numerous publications including The Visual Artists Newsletter, Brenda Magazine and (Un)titled Publication. In 2018, she founded and continues to be Creative Director of Re-Vision Performing Arts Festival based in Belfast, which focuses on gender and body politics through diverse performing arts. She is also Founder and Curator of 'In Motion' Video Art Collective.'
Image: Chloe Austin- Touched By Our Own Loneliness', 2020, PeasPark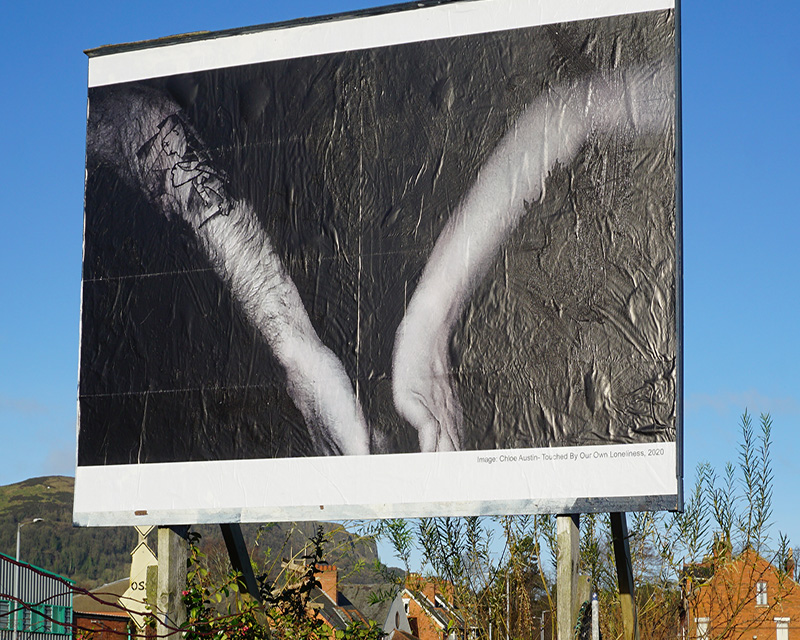 Chloe Austin- Touched By Our Own Loneliness, 2020, PeasPark
SIÂN WILLIAMS (1980, UK) completed a BA in Fine Art at Falmouth College of Arts (2002), graduated with an MA with Distinction from Sheffield Institute of Arts (2015) and was awarded the Dianne Willcocks Lifelong Learning Prize.
She works primarily with sculpture, performance, and film. Using found or domestic materials she creates playful objects that invoke props or remnants of stage or film sets. Williams sites her practice at the point between materiality and imagination and the narratives that emerge from those spaces. In 2017 Williams joined Katz Mulk, a collective working at the intersection of music, performance and visual art, who seek to inhabit the marginal spaces between improvisation and structure.
Her work is held in the British Library, the Southbank Centre Poetry Library and the Tate Library and Archive, Tate Britain. In 2018 Katz Mulk was awarded a PRS Foundation commission to develop a new performance for the 2019 Beyond Borders tour.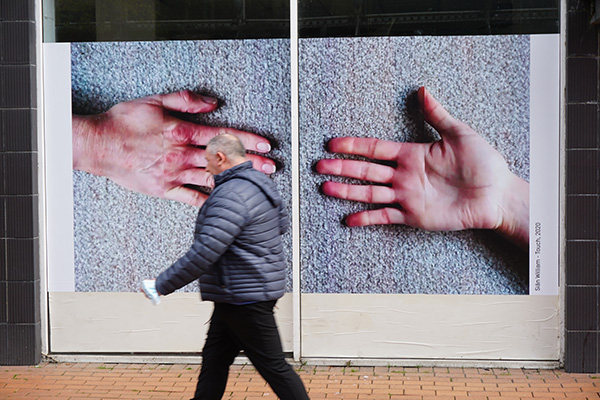 Siân Williams: 'Touched', 2020, video still, Royal Avenue, Belfas