Workphase
15-24June

Exhibitionphase
26 June- 12 July

Opening hour
Wed-Sat 1-5pm, Sun 10am-4pm, Late Night Art 1-9pm
Goldfinch
Isabela Basombrio-Hoban
Ends 12 July 2009
Over two weeks, the Peruvian born artist Isabela Basombrio-Hoban worked in PS², creating a dreamlike but also critical installation; a small museum of gold, where social and economic realities both in Peru and Ireland are transformed through alchemy.

The artist uses the space for a large scale collage and assemblage, complex and interwoven with narrative connections and sculptural expansion. Her installation with found objects, sculls and birds, masks and beetles, feathers and leaves, of cut-outs and small paintings, echoes the strong colours and dreamlike imagery and references of her native country Peru. Iconographic images, addressing various states of mind, spiritual journeys between birth, death and afterlife.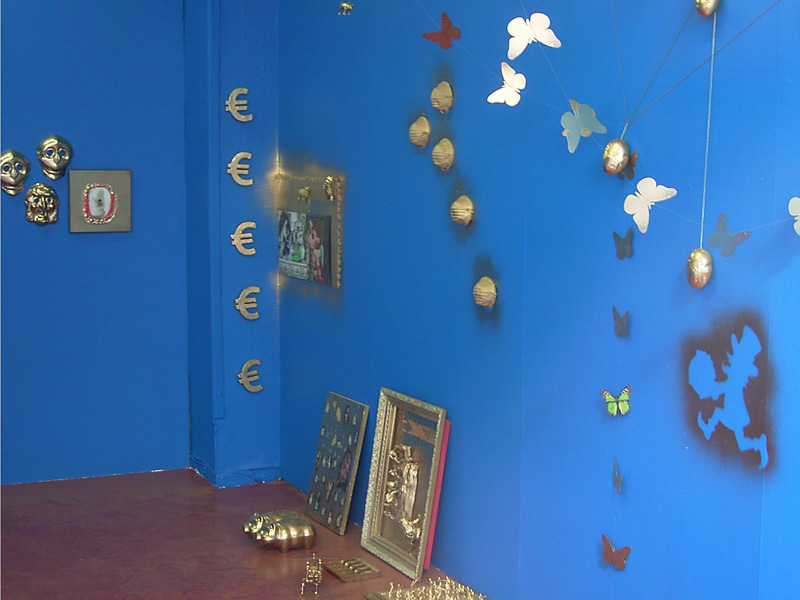 Installation view
Isabela Basombrio-Hoban deals with these subjects in a direct and colourful barock way, but not without humor and irony. Although her imagery has many sources from her Peruvian home, she doesn't re-create a national style. Like her golden potatoes, Peruvian from their origins and similarly the crop of Ireland, she mixes signs and cultural identities- as she migrates in her own life from South- to North America and Ireland.