Opening hours
Tues-Fri 12am-5pm, Sat 12am-4pm

Mid-project opening
Thursday, 28 June, 6-8pm

Guitar Sculpture
DAS @PS2
Richard Davis
Ends 30 June 2012
Richard Davis is a digital artist and musician. Recently graduated from the MA in Digital Media Arts at University of Brighton, his practice fuses visual art with his passion for music creating interactive installations and performances using sculpture, found objects and digital technologies.

Guitar Sculpture
The work will be a new version of the guitar sculpture originally shown at Richard's degree show last year. The work utilises the open source arduino platform with Max/MSP software to control an installation of acoustic guitars, which allows for audience composition through movement sensors. The new arrangement of the Guitar Sculpture will offer a new sonic composition written by Richard, allowing the audience to compose and mix the sounds as they choose through triggering selected guitars and their associated tracks.

Workshop with Richard Davis - Thursday, 28 June 12am – 4pm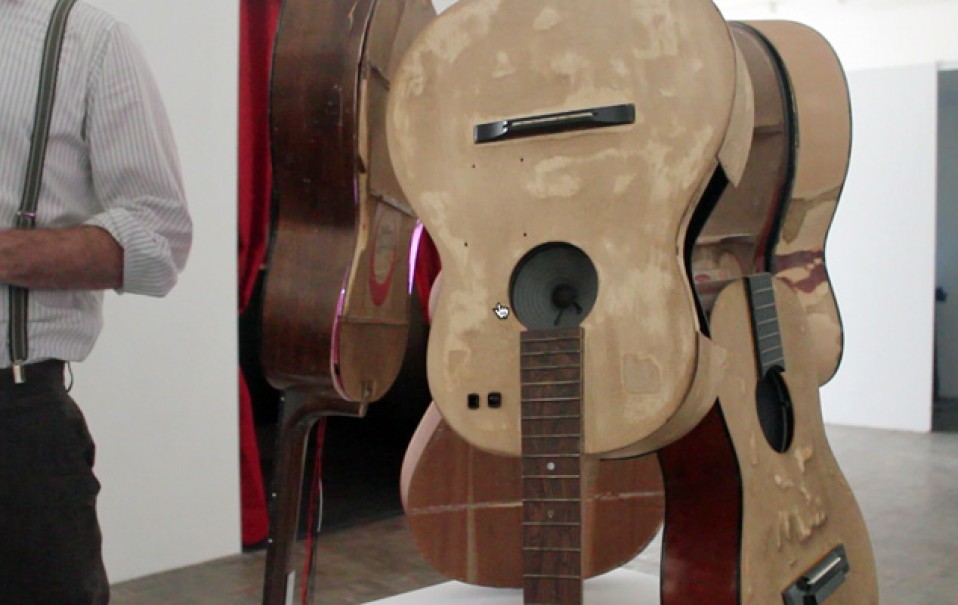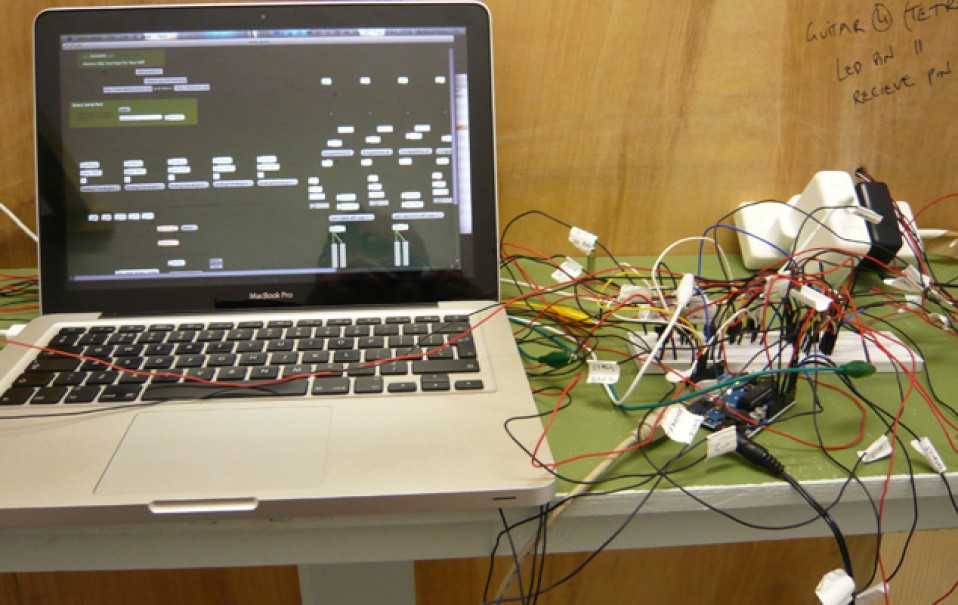 The workshop to accompany the exhibition will introduce participants to the open source Arduino platform and interactive programming environments such as Max/MSP software & Pure Data, demonstrating basic use of sensors and switches to control light and sound through communication with the computer.
The workshop will be of interest to anyone wanting to begin experimenting with basic visual programming and electronic components. No previous experience necessary.
The workshop will take place in PS² on Thursday the 28th June from 12pm – 4pm.
The workshop is free but there are only 6 places available, which will be allocated on a first come first served basis. Participants are invited to bring their own laptops.
To book a free place email angela[at]digitalartsstudios.com or Tel: 028 90312900.
For more information about Digital Arts Studios see.