Opening
Thursday, 27 May, 1-8pm

Opening hours
Tues-Sat 1-5pm

GYRE
Drawings
Gary Shaw
Ends 12 June 2021
We are super happy to welcome you back to our project space.
Still, we have to have the following safety measures in place: please

-wear a mask
-keep social distanced
-sanitise your hands
-give you name and phone number
No pre-booking is required and no more than 4 visitors are allowed at the same time. Despite all that, we hope you will enjoy your real encounter with art again.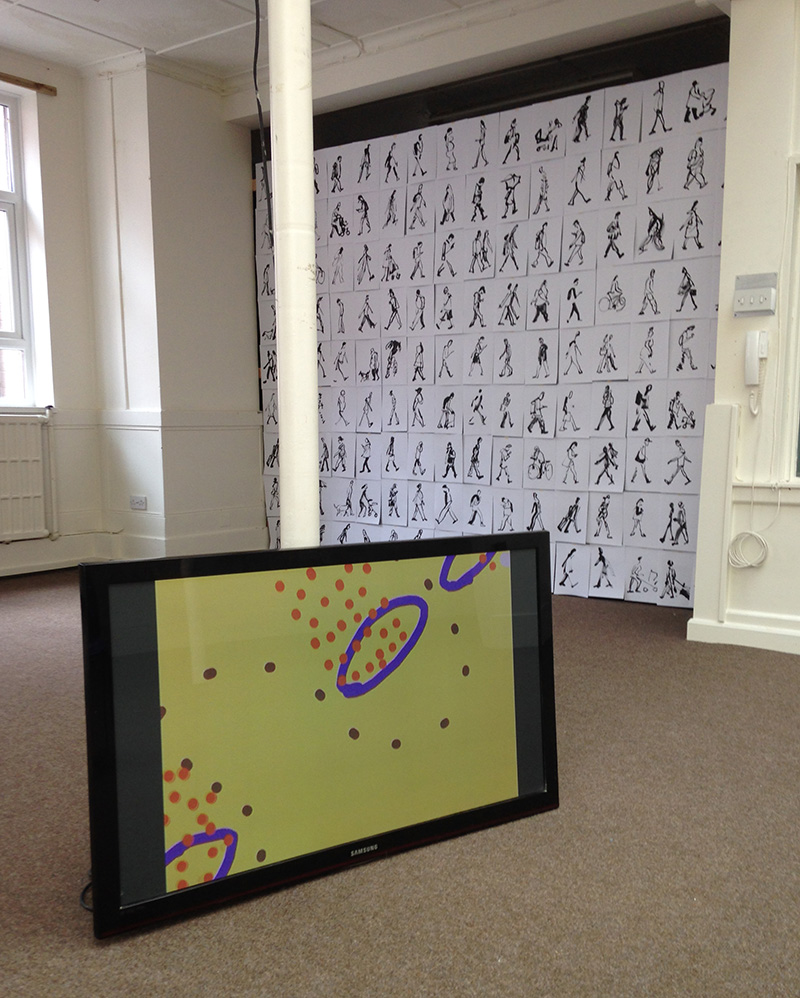 Installation view
Like so much art in the past year, I first saw Gary Shaw's drawings on Instagram. Displayed with no title or explanation, one had to guess the size or medium: is it pencil, ink or charcoal he is using in the circular drawings? Does he draw on an iPad? Are these print-outs or Jpeg files?
All of it. And his drawings are not always round and abstract. There are sketches, hundreds of them, of people walking, captured with quick brush strokes in black ink, each figure like a letter in a long story of daily life passing by. It turns out these sketches are all made on an i-pad, saving paper, going digital, like most of us during the pandemic.
Gary Shaw is well known for his geometric paintings, like the series of signal flags, full of geometric shapes and colours, spelling out words for the initiated in this vocabulary. In 2013, the artist has painted all the walls and ceiling of our project space with these flag alphabet, see Signal Box.
The project will show three work groups of his drawing output:
1] Drawings of circles
2] sketches of passers-by
3] kinetic animations

The first group consists of circular drawings which also give the mysterious title 'Gyre'. The term is mostly used in oceanography and means a circular or spiral path, a motion or large current. A very apt description of the work. At first glance the drawings look calming and meditative like a mandorla, but then reveal a nervous energy, where the lines turn to sparks in a fire wheel. Some of the work are drawn with liquid graphite, some on the i-pad, then printed.
The second group are a random selection of print-outs from hundreds of sketches on the iPad of passers-by from his studio window. Calligraphy like drawings as if Gary Shaw designs a new alphabet formed by movements of people in a rush.

The third group, shown on a large monitor, are short, looped kinetic animations, drawings with static, geometrical elements, through or around which currents of graphic lines, dots, hatches flow. Beautiful and playful acts of juggling with formal lines and shapes.