Opening
Thursday, 16 October, 6-8pm

Opening hours
Wed- Fri, 1-5pm, Sat 12-3pm
HOUSE OF BLINDNESS
Vicky Smith
Ends 01 November 2014
'House of Blindness' is a multimedia installation by Vicky Smith which features a hospital bedroom, HD video, sound recording, photographs, text drawings and film footage.

This is the artist's first solo project in Belfast.The title comes from Edna O'Brien's recent memoir 'A Country Girl' (2012), where the artist has focused on the chapter entitled 'The North' in which O'Brien recalls her memories of Belfast in the 60's and 70's. O'Brien describes her time as young writer in Belfast, her meeting with Gerry Adams, the stories, situations and events that took place, referring to how at one point she was labeled as the "Barbara Cartland of Republicanism". This chapter has been envisaged through art practice as an installation for PS² to look at strands that have changed over time.
Vicky Smith also responds to a poem entitled 'Tulips' by Sylvia Plath to question the relationship between the north and the south as she does in her hospital room as she learns peacefulness, lying by herself quietly. A sound recording of an extract of Buzz Goodbody's diary, one time theatre director of the Royal Shakespeare Company, taken from the book 'The Class of 66' resonates throughout the installation. These female writers and directors have enabled Vicky Smith to visualise Northern and Southern Ireland like two houses facing each other within the same neighbourhood. In this project she records a journey from one 'house' to the next via a motorway, via these writers work. Aspects of identity, feminism and writing as a tool to think about notions of place, difference, surface and flow are encompassed within the installation.
Susan Sontag once wrote:
'We read writers of such scathing originality for their personal authority, for the example of their seriousness, for their manifest willingness to sacrifice themselves for their truths, and-only piecemeal-for their "views"….so the sensitive modern reader pays his respect to a level of spiritual reality which is not, could not, be his own….In this sense, all truth is superficial: and some (but not all) distortions of the truth, some (but not all) insanity, some (but not all) unhealthiness, some (but not all) denials of life are truth giving, sanity-producing, health-creating, and life-enhancing.'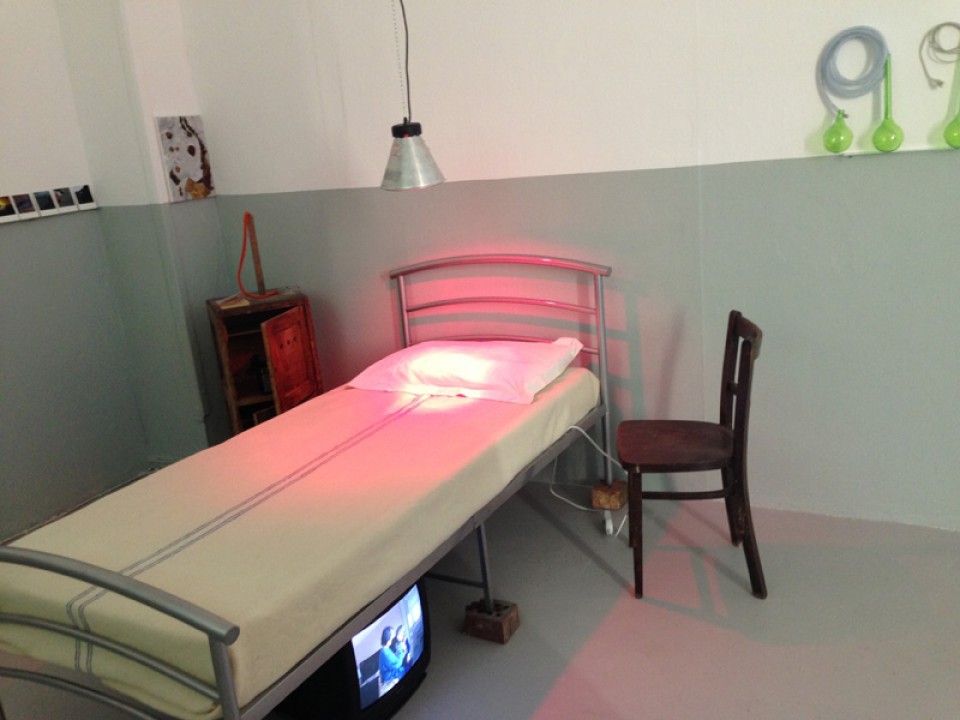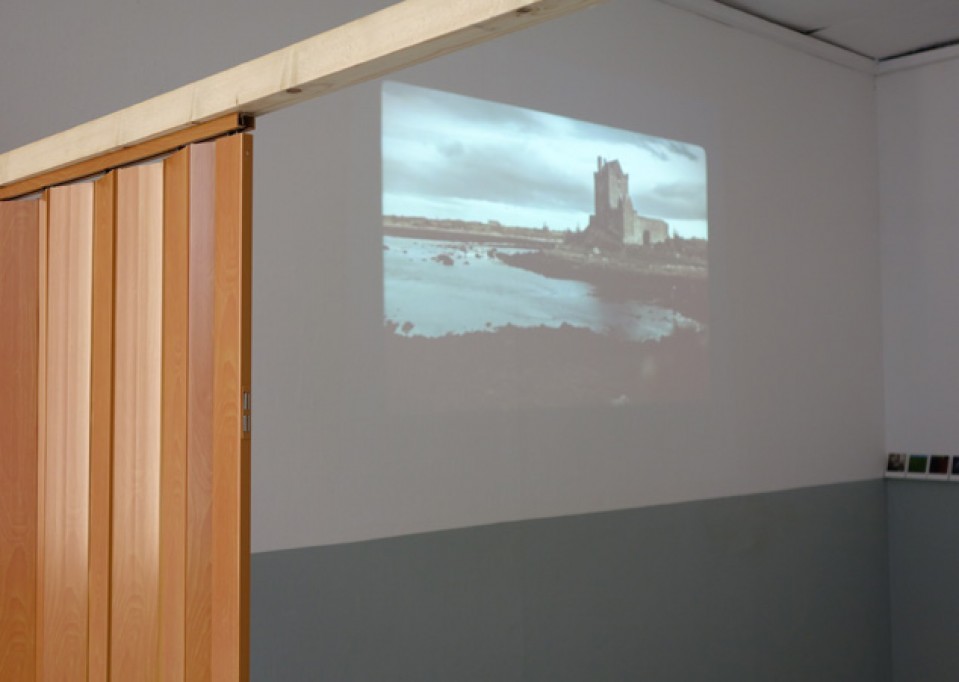 The artist is reclaiming her notion of the north and the south within the installation project through visual analysis of these writers in relation to a hypothetical perpetual 'motion machine', a type of movement machine, cross border flow of individuals moving from one house to the next and back again to question if we are we still inextricably caught up in this "house of blindness" referred to by Edna O'Brien in her memoir.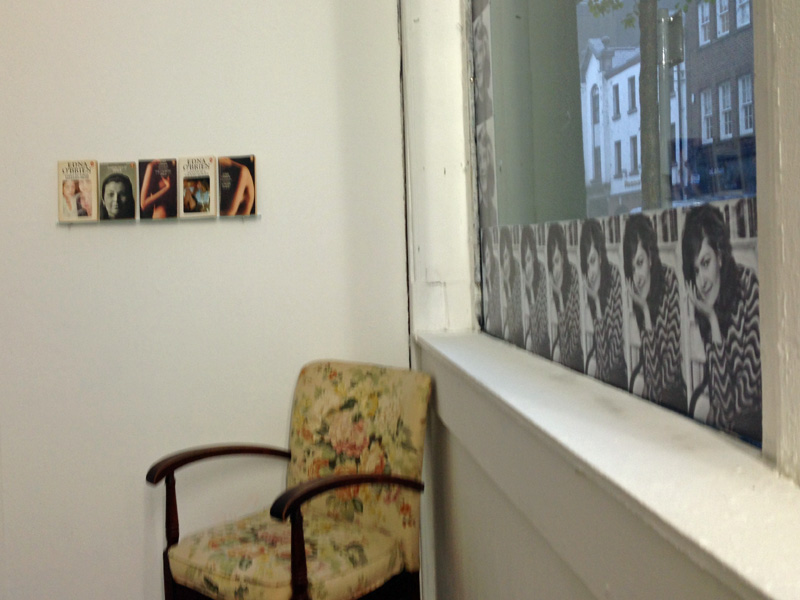 Installation view
A recent article in the Irish Times 'Border Crossings' (2014) refers to first time visitors who describe their experience of Ireland north and south. It is a compilation of interviews from both sides of the border recorded from different individuals who had never been north and those who had never been south. For some, Belfast is seen as a separate place that was never real to them rarely discussed or talked about except when it was in the media. They feel removed in Dublin through a lack of contact. Northern protestants see the republic through an outdated mid 20th century lens back to when it was poor and largely rural Catholic country. Others see the south as a healthier place that has been tarnished by the Border region. Extracts from this interview can be read to re-enforce this movement from one place to the next, a journey some may still never take.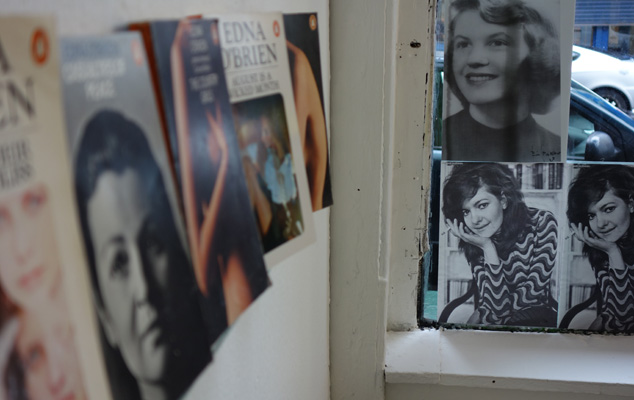 Installation view
Vicky Smith is a visual artist who works at Engage Arts Studios in Galway. She has an MA from NCAD's Faculty of Visual Culture, Art in the Contemporary World in (2011), MA Arts Administration and Cultural Policy from Goldsmiths college, University of London (2004) and a BA and H.Dip from Crawford College of Art and Design, Cork (1999) She is currently joint project coordinator of Engage Art Studio Project. Smith is establishing an Arts Education Agency in Galway City; the aim of this agency is to look at participation in art as a social intervention within education. She is working towards a solo exhibition in the Linenhall Arts Centre, Mayo, April 2015. Previous to this she was the chairperson and board member of 126 Artist-led Gallery. (2010-2012) In 2012 she was selected as the artist in residence, Galway Arts Centre. Other exhibitions include: Little Kingdoms Catalyst Arts(2014), Engage Studios,126 Galway(2014), RUA Red Winter Open, Dublin(2013), Too Many Dinner Parties (2013), #00800(2012), Latency, Linenhall Arts Centre (2012), Spectrum Of Activity; Triskel Arts Centre (2011).