Opening
Thursday, 10 August 6-8pm

Opening hours
Tues-Fri, 1-5pm, Sat, 12-4pm
Materialities of History
Featuring films by Northern Ireland Screen Digital Film Archive
Ulrika Ferm
Ends 26 August 2017
This exhibition is part of the BFI's Britain on Film celebration of archive film, in partnership with Northern Ireland Screen Digital Film Archive and it is shown at PS² gallery in Belfast. The gallery has recently moved to new premises that used to house the biggest Northern Irish Fishing tackle shop J Braddell & Sons Ltd.

The Materialities of History project approaches the Northern Irish film heritage from a Finnish point of view. The artist Ulrika Ferm, originally from a small coastal town in Finland, was invited to respond to the Coast and Sea themed films at the Northern Ireland Screen Digital Film archive. In her research Ferm mainly focused on the Northern Ireland Tourist Board collection, which created films that aimed to sell Northern Ireland as a holiday destination. Members of staff documented the region through stills and moving images, the films they created capturing various facets of life in Northern Ireland, its society and history, people and places.
Ferm's practice is interested in archival structures and the way history presents itself through visual material found in archives. The exhibition displays both edited and unedited footage from the Tourist Board collection and some other stately funded film productions such as UTV's Richer and Rarer (1960).
Contrasting the narrative storytelling intended to sell Northern Ireland, either as a tourist destination, or a place for investment, the artist has edited excerpts that emphasise the intrinsic repetition and negating its rootedness in place and time. By editing similar material together, Ferm brings to the fore the different agencies that play significant role in the formation of the archive and, also, the image that is created of a nation.
In these idiosyncratically edited films the poetic and poignant, but also mundane and humorous elements come apparent exposing the themes that once were deemed important. Albeit seemingly random, these brief glimpses into the collection provide a representative take especially on the coastal and "material" motifs in the original films. Thus faking or creating a kind of statistic of the time past, where unwanted or unbeneficial events become conspicuous by their absence.
The exhibition particularly questions the representation of history and the role of materiality in this process. In the installation combining different mediums, Ferm addresses these issues by examining the digital archive. In the past two decades, films have been digitised to allow better storage and easier viewing. For the exhibition Ferm has created a 16mm film from the digitised footage, reversing the process by reattributing the film back to its original material.
The exhibition is curated by Mirjami Schuppert, curator in residence at PS².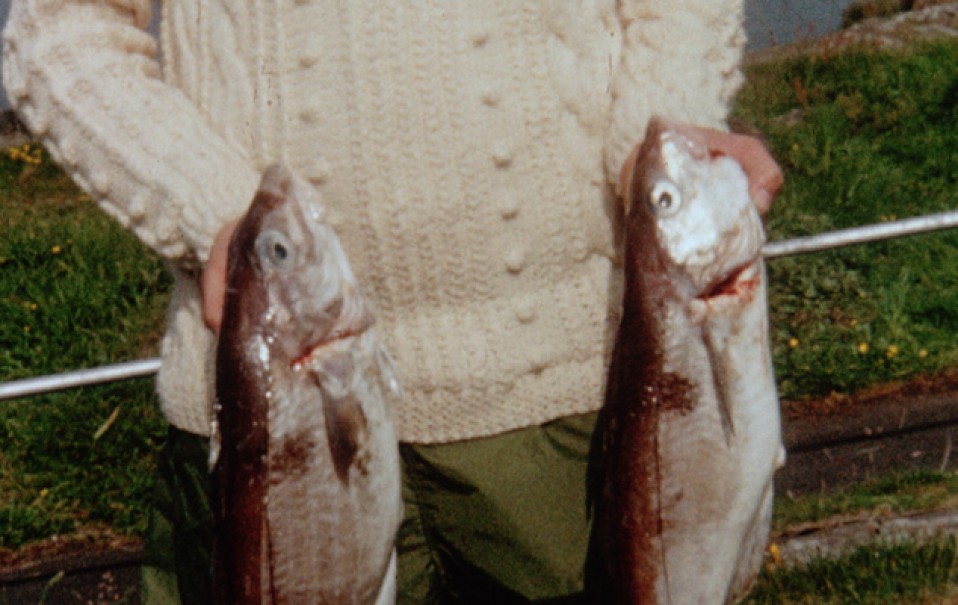 Imag: Ulrika Ferm, 2017, filmstill. Material courtesy of Northern Ireland Screen Digital Film Archive, copyright managed by National Museums NI on behalf of Tourism NI. Part of BFI Britain on Film Coast and Sea 2017.
Image top: Ulrika Ferm, 2017, filmstill. Material courtesy of Northern Ireland Screen Digital Film Archive, copyright managed by National Museums NI on behalf of Tourism NI. Part of BFI Britain on Film Coast and Sea 2017.
About
Northern Ireland Screen Digital Film Archive is a free public access resource for teachers, students, historians and anyone who has an interest in moving images. Spanning from 1897 to the present day, the films in the Digital Film Archive cover aspects of life in Northern Ireland and includes everything from dramas to documentaries, newsreels and features, animation to amateur footage." The artist has curated a collection of films from the archive, which can also be viewed online at digitalfilmarchive.net The BFI has launched Britain on Film: Coast and Sea, an online collection of over 600 newly digitised films, ranging from 1898 to 2000, from the BFI National Archive and the UK's national and regional film and TV archives, with content spanning the whole of the UK, available (mostly) for free on BFI Player via an interactive map.

Ulrika Ferm's artistic practice is based on in-depth research that tackles historical and socio-political topics. She mostly works in photography, installation and in collaborations sometimes containing performance elements. She is also part of the artist collective Platform in Vaasa Finland presenting performance art and producing site and situation specific projects. Apart from founding Platform Ferm also has a broad curatorial and organizational work experience. She has received considerable grants, prices and nominations. In 2002 she won the Young Finnish artist of the year award. Ulrika Ferm has an MA from PALLAS, University of Art and Design Helsinki (1998) and also graduated from Hochschule der Künste, Berlin (2001). Currently (since 2013) she holds a position as Professor of Site and Situation Specific Art at the Academy of Fine Arts, University of the Arts Helsinki.
Mirjami Schuppert is a Finnish curator based in Belfast. She successfully completed a practice-based PhD in curating in 2016 at Ulster University, Belfast. Her research explored the critical potential of artistic interventions into photographic archives and the curator's role in this process. The focus of her curatorial practice is commissioning new context and site-specific works. Schuppert is currently a curator in residence at PS² and has curated internationally, including exhibitions 'World's End' (OKK|Raum29, Berlin, 2013), 'Glimpses of the Unattainable' (Finnish Museum of Photography, Helsinki, 2014, 'How to Show?' exhibition and residency project (Berlin, 2014), Archive Play (Golden Thread Gallery, Belfast, 2014) and 'Anticipated fictions; monumental configurations' (PS², Belfast, 2017). She has co-edited as well as contributed to art publications. She is a member of Ulster Research Salon, and co-founder of EGFK, European Society for Art and Research.

Many Thanks for the support and help from Sinéad Bhreathnach-Cashell at Northern Ireland Screen.