Opening hours
29 April- 10 May: Tues-Fri 1-5pm, Sat 11am-3pm
Noise Box V1
Part 1 of: 'You should show...'. Peer review artist- Phil Hession. Part of the Cathedral Quarter Arts Festival
Barry Cullen
Ends 10 May 2014
Schedule
21-26 April- install, build circuits, open for casual Q&A with the public
28 April - 10 May- installation 'on' for interaction, open to the public
1 May @ 8pm- Performance / improvisation / sounding feat
Barry Cullen, Seamus Harahan, Phil Hession, Saul Rayson and Chris Allen.
10 May @ 2pm- Performance / improvisation / sounding feat. Barry Cullen, Phil Hession and Chris Allen
Thursday, 01 May @ 8pm
Performance / improvisation / sounding feat
Barry Cullen, Seamus Harahan, Phil Hession, Saul Rayson and Chris Allen.

Saturday, 10 May @ 2pm
Performance / improvisation / sounding feat
Barry Cullen, Phil Hession and Chris Allen


Noise Box V1 uses the gallery space to create a combination of exhibition, installation, instrument-building and performance. Various modified consumer electronics, a computer programme and custom built circuits work together to produce an evolving composition which slowly reacts to changes in movement and temperature in the space.

Movement
The audience becomes the performer if/when they touch the copper strips in and outside the space. They can become part of the circuit and make subtle changes to the speed of the motorised fans inside the space. The fans blow a helium filled balloon. As the balloon drifts, it is watched by a camera. The movement controls digital sound being made and how it is diffused in the space through a quadraphonic speaker array.

Temperature
As the room heats and cools throughout the day, a system of four inter modulating analogue sine waves change how they behave: the sound will never be the same twice. The piece rewards attention and deep listening.
'Noise Box V1' will be filled with a selection of customised sensors and sound making devices. The audience experience a slowly-evolving process based performance which is influenced by environmental changes in the space.
Audio visual noise enthusiast Barry Cullen uses acoustic and electronic toys to create playful, unpredictable experimental folk instruments and video chaos generators. He releases popular rhythms as bew (barry's electric workshop). He delivers workshops on circuit bending and DIY electronics.
For more updates see facebook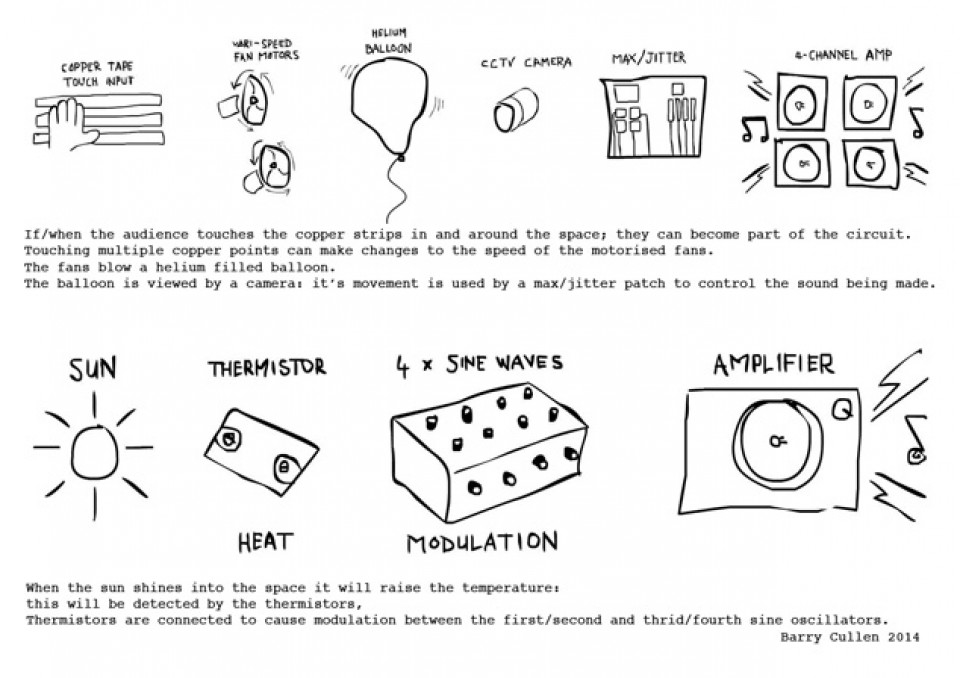 Shop window sound mechanism- Barry Cullen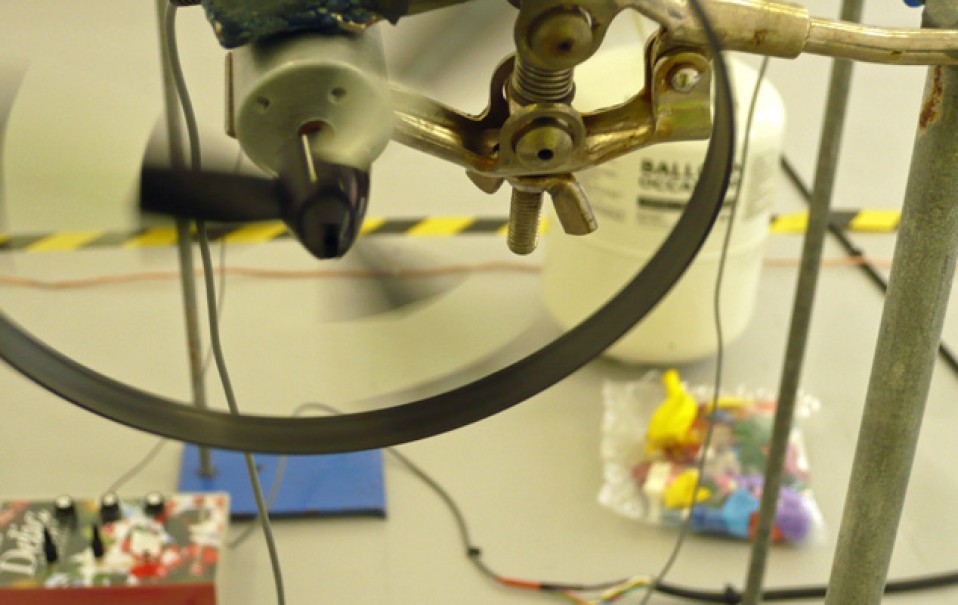 About: 'You should show…
This is the first project in the programme 'You should show…', a series of 4 projects over the year, based on peer review and curatorial assistance by the reviewer. PS² has asked artists who have worked on projects with us before and who are familiar with PS²'s curatorial direction, to propose one artist, to whom we should offer a project.

Barry Cullen - Phil Hession, April/May 2014
Rachel Campbell-Palmer - Yvonne Kennan, August 2014
Ngaire Jackson - Bronah Lawson, December 2014 - January 2015
Robert Anderson - Alissa Kleist, February-March 2015