Opening
Thursday, 08 August, 6–8pm

Opening hours
Tues–Sat 12–5pm
Painting in circles
Art, mental health and acts of kindness
Ends 17 August 2019
Peter Monahan's paintings will be auctioned on Thursday, 15 August at 7.30pm in PS². All proceeds will go to the charities Trócaire and Action Mental Health NI.
UPDATE
Bloomfiled Auctions, Belfast, will include paintings by Peter Monahan in one of their next auctions, again with the proceeds going to Trócaire and Action Mental Health NI.
Thanks for this kind act.

This is a pretty unusual project for PS². Not only does it feature over 100 paintings, a form of practice we very rarely show with its loaded history, but also all the work is for sale, breaking our firm rule of non-commercialism. However the sale/ the art is for the charity Trócaire.
So why this project?
Because the biography of the artist and the context of his practice are so extraordinarily. And so is his work. Peter Monahan, born in Belfast and now in his 6o's, began painting as an amateur with a 'painting by numbers' set in the early 1980's. What started as a hobby soon became a full time occupation and passion. His work gradually moved away from the given outlines and colour codes of the 'painting by numbers' sets, giving way to his own visual language: strictly organised geometric forms and complex patterns. The small to medium sized canvasses are rich, ornamental carpets full of detail. The range of colours, from bright primary to subtle shades and modulations, burst all previous restrictions and display and endless variety of tones.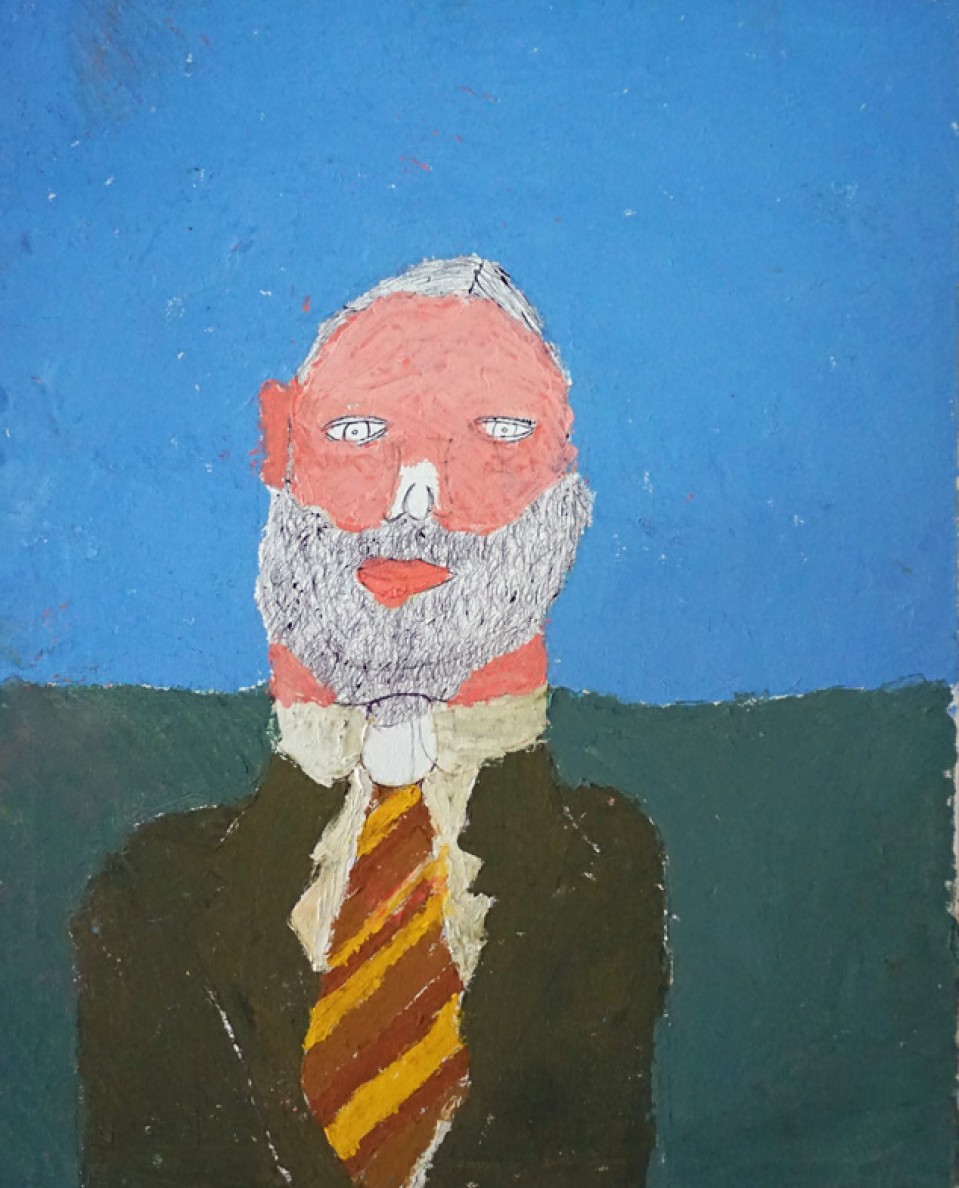 Self-taught, the 'painting by numbers' set served Peter Monahan as a springboard to unlock his own imaginations and inner worlds. It was his art school. This DIY approach doesn't exclude from recognition, but it makes it much more difficult. It places the artists outside any art circle.
Even more so as the artists suffered since early childhood from severe epilepsy, later developing into mental illness. Convinced that a divine force dictates his painting, he is an artist at ease with himself but in trouble with the world around him. He now lives in a care home in Belfast, still painting.
Peter Monahan had an exhibition in Cultúrlann and some of his paintings were shown in a group show in PS²: Let's Have A Show. Work by artists with different skills and abilities, 2017, see. Why do I add these private details? Isn't art art, whatever the social/ biographical circumstances? Of course, Peter Monahan's paintings do not need any explanation. But to know more about the context of his practice opens a more complex understanding and reading of his paintings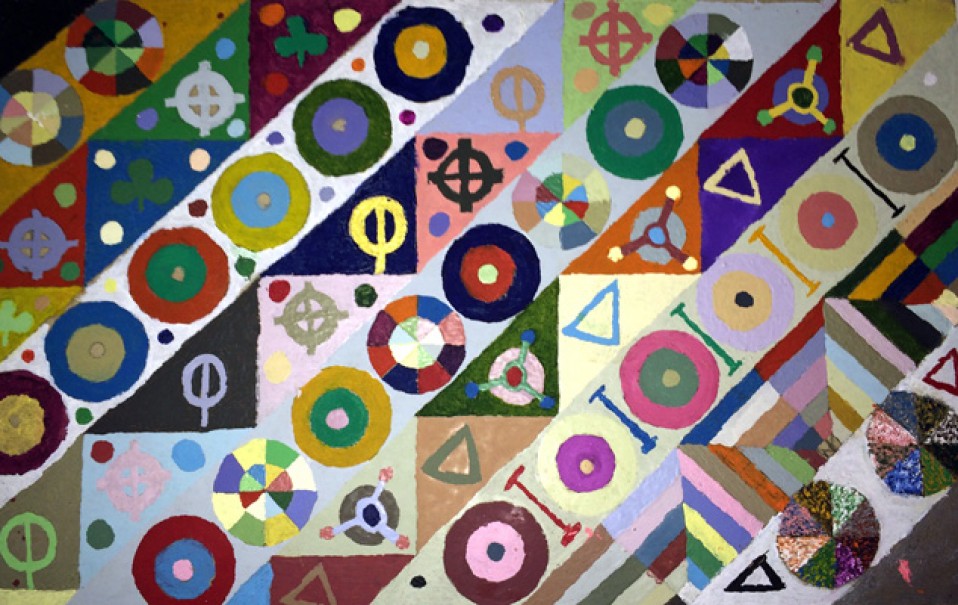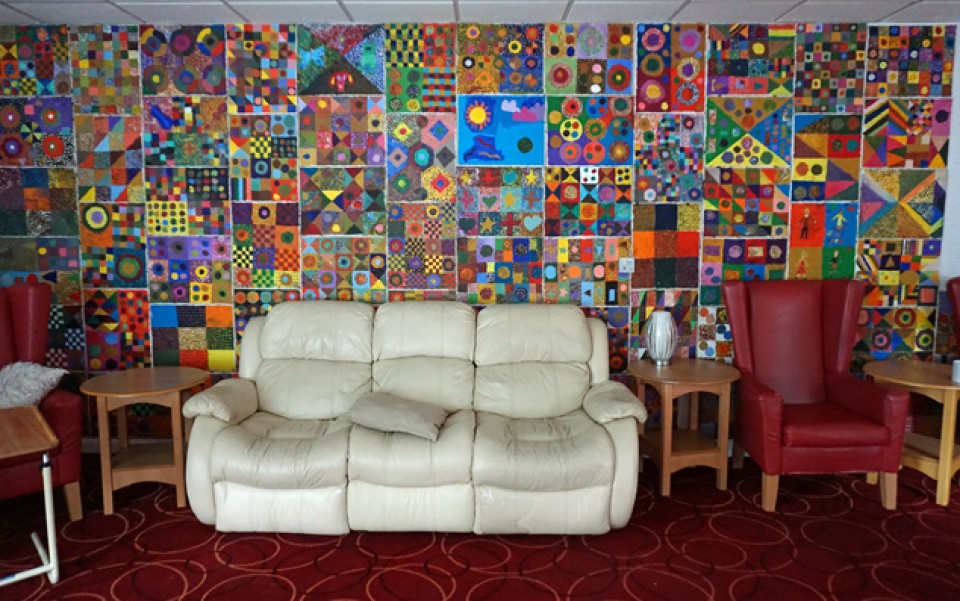 Outsider Art' is the term art historians like to cast on this kind of practise, often of amateur artist who, triggered by a mental breakdown and illness, express themselves through art work which is direct and unusual, technically unrefined and at the same time sophisticated to an extreme. But it is a loaded term which merges criteria of aesthetics with biographical, social conditions, as if it needs an excuse to explain why it is not in the inner circle of art. Peter Monahan's work doesn't need this. His colourful and highly organised paintings have a near mathematical order and stunning beauty.
His work is, unfortunately as yet, at the outside of the art system. This will hopefully start to change now.
His lifelong acts of kindness, donations to charity and his wish that his entire work should be sold for charity is again on another circle.