Artist Talks

Thursday, 21 May 2015, 6-7pm

Performance
Friday, 29 May 2015, 6pm
Performing Identity
Caroline Pugh & Arif Ayab. Curated by Sinéad O'Donnell
Ends 30 May 2015
Performance – Friday, 29 May 2015, 6pm
Performing Identity & The Unknown
Performance notes
"The Singaporean Malays have quite similar struggles to people in Belfast. We share the same sense of humour and warmth towards people." Arif Ayab (Reef)
"When Reef makes sound, I hear that he captures complex emotional responses within small movements. In contrast, I tend to make a lot of energetic movement for a simple emotion. I think this is partly a result of Reef's need to conserve physical effort in his hot home climate, while I move a lot to stay warm. Maybe I'm a fool to be drawing this conclusion. The root of the word "fool" is from the Latin follies, which means "bag of wind", or "that which contains breath". As a vocalist, I tend to be a windbag." Caroline Pugh
"The fool is in zen when he criticise the King while the King is laughing." Arif Ayab (Reef)

Same Same But Different is a South East Asian saying that refers to the similarities and differences between people and situations, like the experience of culture shock.


About the project
Sinéad O'Donnell
When I meet artists working in performance art I am always intrigued to ask how did they come to that art form? How did they begin making performance art?
The answers can be: through fine art; meeting artists; witnessing live performances; music; dance; theatre; or workshops. When I viewed performances by Ayab and Pugh, I was aware that I was experiencing two artists making work from different musical backgrounds. Pugh from an experimental and contemporary music background, with years of training in traditional music, and Ayab an experimental musical background. I knew where they were both arriving from and it made me feel more connected to their performance processes and methodologies. I proposed to Pugh & Ayab a project about collaborative chemistries and what happens when artists move together into a shared creative space.
How do we begin?

Performing Identity is a project that brings together the artists for the first time in a collaborative context. The artists are based in two very different parts of the world: Pugh in Belfast; and Ayab in Singapore. It is obvious that the two come from very different cultures, but the catalyst for the collaboration was O'Donnell's belief that collaboration both fuels and helps us understand culture. Arif Ayab & Caroline Pugh will work at PS² in the format of a residency for a duration of two weeks. Their collaborative partnership began through social networks and internet interfaces. Both artists then worked together at a two week residency at The Guesthouse, Cork from the 1- 14 May 2015.
This process is now continued and further developed.


To hear a new collaborative work with Caroline Pugh, Han-earl Park & Arif Ayab (Reef) click here.
About the artists
Arif Ayab (Reef) is a Singaporean performing artist of Malay descent, who has been active in the South-East Asian art scene since 2008. His immersion in the arts scene spans across a range of genres, media, artists and causes.
Reef believes in engaging his audience through an assortment of media: sound; visual; performance; and aesthetic art. He recently introduced written form in the shape of poetry to his works and performances in an effort to reach his audience. This practice of employing multiple methods of delivery is borne from his belief that true art transcends generic categorization and should not be limited by the boundaries that strict adherence to any given form can engender. This belief is reflected in his body of work. He is the founder, and is a multi-instrumentalist, with the Singapore based bands Under the Velvet Sky and Gulayu Arkestra.
He was involved with a group of Asian artists in a project called The River We Share, and travelled along the Mekong River in Laos to produce a soundscape and music album. Following the trip, they performed at the Bangkok Arts and Cutural Centre and Esplanade. Reef's ongoing solo projects are a series of shows that parody and examine the myth and notion of the rock star.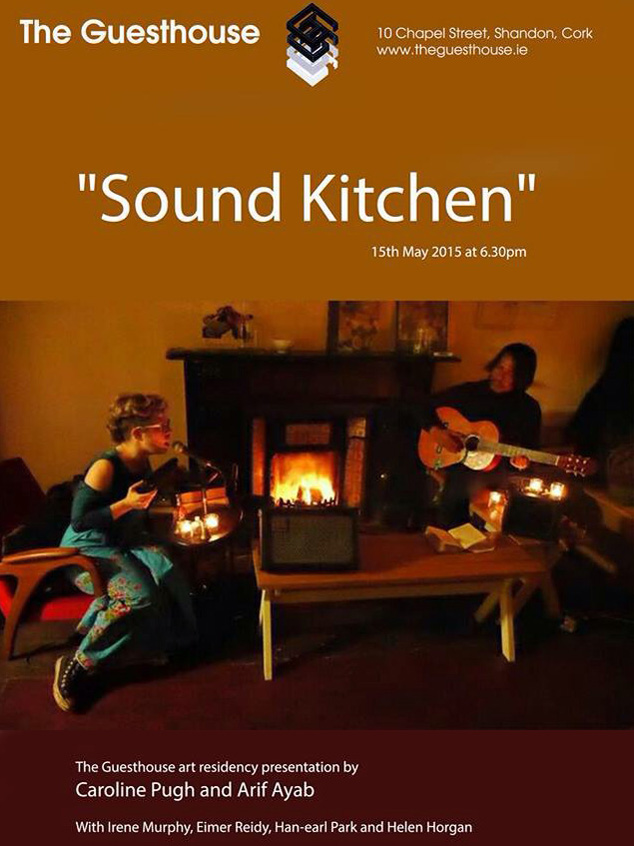 Scottish vocalist and composer Caroline Pugh borrows old-fangled technologies and honours oral histories to create new performances. With a background in both folk and improvisation, her solo works You've Probably Heard These Songs Before, Timing By Ear, Measuring By Hand and Platform Audio also draw on performance art and pinhole photography. Originally from Edinburgh, Caroline has performed across Europe and North America with new improvisation performances, including Los Angeles' Betalevel in 2012, NIME 2011 in Oslo, Just Listening 2011 in Limerick and Experimentica09 in Cardiff. She is also in a band called ABODE and an improvisation collective called E=MCH. Now based in Belfast, Caroline sings in a folk duo with Meabh Meir, and together with Myles McCormack they run traditional song sessions.
In 2011, Caroline was awarded an Art Council Northern Ireland grant for her solo work and gained a Distinction for her AHRC-funded Master of Music at Newcastle University. She coaches students at Queen's University Belfast and has worked in collaboration with visual artists (Connecting through Scape 2008), theatre practitioners (hour8+9 2009), video artists (SAAB 2009), dancers and psychologists (Newcastle and Northumbria Universities 2010). She also got a BA in Scottish Music from the Royal Academy of Music and Drama in Glasgow, and studied Contemporary Music at the University of Central Lancashire.

Artist and curator Sinéad O'Donnell has worked in performance, installation, site and time-based art for the past 20 years. Her work explores identity, borders and barriers through encounters with territory and the territorial. She sets up actions or situations that demonstrate complexities, contradictions or commonality between medium and discipline, timing and spontaneity, intuition and methodology, artist and audience. She uses photography, video, text and collage to record her performances, which often reveals an ongoing interest in the co-existence of other women and systems of kinship and identity. Sinéad's practice is nomadic and travel has broadened her cultural perceptions and influenced her artistic sensibilities regarding time and space.
In addition to her own performance works, she works actively to foster and develop performance art activity and to support artists. Curatorial commissions have included: Lee Wen (Singapore) at the Golden Thread Gallery, 2014; My Earth Festival, Staglinec, Croatia - guest curator hosting 10 performances artists from Asia 2013; CAUTION, an unlimited commission for the 2012 Cultural Olympiad; CHAOS performance art from Canada, curator for Bbeyond Performance art Northern Ireland and Open Space B.C, Canada, 2010; ARES performance art inter-regional exchange, ETNA foundation Transylvania, Romania / Strule Art Centre and Catalyst Arts, Northern Ireland 2006/2007.