PING talks
conversations, responses, short actions.
Paul Bower, Alessandra Giacinti, Johan Lundh & [Aileen Burns], Bronagh Lawson, PRIME collective, Iain Griffin, Emma Campbell
Ends 13 October 2012
With the ping-pong table still in place from culture night, stripped from its microphones and cabling, the green board is an ideal, playful surface, to group around, talk, eat and drink. Slightly out of breath, PS² takes a seat and invites everyone who is interested in art and cultural production to join. Through chance encounters and planned sessions, PING talks is a set up for conversations, responses, short actions and spontaneous ideas within a small group of people or a wider circle. The talks may address issues relevant to PS² such as art/ cultural practice and social responsibility; creative activism; critique ; change; degrees of misery or spells of enlightenment.
It is significant for the PING talks that they include some kind of basic cooking, an element of hospitality, a staged kitchen situation extended to a public space.
Please contact PS², if you would like to propose an encounter/ talk/ happening.


Monday, 10 December 2012, 6.30 - 7.30pm
PING talk: G-ate Rory Hyde in conversation with Northern Irish practitioners, facilitated by Paul Bower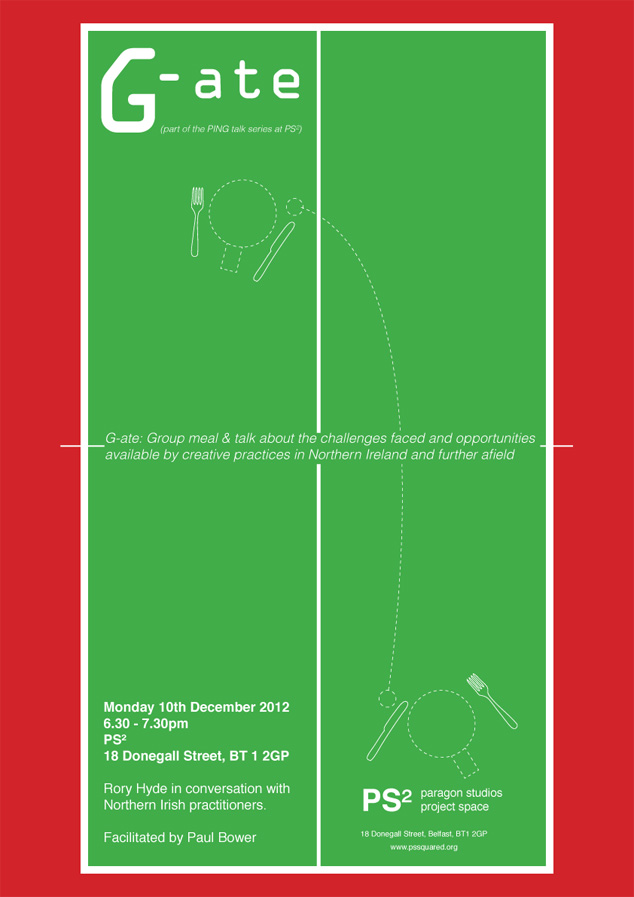 Image: Paul Bower I
It was recently announced that Northern Ireland will host the next G8 Summit. The G8 is an annual meeting of leaders from the eight most powerful and rich countries in the world to discuss global issues such as the environment, food, energy and the economy. As the next host nation, the United Kingdom gets to set the agenda for the talks.
PS² will play host to a 'summit' of its own for one night only, called G-ate as part of its PING talk series. This informal group meal and conversation will be around the PS² ping-pong table and its agenda will centre on the future of the creative process in post-conflict places. The challenges and opportunities faced by an invited audience of Northern Irish creative practitioners (architects & non-architects) working in contested sites, will be expressed in order to gauge the perspective from a relative 'outsider' who will frame the discussion through conversations of 'future practice' elsewhere.

Rory Hyde is a practicing architect working across design, research, broadcasting and building. He studied architecture at RMIT University in Melbourne, where he also completed a PhD on emerging models of practice enabled by new technologies. He is contributing editor of Architecture Australia, and co-host of The Architects, a weekly radio show on architecture, which is presented in the Australian pavilion at the 2012 Venice Architecture Biennale.
Based in Amsterdam since 2009, Rory has worked with Volume magazine, Al Manakh (Archis / AMO), MVRDV, the NAi, Viktor & Rolf and Mediamatic. Recent publication: 'Future Practice: Conversations from the Edge of Architecture' , Routledge, 2012.

Paul Bower is a PhD researcher at SPACE, Queen's University Belfast looking at the impact of conflict on architectural practice.


Thursday, 04 October 2012, 6-9pm
Sandwich Artist - Alessandra Giacinti: Food happening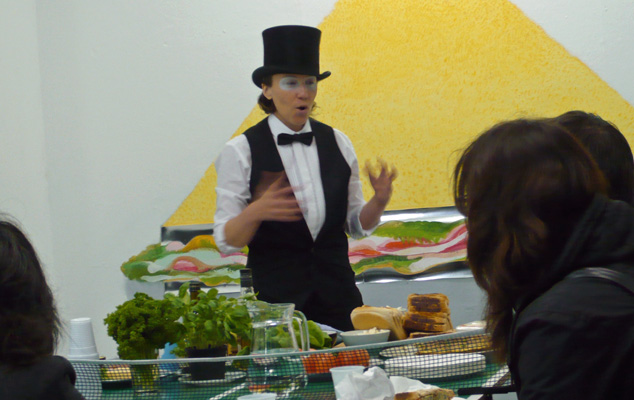 Alessandra Giacinti: Sandwich Artist, performance
The ping pong table is used as a kitchen surface to prepare food and to collectively dine. Free! Alessandra Giacinti: Sandwich Artist, performance image. The wall shows an oversized sandwich as the backdrop for a performance. The ping pong table, currently the playful object for meetings and talks, is used as a kitchen surface to prepare 'real' sandwiches, given away for free. Charitable intentions cross with theatrical elements, gender roles and entertainment besides the basic fact that food and collective meals are one of the best ingredients to forge social contacts.

Tuesday, 09 October 2012, 6pm
Johan Lundh & [Aileen Burns] , co-directors and curators CCA Derry/Londonderry.Informal conversation and DIY cooking. All welcome.
Thursday, 11 October 2012, 6pm
Bronagh Lawson, artist and editor of the 'Creative Change NI' web-platform. Informal conversation and minimal DIY cooking. All welcome.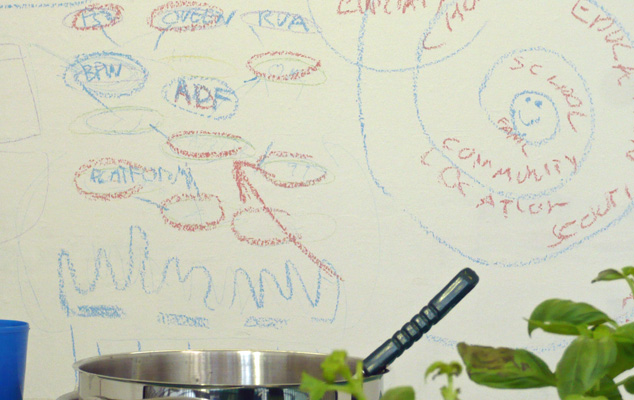 Bronagh Lawson: Notes during PING talk, wall drawing
Bronagh Lawson has been tracking the shift in Belfast's art scene for over 16 months on her web-platform Creative Change NI. This is an opportunity to hear her view of the recent shifts, changes, directions of the (visual) cultural scene in Northern Ireland and ask questions about future developments and possibilities.


Friday, 12 October 2012, 6pm
PRIME collective- peer review with Iain Griffin and Emma Campbell. All welcome.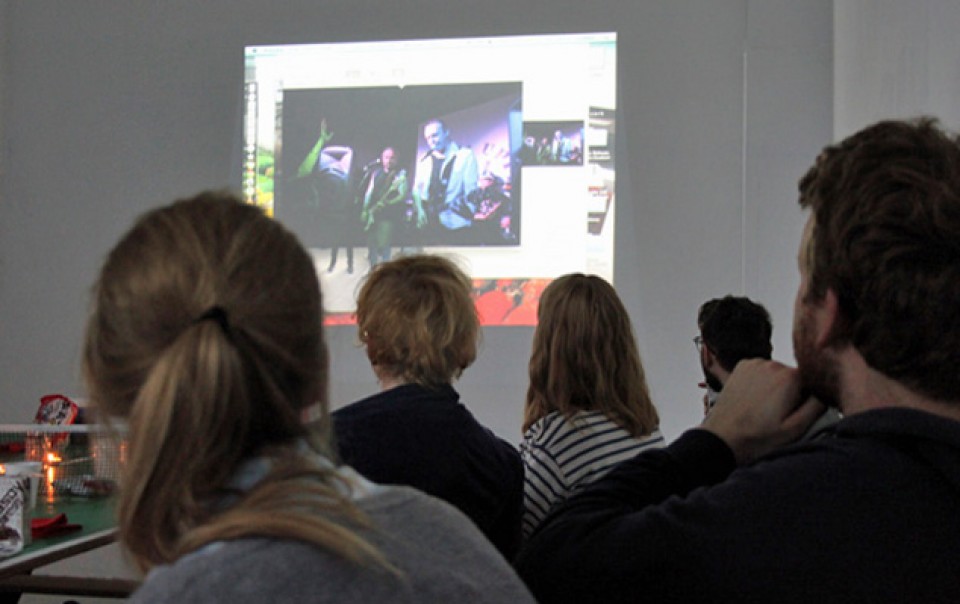 PRIME collective- peer review. Image PRIME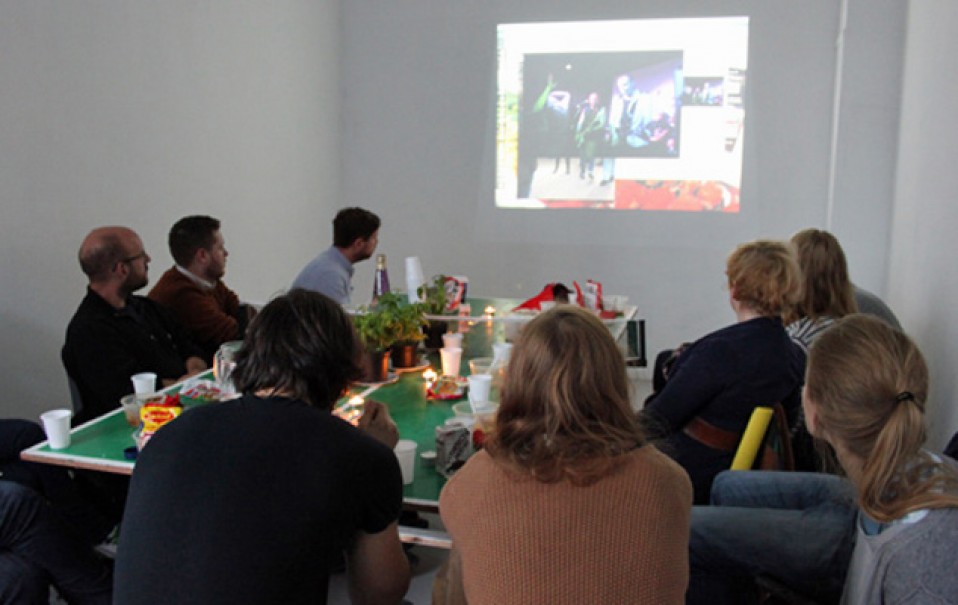 PRIME collective- peer review. Image PRIME