Conversation

Thursday 24th October 2013, 6pm
'How collaborative art practices in the built environment speak to architecture and urban design'
Playing in the Shadows
PS² at Darc Space gallery, Dublin
PS², curated by Ruth Morrow
Ends 24 October 2013
This exhibition profiles the curatorial approach of PS² and its projects at outside locations. Since 2004, PS² has developed a socio-spatial practice that responds to the post-conflict context of Northern Ireland, with particular focus on active intervention and social interaction between local people, creative practitioners, multidisciplinary groups and theorists.
Ruth Morrow (architect) has collaborated with the artist, curator and director of PS², Peter Mutschler, since its inception, acting as curatorial advisor specifically on the projects that occur outside PS².
The exhibition interrogates PS² spatial projects; contextualises its curatorial practice in a wider arena of 'engaged forms of spatial practice'; and opens up the analytical framework by extending it to other similar practices: Blaithin Quinn, Robert Burke and Katie Dowling, and Culturstruction.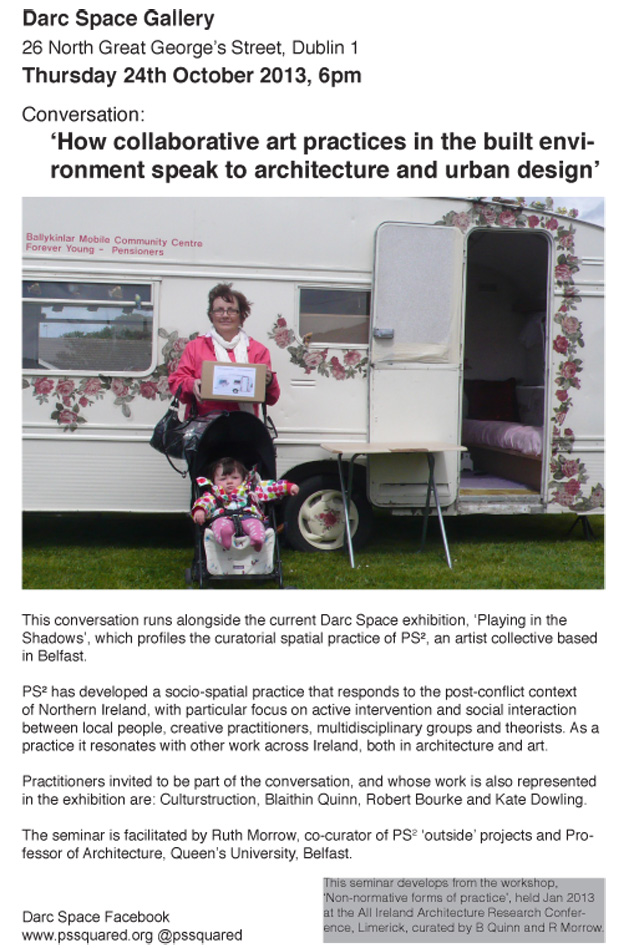 PS² first exhibited this body in the Shed, Galway, June 2013, chiefly to an art audience and now seeks to engage with the architecture community, by purposefully hanging out PS²' s linen, exposing the creased, patched and well-worn parts and raising questions about the legitimacy of cheap, fast, impermanent and 'co-authored' spaces.
The Dublin Architecture Space or darc space was established in autumn 2010. It opened on Friday October 9th 2009 with the launch of its first exhibition 'Becoming'. The launch was part of the Irish Architecture Foundation's 'Open House Weekend' and the exhibition and the new gallery were part of that weekend's celebration of architecture in the city.

For more information see facebook