Opening
Thursday, 8 January 2009, 6-9pm

Opening hours
Tues-Fri 1-5pm; Sat 11am-3pm

Portraits
sounding out space [2]
Kathy Graham
Ends 24 January 2009
Kathy Graham, a recent graduate from the art college, University of Ulster, uses and works with architectural spaces in her photography.

For 'Portraits' she writes
"A photograph allows for a reconstruction of reality resulting in a portrait of a given space. Through a working process, the space becomes the image which in turn becomes the object. Substituting the true gallery space for its objectified portrait allows the observer to take possession of a quantity of the space. The result of this remaking of the space means the absence in the gallery becomes the presence in the image".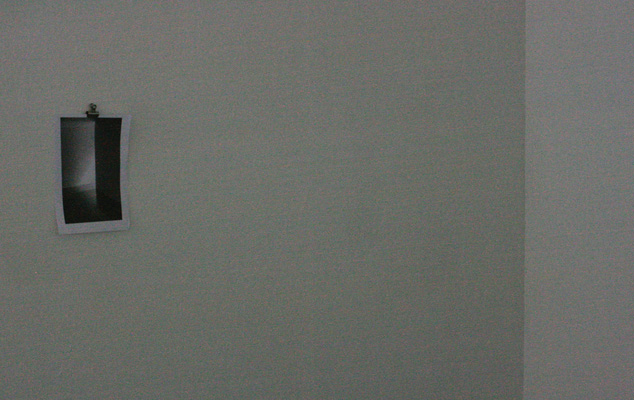 Installation view
'sounding out space' is a series of explorative projects around aspects of space (architectural, emotional, historical, practical…). The 23m² of project space with its public exposure to the street is the object of investigation with a wide range of multidisciplinary approaches; artists, musicians, choreographers, a cat, interior designers, refurbishment people, tenants....

(1) Matt Green: 'Present place' , 2008
(2) Kathy Graham: 'Portraits', 2009
(3) Tobias Sternberg: 'Yourself from the outside', 2009
(4) Joanna Karolini: 'Unpriviliged Highs and Lows', 2011
(5) Fiona Larkin: 'Do You Love me Now', 2010/11
(6) Laura Graham: 'THE SPACE in BETWEEN', 2010