Street Society 2011- Beach huts for Ballykinler
Part of 'Street Society', Architecture Department, Queen's University, Belfast
Architecture students Queen's University Belfast and Prof Ruth Morrow: James Purdy, John Murray, James Walmsley, Niall Robinson, Stephen McCelland, Paul McAleer, Marc Tracey, David Magennis, Roxanne Cowley, Kayleigh Gregor, Callum Black and artist and resident Anne-Marie Dillon
Ends 11 March 2011
Participants
Architecture students: James Purdy, John Murray, James Walmsley, Niall Robinson, Stephen McCelland, Paul McAleer, Marc Tracey, David Magennis, Roxanne Cowley, Kayleigh Gregor, Callum Black. Client representatives: Anne-Marie Dillon, artist, community activist Ballykinlar and PS².
Architecture students from Queen's University Belfast will design a series of beach huts for Ballykinler during their week-long project entitled 'Street Society'. This 'real' project with 'real' clients and their briefs is seen as a one-week design research office and brings together first year students from both the undergraduate BSc Architecture and the Masters in Architecture course in the School of Planning, Architecture and Civil Engineering at QUB, to work on a range of projects for clients. The proposal by PS² and local artist and activist Anne-Marie Dillon will be part of the Street Society projects.
This is the second time PS² takes part in Street Society

Street Society 2010- Urban Playground
Street Society 2011- Beach huts for Ballykinler
Street Society 2012- Transfer tests
Brief
To design a variety of beach huts along the cost in Ballykinlar, Co. Down.Ballykinler/ beach/ bridging the compound The small village of Ballykinler/Ballykinlar, situated at the southeast coast of Co. Down is dominated by a British Army site 'Abercorn Barracks, located there since 1901. This caused in the past great tensions and divisions in the community, which still resonate till today. Access to the beach for the community is via a small path, which runs along the parameters of the fenced Army compound. Recently the right of way was withdrawn, due to security reasons. This decision is currently appealed by the community. The Army occupies a long stretch of the coastline, which is only passable when no shooting training is conducted (indicated by flags, monitored by radar and CCTV).
The beach and the use of it are seen as a basic right for the villagers and includes
- appropriation of the beach by and for the community
- civil/cultural liberation of (army) occupied territory
- future integration of the Army site by the community
- to allow individuals, groups to meet and spend time at the beach
- function as shelter, meeting place, leisure - allow for activities, games, barbecue
- possible overnight sleeping
- toilet facility, shower
- offer different sizes and purposes.


Guidelines
- cheap to construct
- possibly self-built (or to great parts)
- ecological (material/ toilet/electricity/water)
- strong community, Army and MOD consultation and involvement.

Anne-Marie Dillon is an artist and community activist in Ballykinler. With no community centre in the village, she started weekly coffee mornings in the open and later converted a caravan into a much used mobile community centre. She recently occupied an empty hairdresser shop as the new Ballykinler/Ballykinlar Cultural Centre.


PS²- client diary
Monday, 07 March
Who owns the beach and the path to it? Ballykinler is situated on the southeast coast of Northern Ireland (NI) which is a picturesque, rural area located on the coast with a blue flag beach and overlooked by the Mourne Mountains. Unfortunately Ballykinler village itself has very limited resources. (Information Sheet 1c, issued by the MOD). Limited resources, even more so as it turns out that the right of way alongside the Army fence to the beach is suspended. The group of students, who come to Ballykinler in the afternoon for a site visit, get stopped by a farmer and later by the Army. They are told that the public no longer has the right to walk along this path. The Right of Way for this path to the beach, never suspended during the Troubles, no longer seems to exist. The students find non-obedience as too risky and follow plan B- turn back and use a private access way - with the one off permission of the landlord- to a similar beach close to the original site. This is an interesting start to a project which runs under the overall title 'Street Society'. Themes like Right of Way, civil courage, ownership of access and space loom large under a perfectly blue sky.

Tuesday, 08 March
The Daily Mail reports on their online paper today: 'Who needs the Maldives? Bournemouth plans to offer couples beach hut weddings'. An unfettered view of the ocean, soft sand beneath your feet...for many couples a beach wedding is everything they've dreamed of. Almost marrieds may soon no longer need the services of an airline to make their sand ceremony a reality - Bournemouth is looking to build a beach hut that is licensed to marry.

Wednesday, 09 March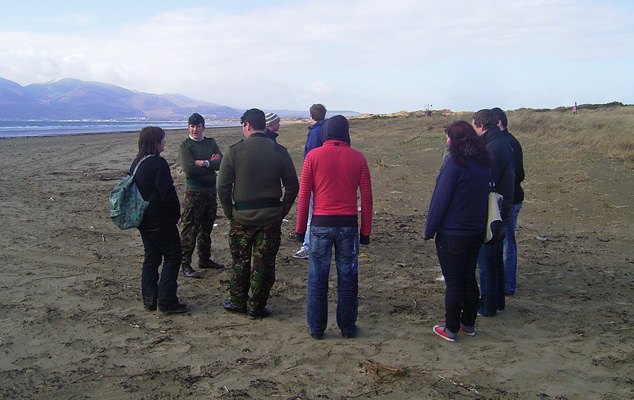 Site visit with access through the Army camp under strict control. The soldiers stress that the beach is vey much valued and used for sports activities and leisure during off duty time. It is quite common during their training, to build small structures out of sandbags or found materials as shelter or defence or to practice real battle situations. 'Sometimes we build small houses with gardens and so to make it look real and play out combat scenarios, reck it and rebuild it again.' 'Building with earthbags (sometimes called sandbags) is both old and new. Sandbags have long been used, particularly by the military for creating strong, protective barriers, or for flood control. The same reasons that make them useful for these applications carry over to creating housing: the walls are massive and substantial, they resist all kinds of severe weather (or even bullets and bombs), and they can be erected simply and quickly with readily available components.' See website, accessed 09.03.11 http://www.greenhomebuilding.com/earthbag.htm . Image sandbag http://www.earthbagbuilding.com/projects/sandbagshelters.htm

Friday, 11 March