Opening hours
Every Sunday 10am- 4pm/ performance events see timetable below


Sunday performances
Performance events, part of Belfast City Council's 'Sundays in the City'
Leo Devlin, Paul King, Anne Quail, Rainer Pagel, Colm Clark, Sinéad Bhreathnach-Cashell, Kristof Gillen, Crissie Cadman. Curated by Bbeyond
Ends 02 May 2010
As part of 'Sundays in the City', PS² is open every Sunday until 30 May 2010 between 10am- 4pm.
Within the ongoing projects, we invited the performance group Bbeyond to curated a series of performances.
Performance- or live art has a very strong tradition in Belfast and plays a significant and stimulating part in the contemporary art scene. Although PS² is not a dedicated performance venue- Catalyst Arts are far more active, we see the social aspect and the urge of many performance artists to often place their work and actions in an everyday street context as important and an inspiration for PS²'s urban orientated projects.

Neighbouring galleries- Belfast Exposed and Golden Thread- are also open.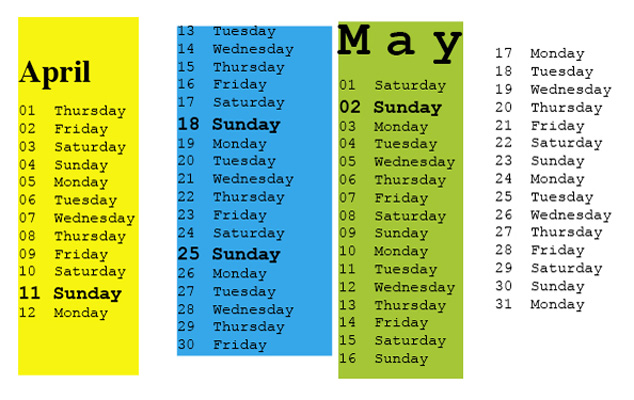 TIMETABLE
Sunday 11 April
11.30 am - 12.45 pm Leo Devlin
1.15 pm - 2.00 pm Paul King

Sunday 18 April
11.30 am - 12.30 pm Anne Quail
12.45 pm - 1.30 pm Rainer Pagel

Sunday 25 April
11.30 am - 12.45 pm Colm Clark
1.00am - 2.00 pm Sinéad Bhreathnach-Cashell

Sunday 02 May
10.30 am - 12.45 pm Kristof Gillen (K.Gillen will start at the Pavillion Bar/ Ormeau Road at 10:15 am - please be in time if you want to see the entire performance- and make his way down to PS², where he will perform his final action at approx 11.30 am
1.00 pm - 2.00 pm Chrissie Cadman
2.15 pm - 4.00 pm Simultaneous group action with Bbeyond members


PARTICIPATING ARTISTS
Colm Clarke - MANTRA
Mantra is a score composed from the vibration and resonance of electronic tools.


Paul King - I'm not Gary Performance
Paul King is a multi-media artist who works primarily in performance and installation art. He deals with the problematic nature of communication between people, the act of trying to communicate while at the same time not really wanting to or the inability to do so. Paul King's work lies, where the tragic and the comic meet. Contained within this art-theatre-playground of human interaction are the elements of failure, alienation, frustration, aggression and the absurd.


Leo Devlin: Fortifying Myth - 45 minute responsive performance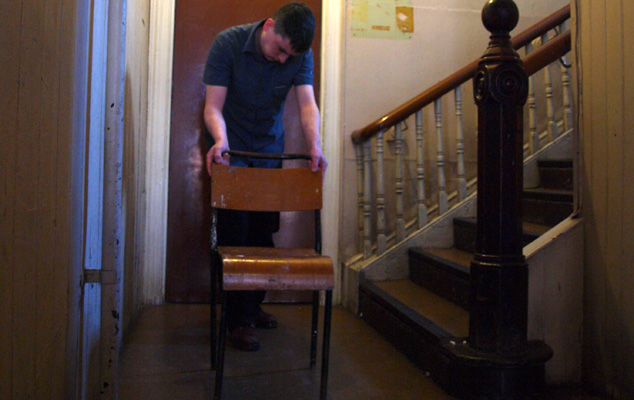 Performance: L. Devlin/ Image: Jordan Hutchings
Dining with dust and sticks; retrieving evidence of its condition; forcing a gradation of actions; producing a solid.


Kristof Gillen: Relate Reflect Reveal
Graduated with a BA (Hon) in fine Art in 1998 and an MA in Art in Public from the University of Ulster in 2009. From 1994 to the present, Gillen has taken part in exhibitions and performance festivals: Catalyst Arts, Platform Arts, Golden Thread Gallery, University of Ulster, Carrickfergus, Cork and Dublin.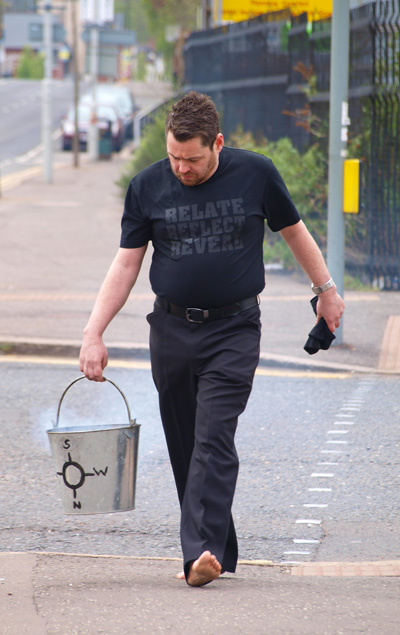 Performance: Kristof Gillen. Image: Jordan Hutchings
Performance has been Gillen's sole medium and means of expression as an artist. Each performance is a manifestation of Gillen's own concerns and life experiences and in part a result of a continuing process of self examination and documentation.


Sinéad Bhreathnach-Cashell
An urban tumbleweed with magpie tendencies, the artist graduated in 2007 and is based in Belfast. She works in many media forms; drawing, sculpture, collaboration, performance, installation and starts to explore video and sound. Sinéad Bhreathnach-Cashell can be encountered with playmates or alone, plundering the streets, making playful interventions and mess in search of a beach under the pavement. Her work is generated by a direct response to and observations from her surroundings and their social contexts. Strange seemingly out of place activities, awkward objects and vessels disrupt the surface and merge with the habitual traffic of the environment from which they have been appropriated. Taking play as a means of articulation transforms the world into an adventure playground and everything in it including herself into potential playthings. The people who inhabit these spaces are invited to partake in absurd activities and share their wealth of experience, skills and knowledge. In addition to her own practice, Sinéad Bhreathnach-Cashell is a committee member of Bbeyond and organizes 'residence', a series of artist interventions, workshops and a rolling residency programme with her sister Sighle in domestic buildings around Northern Ireland.


Rainer Pagel - The New Northern Ireland: Part 3 '
My art comments on belief systems, societal events, political developments, absurd ideas and conventions of communication and human interaction. Performance / live art allows me to use process and development to illustrate how our world changes while we're not looking, and how we then misinterpret what we have not seen but think we know intimately.' Born in Mecklenburg, Germany, Pagel studied in Hamburg and Belfast. He is a member of NI Workshop of the Free International University at Documenta 6, Kassel, Germany, 1977; founder member of Art and Research Exchange, Belfast; coordinator Media Workshop, Belfast; invited to represent NI Workshop at Beuys Exhibition, New York, 1979; community worker Centre for Neighborhood Development, Belfast; voluntary and community sector trainer, Belfast; founder member and president European Third Sector Training Network, Brussels; deputy director NICVA, Belfast; founder member Bbeyond, Belfast; director Face Inclusion Matters (youth work agency).


Chrissie Cadman - Sunday Roast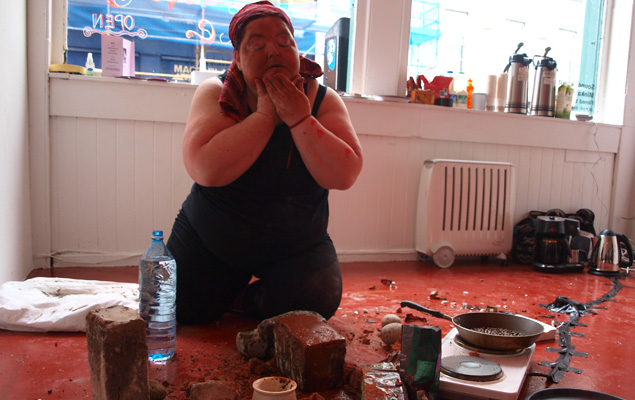 Performance: Chrissie Cadmann. Image: Jordan Hutchings
SUNDAY- DAY OF THE SUN- THE DAY BETWEEN SATURDAY AND MONDAY- DAY OF WORSHIP- SUNDAY SCHOOL- SUNDAY ROAST- YORKSHIRE PUDDINGS- THE PUB- SUNDAY PAPERS- DANISH PASTRIES- THE ULSTER FRY- WALK IN THE PARK- WALKING THE DOG- BATH NIGHT- SCHOOL UNIFORM DAY- HOME WORK DAY- LAZY DAY- TIME FOR THE CHARTS- LAST DAY OF THE WEEKEND- FIRST DAY OF THE WEEK- GETTING UP LATE- VISITING RELATIVES- VISIT ART GALLERIES- FAMILY DAY OUT-GATHERING WITH FRIENDS- COFFEE DRINKING


ANNE QUAIL- CornedBeefLoaf- 46'25" action in a gallery with music.
This piece is in response to being a partially deaf artist and is from an autobiographical position; corned beef is derogatory rhyming slang term for deaf.
Anne Quail is a multi-disciplinary artist utilizing performance, lens-based media and drawing. Her practice operates in the gap/crossover space between art and life, taking everyday actions and objects as the material presence from which she works a position between the familiar and the strange. Employing strategies of performative action, labour, recognition and mutation, her interventions on the usual create a space for intimate investigation of the overlooked minutiae of detail that infuses our lives. This state of self-awareness she creates, extends our sensorium into our innate consciousness, disambiguating the unconsciously habitual and intuitive, making the implicit explicit. Having completed a Masters of Fine Art in 2008 at the University of Ulster, she is currently a member of Platform Arts Studios in Belfast. She is also a member of Bbeyond and has taken part in such performance events as East West via Belfast and FIX 09.