Mid-project opening
Thursday, 13 January 2022, 6-8pm
Reading by James King, delivered online and on a monitor in PS² or follow link

Opening times
Tues-Sat, 12-5pm
Swims Diary- James King
drawings and texts around open sea swimming
James King
Ends 15 January 2022
Open water swimming is in.
The colder the water, the more attractive it seems to be, just to recall the many images on social media of group swims around the New Year.
I confess, I could never, do this.
Not so James King. Well known as a performance artist and sound-poet, based in Derry, he has been a passionate year round open water swimmer in the past, when he lived in Glenarm.
This short project will show a selection of drawings based on his diary notes and texts, documenting his swims in the sea which the artist recently compiled for a publication with the same title: Swims Diary, Glenarm, 1985-86. He writes:

'The swims took place over two years and three months, 1984-1986. The diary records the final eight months. Approximately ninety entries. This year and last year [2020/21] I did a charcoal drawing for each entry and wrote a "reflection". Sometimes a little poem, sometimes clarification of the diary entry (for these entries were maintained in note form), sometimes something philosophical.'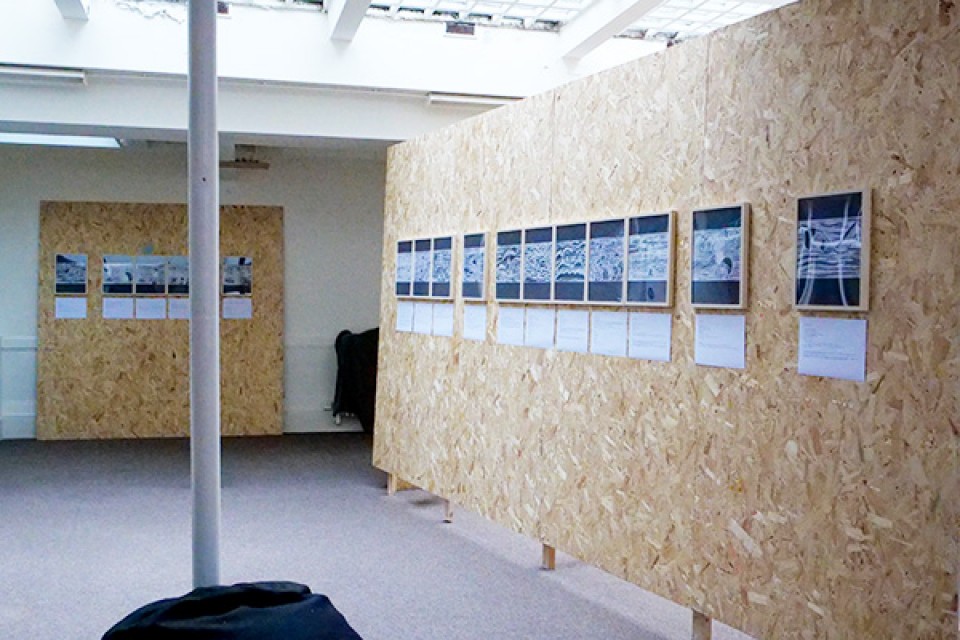 Installation view. Image: Catherine Devlin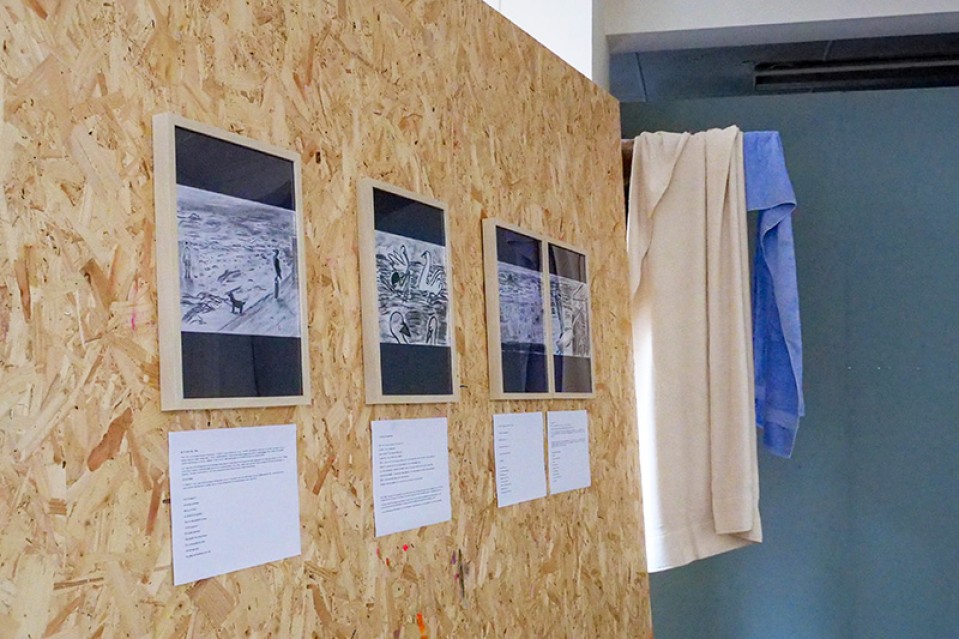 Installation view- with towles. Image: Catherine Devlin
Like in his book, where he paired 94 diary entrances with as A4 sized charcoal drawing, this project shows 20 drawings and the accompanying notes. The charcoal drawings depict the seascape in different weather, always with a swimmer amidst the water or close to it at the beach.
Some drawings zoom in close to the swimmer, or we see him (presuming it is the artist) in the distance, just about visible in the folds of the waves. We see him surrounded by seagulls, debris, ducks or fish; and we encounter the many surfaces of the sea- and ways to translate it into graphic textures: smudged calm or dotted with short horizontal strokes or scarred with dense, deep dark lines.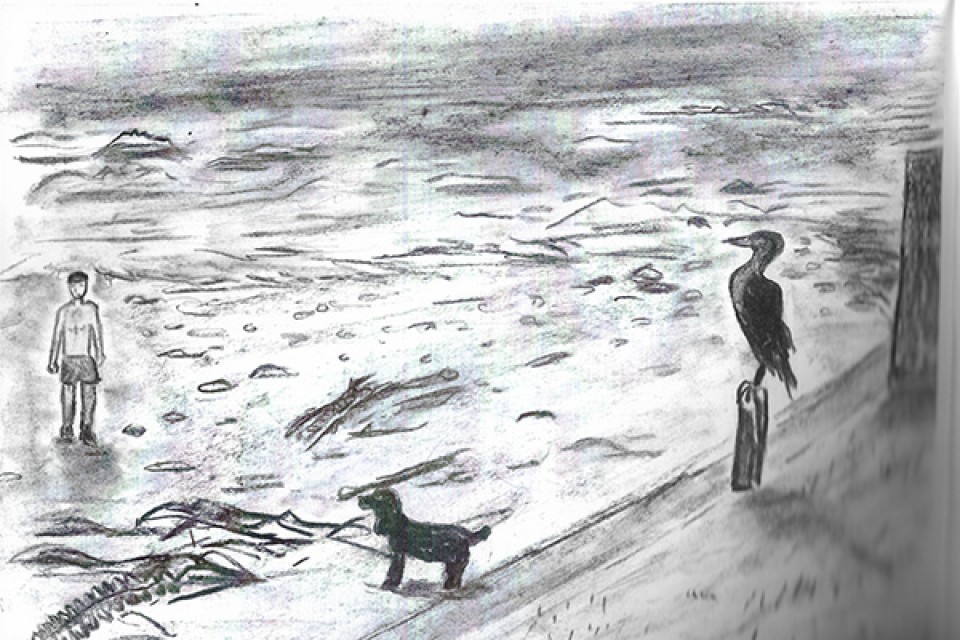 Book page: Swims Diary, Glenarm 1985-86 by James King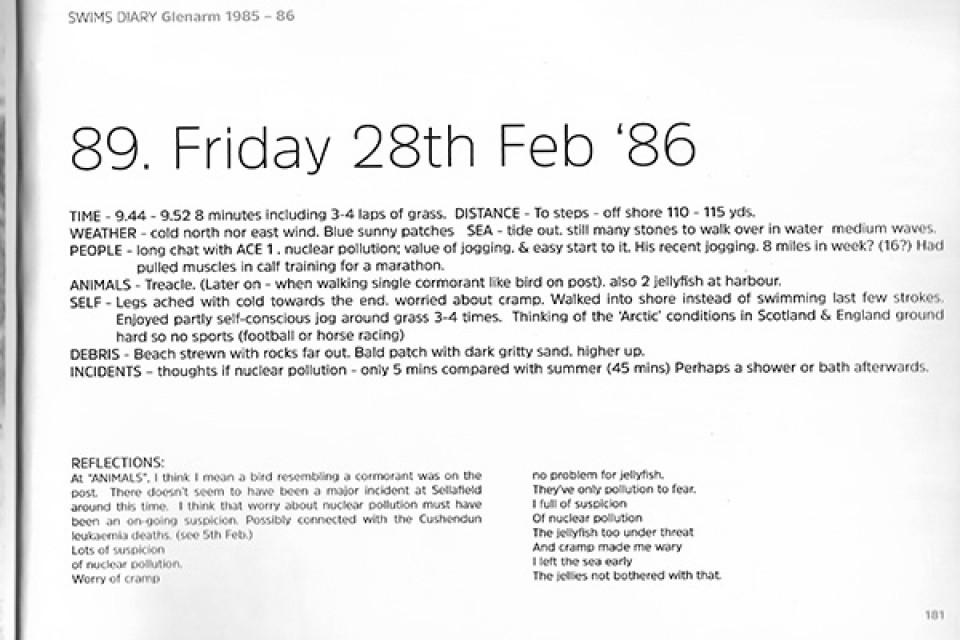 Book page: Swims Diary, Glenarm 1985-86 by James King
The diary notes follow a strict pattern: ordered by date; the distance swam; weather; people and animals encountered; own state of mind/thoughts; debris; incidents.
It is a mechanical ordering system, but all his entries read wonderfully different and sometimes magically, like a first sketch for a story:

20. Sunday, 20th Oct.85

TIME-12.20-12.52 (32 Min) now.1.26

DISTANCE- 1/2 mile. 1 return to 2 houses past barracks, 2 return to barracks.

WEATHER-mild, calm hint of mistiness. SEA & TIDE- calm, tide full.

PEOPLE- lads at bridge. One elderly lady, 2 children, 1 youth at beach in distance. 1 occupied car. 2 local small men. Sunday morning people.

ANIMAL LIFE- dog tracks in sand. Seagulls at Point. One curious approaches at start of swim. Cormorant appears as I'm drying off (observed from toilets).

SELF CONDITION- Tired after yesterday's swim, and swim at pool. Some effort to enter, fast final return- practising continuous left right action. Coasted along slowly at times on way out. On emerging- prepared for longish run, but foot cramped a little.

DEBRIS- Skull of large mammal.-Large dog? Lots of debris at Point.

INCIDENTS- Saw harp can in water as swam. Wondered what it was at first. Thought it was another swimmer swimming in! Swam over very black,l arge patch of weedy darkness. White arms. Unexpectedly touched weed on 2nd return. First out swim. Swam till reached weed. Thick & long beneath. About turn.'

REFLECTIONS: For a moment, a fraction of a second, another swimmer was there in the sea along with me. As real as the people mentioned above. The lads at the bridge, elderly lady, two children, a youth, two small local men. I have as clear a memory of them as I have of the imaginary Harp person. All are real now. And then the Harp person existed too.
James King- reading from his diaries via Zoom, 13 January
This short project will give an insight into the artist's connection with nature and the sea. The combination of image and text is not only beautiful to read and see, it is also inspiring, regardless if you are an open sea swimmer or not.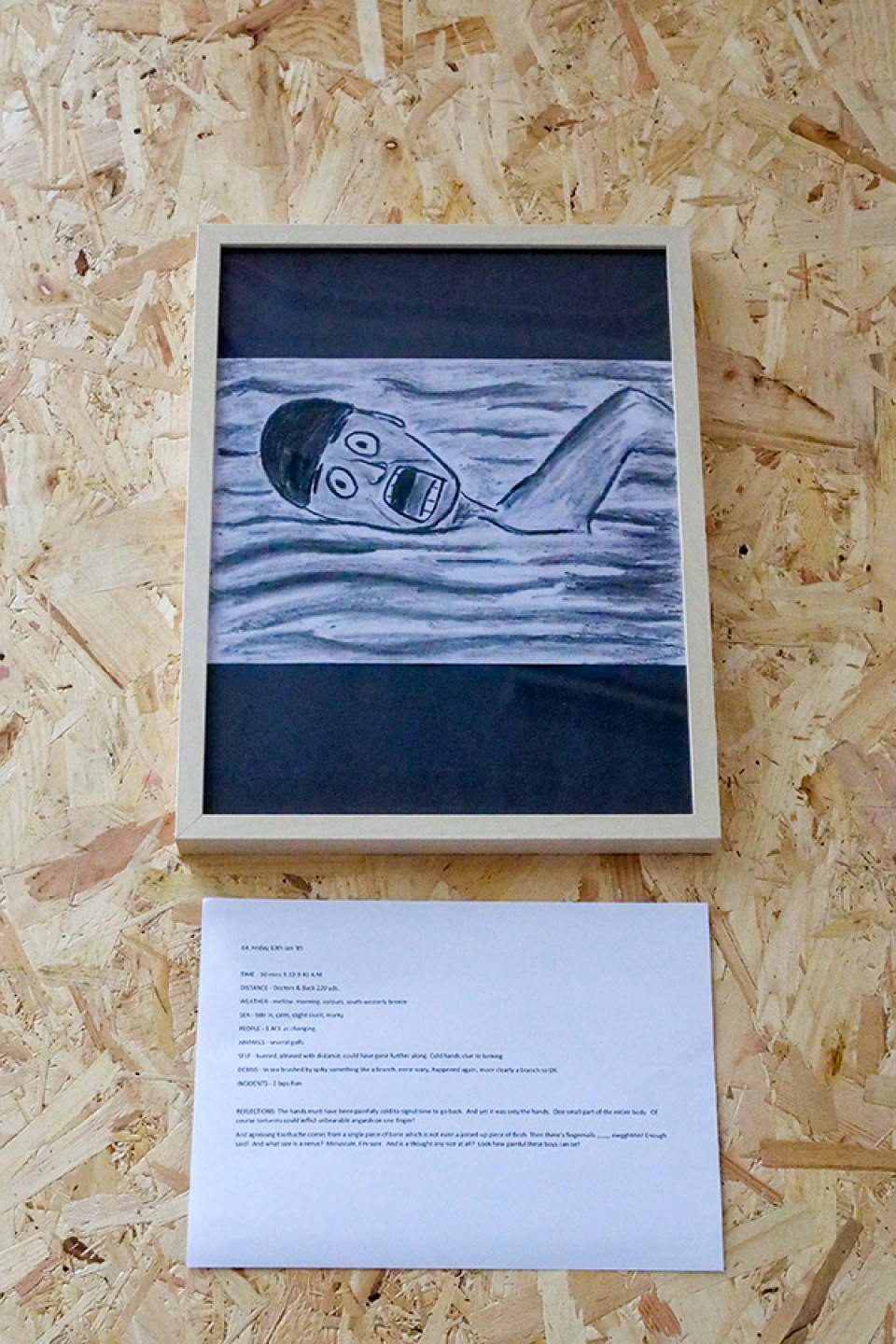 Installation view. Image: Catherine Devlin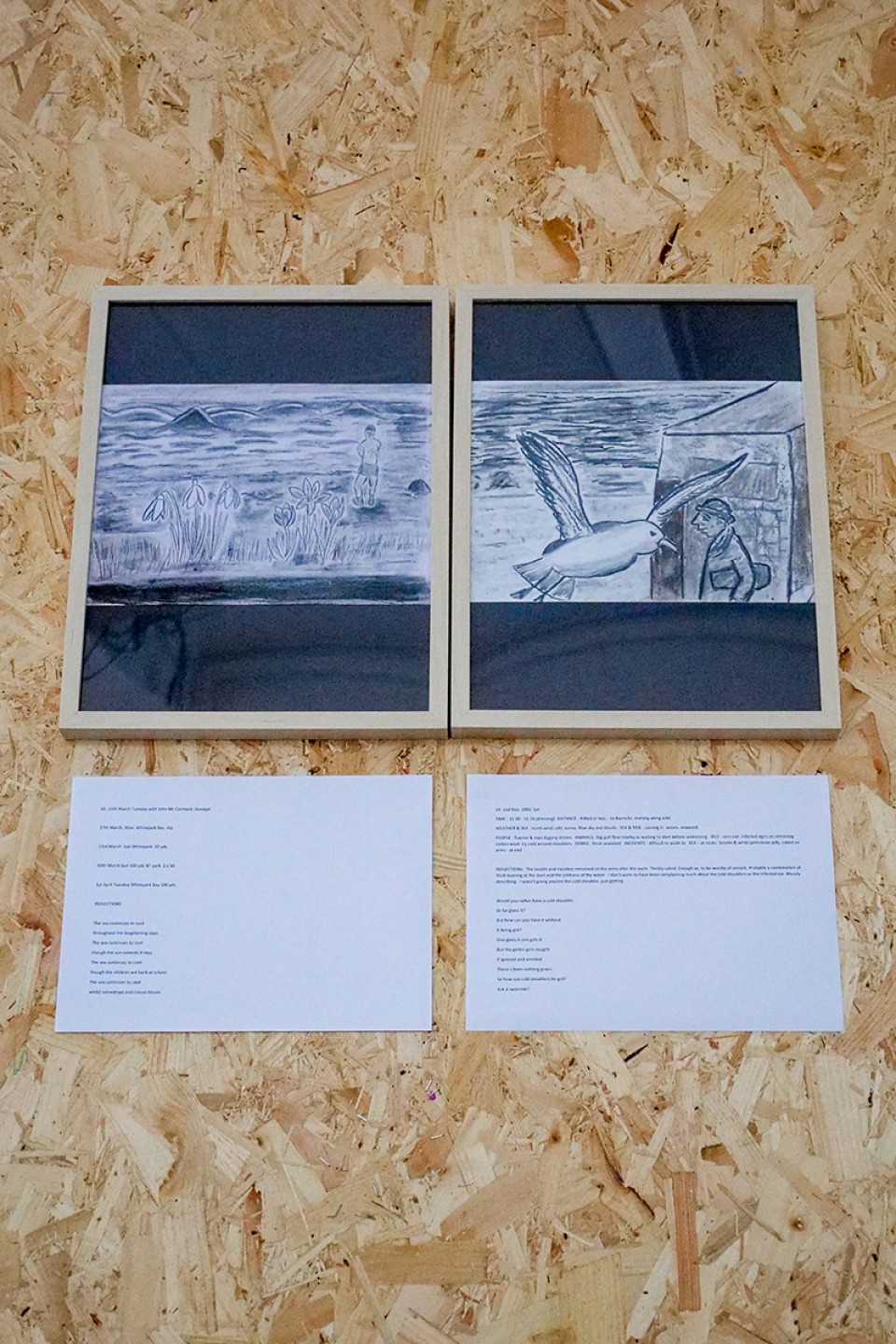 Installation view. Image: Catherine Devlin