Opening
Thursday, 07 February, 6-9pm, with a 'Moon Music group performance' at 7pm.
During the event there will be a reception event at Moon Base, ground floor corner unit of the same building

Opening hours
Tues - Sat 12-4pm
The gallery is wheelchair accessible
The Question of Feeling At Home
Contemporary angles on the 20th century's notions and practices of feeling at home.
Featuring work by David O'Regan, Sarah Smith, Matthew Calderwood, Cecilia Bullo, curated by Moran Been-noon
Ends 23 February 2019
The Question of Feeling At Home offers contemporary angles on the 20th century's notions and practices of feeling at home. The idea of a traditional family having a home cooked meal and then retiring to sit by the fire is often irrelevant in 2019. Our lives are organised in various alternative ways as traditional roles in the home are challenged or shared. Temporary living situations are more prevalent, and the structure of the family is viewed in a more fluid way.
The exhibition aims to be relevant to those living with intellectual disabilities, with the view of home-living raising questions of independence, support, and community. For these individuals feeling at home is often a wider social matter of being accepted as equals in the community, raising questions of independent and supported living.
The work is rooted in the meaning of the term as a comforting routine in a permanent residence, with each piece proposing a different critical view on home living. The Question of Feeling At Home exhibits work contributed by a group of artists including artists who are intellectually disabled, giving agency within the field to voices and narratives not often present in the independent art world. The idea of domestic is thus represented differently, attached to objects, politics, and economies rather than permanent routines or places.
David O'Regan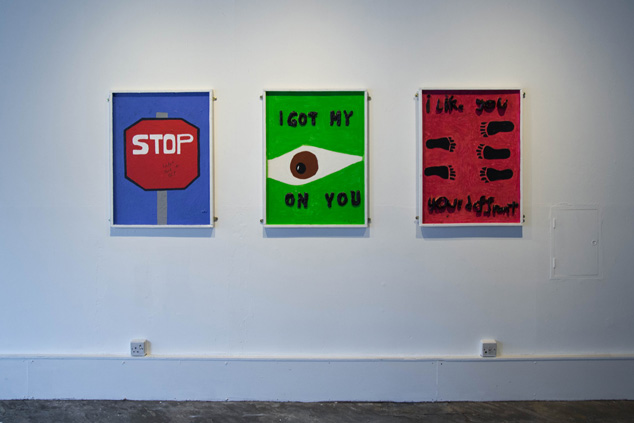 David O'Regan, installation view
David O'Regan: My life changed completely when I was 21 yrs old and had a terrible car accident. I`m lucky to be alive. I used to live an independent life but now rely on my family to help me.
People say to me "You`re the same as everyone else". I know I`m different no matter how much people say I`m not, I had to do things a different way and I`m ok with that. To process things now I have to completely blank my mind, take time to think about whatever it is before I act. Now I find that there is always someone looking over my shoulder. It`s because I need extra help but it`s difficult sometimes.
For more information see DoublTAKE Studios


Sarah Smith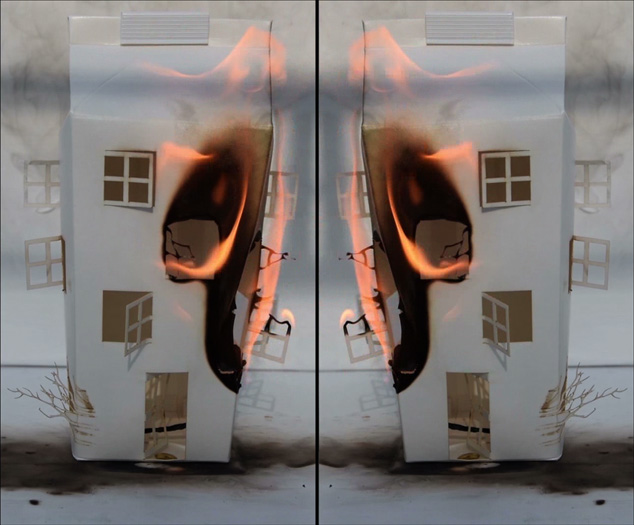 Image: Deconstruction, Reconstruction (2017), Sarah Smith
Sarah Smith is an emerging visual artist based in Northern Ireland, and is currently studying for her Masters degree in Fine Art at the University of Ulster in Belfast.
Sarah's work is multidisciplinary, encompassing installation, performance, and lens based media and explores interpersonal human issues psychological and emotional, and in recent years the significance of action and gesture in performance art.
Deconstruction, Reconstruction seeks to both symbolically and visually illustrate the deconstruction of idealism and the deterioration endured as a result of trauma, followed by the process of reconstruction post trauma and the idea that we rebuild ourselves and our reality in order to work through it.
For more information about Sarah Smith see.
Matthew Calderwood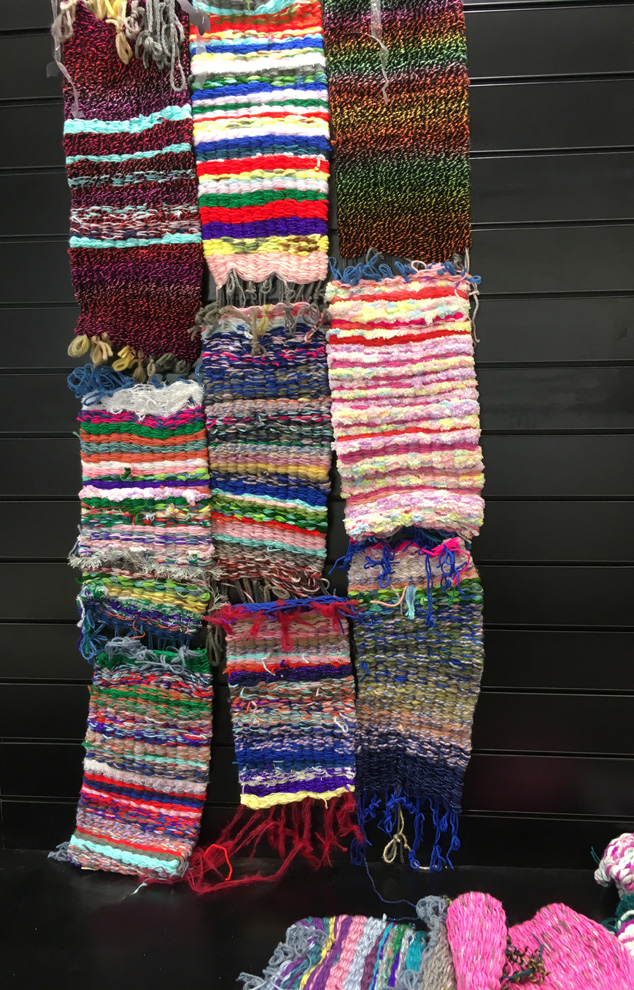 Matthew Calderwood
Matthew Calderwood: I live in Hemsworth Court supported housing. I used to work in the Ulster Weaving Factory. When he was introduced to the hand weaving loom, Matthew said that it brought back many fond memories of working in the factory.
Matthew likes to weave as it relaxes him, he often has the TV on in the background or music to help get him in the correct mindset. The weaving loom that he has chosen to use is an easy model to use, it is a wooden pegged weaving loom, operated by hand. When he weaves, he likes to experiment using different textures, types of wool, and various colours to create a 'colour adventure'.
Cecilia Bullo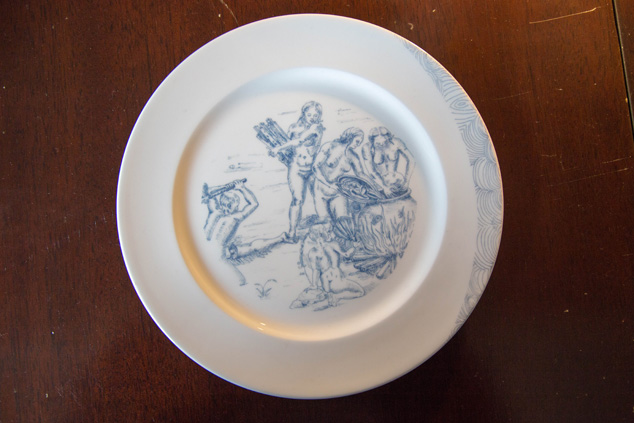 Cecilia Bullo
Cecilia Bullo is an Irish/Italian visual artist based in Dublin. She studied Fine Art at IADT Dún Laoghaire and Fine Art Sculpture at the Brera Academy in Milan. In 2009 she received her MFA in Sculpture from NCAD, Dublin. Her practice has been predominantly concerned with an investigation on ritualistic processes and their psychological healing effects, although her work is mainly sculpture based it incorporates different mediums.
Based on Theodor De Bry's 16th century illustrations of a Tupinambá tribe involved in anthropophagic practices, in The Third Space Cecilia Bullo explores perspectives on colonization. This work references Homi K. Bhabha's Third Space Theory and anthropophagy as the cannibalistic appropriation of cultural forms discussed by the Brazilian poet and polemicist Oswald de Andrade in his 1928 Manifesto Antropófago.
For more information about Cecilia Bullo see.

Moon Base
Moon Base' is a Paul Hamlyn funded project for and by people with Learning Disabilities. Run by The Black Box Trust, see.
Moran Been-noon is a Dublin-based independent curator, practicing visual artist, and art writer. Her curatorial interests is international and primarily focused on multiplatform group exhibitions, with a commitment to expanded practice. In her curatorial work she explores the potential of contemporary political art by engaging with questions of spaces and places that art can, or should, occupy in society.
Been-noon curated projects in gallery spaces and off-site for independent galleries throughout the island of Ireland. She produced and led creatively Platform Art Belfast's presentation in Supermarket Art Fair in Stockholm in 2016, and a pop-up gallery in Electric Picnic Festival 2009.
For more information see
Facebook
https://mobespaces.wordpress.com/


Image top: The Third Space (2019), Cecilia Bullo