Late Night Art
Performance- Thursday 01 April, 6-9pm

Work phase
02 - 18 April

Exhibition phase
19 - 25 April

Opening
Thursday 22 April, 6-8pm

Opening hours
Mon-Sat 1-5pm, Sun 10am- 4pm
To Whom It May Concern
(IEQUALSYOUEQUALSWEEQUALSME)
Helena Hamilton
Ends 25 April 2010
'To Whom It May Concern (IEQUALSYOUEQUALSWEEQUALSME)' is a self portrait exploring the dehumanising 'myth' of individuality. This site specific installation seeks to transform the space into a playground of sentimental questions concerning the roleplay of the civilized individual through the investigation of themes such as censorship, love, loss, hope, identity and originality.
Helena Hamilton's intense, personal and physical approach to drawing has a strong performative character. She combines writing, images and texture into dense and wild graphic expressions, incorporating debris of her daily life into wall size collages.
This is the fourth in a series of projects, where artist use the walls of PS² as a surface for their drawings.
The programme started with '20 eyes' by Miguel Martin, followed by Beverley Cleland 'The Drawing Room' and Katryna Sheena Smyth's 'Drawing on the Right'.

'THROUGH THE FORM OF SELF PORTRAITURE MY WORK FOCUSES ON CONTEMPORARY THEMES OF CENSORSHIP, CONSUMERISM, LOVE, IDENTITY AND INDIVIDUALITY. MY STRATEGY TAKES A PERSONAL APPROACH, INTERWEAVING MY LIFE WITH MY ART, USING IT TO QUESTION THE CONSCIOUS AND UNCONSCIOUS SOCIAL STRUCTURES AND PRESSURES THAT I EXPERIENCE. THE PROCESSES THAT I USE ARE OFTEN OF A REPETITIVE NATURE, EVOLVING THROUGH ACTION, CORRODING THE VERY WORK THAT I AM PRODUCING. I AM INTERESTED IN THE DOING RATHER THAN THE DONE. THROUGH MY APPROACH I DO NOT SEEK TO FIND DEFINITE ANSWERS (AS I'M UNSURE AS TO WHETHER TRUTH EXISTS), RATHER I WISH TO PERSONALLY EXPLORE SOCIETY'S VIEWS OF FREEDOM, EXISTENCE AND IDENTITY, AND ALSO THE DEHUMANIZING 'MYTH' OF INDIVIDUALITY.' (Helena Hamilton).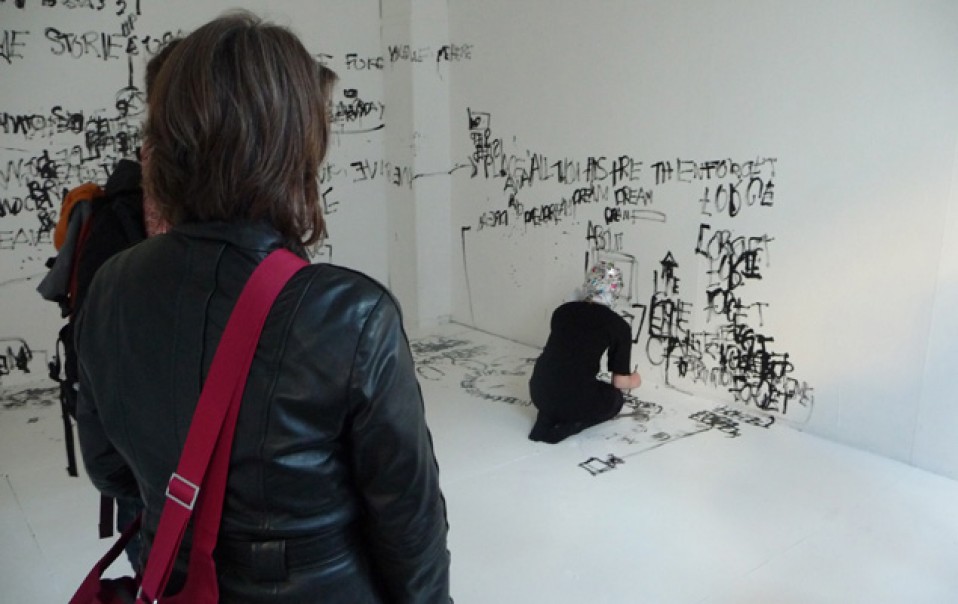 'NOTETOADISTANTGOD'. Live three hour performance. Image: H.Hamilton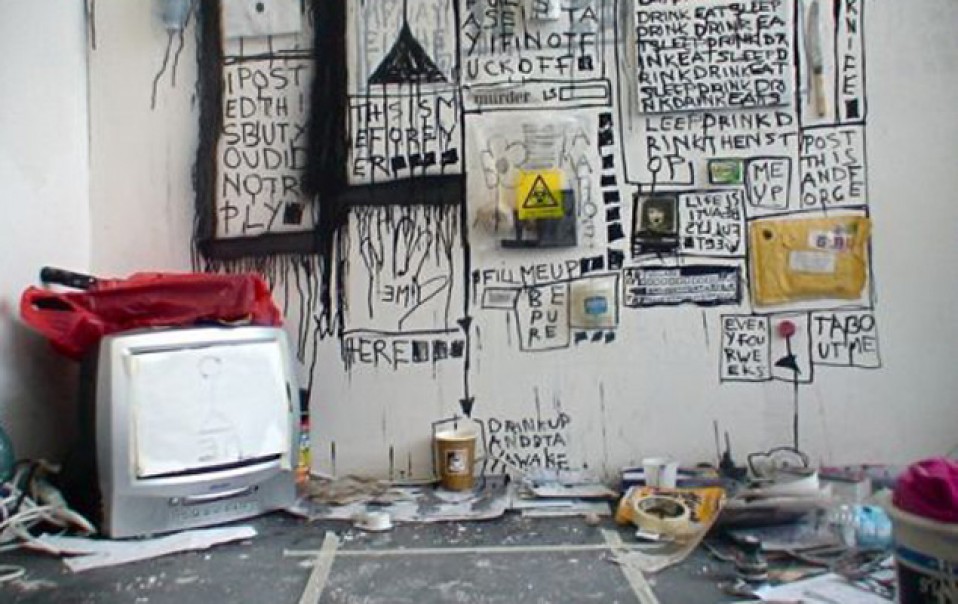 Artist statements

TO WHOM IT MAY CONCERN
(IEQUALSYOUEQUALSWEEQUALSME)
I'VE BEEN ACCUSED OF BEING EGOTISTICAL. YES, I. THIS IS MY WORK. YES, WE. THIS IS MY WORK. YES, YOU. THIS IS MY WORK. YES, SOCIETY. THIS IS MY WORK. REPEAT.

THE ONE CREATING = I

THE ONE VIEWING = I

THE ONE CRITISIZING = I

"EVERY MAN TAKES THE LIMITS OF HIS OWN FIELD OR VISION FOR THEIR LIMITS OF THE WORLD". GERMAN PHILOSOPHER, ARTHUR SCHOPENHAUER

'TO WHOM IT MAY CONCERN (IEQUALSYOUEQUALSWEEQUALSME)' IS A SELF PORTRAIT EXPLORING THE DEHUMANISING 'MYTH' OF INDIVIDUALITY. THIS WORK CONSISTS OF A TRIO, CULMINATING WITH A SITE SPECIFIC INSTALLATION. I AM INTERESTED IN TRIO'S AS I SEE A DIRECT LINK BETWEEN THEM AND LIFE (BROUGHT FORTH BY BIRTH, REMAIN ALIVE, STOP – THEN THERE IS THE QUESTION OF WHAT HAPPENS. IN MY WORK CONTEXT I SEE THIS IN RELATION TO THE MEMORY OF A PIECE). THE PIECE COMMENCED ON THURSDAY 1ST APRIL WITH A LIVE THREE HOUR PERFORMANCE ENTITLED 'NOTETOADISTANTGOD'.


BROUGHT FOURTH BY BIRTH
'NOTETOADISTANTGOD' WAS A LIVE THREE HOUR PERFORMANCE IN WHICH THE ARTIST LIMITED HERSELF OF SIGHT AND TURNED HER HEARING ONTO HERSELF – FOCUSING ON THE BEAT OF HER HEART, SOUND OF HER BREATH AND CIRCULATION OF HER BLOOD. THIS WAS DONE IN ORDER TO HEIGHTEN HER AWARENESS OF THE SUBCONSCIOUS.

HAVING NO CONCEPT OF TIME SHE PLACED ALL THOUGHTS OVER THE SURROUNDING SPACE - WHERE VULNERABILITY, OPINIONS, EMOTIONS AND THE PHYSICAL SELF PLAYED A GAME OF IRONY ON EACH OTHER – ULTIMATELY QUESTIONING THE TRUTH OF SELF AND PLACING THE VIEWER IN A POSITION OF RESPONSIBILITY OVER THE ARTIST.
AT THE END OF THIS ACTION THE ARTIST PAINTED OVER THESE THOUGHTS WITH WHITE PAINT, PREPARING THE SPACE FOR THE SECOND PHASE OF THIS PIECE.
REMAIN ALIVE
THE SECOND PHASE OF 'TO WHOM IT MAY CONCERN (IEQUALSYOUEQUALSWEEQUALSME)' TOOK PLACE FROM 00:00 MONDAY 12TH APRIL TO 23:15 SATURDAY 16TH APRIL, GIVING A DURATION OF 5 DAYS, 23 HOURS AMD 15 MINUTES. THIS REFLECTS THE 8595 DAYS SINCE THE ARTISTS BIRTH MADE EQUIVALENT TO MINUTES (I.E. 1 DAY EQUALS 1 MINUTE). THROUGHOUT THIS TIME SHE DID NOT SPEAK, OR USE ANY MODERN FORM OF COMMUNICATION, TRAVELING TO AND FROM THE SPACE AS INFREQUENT AS POSSIBLLE WHILST CREATING A TEXT WALL PAINTING OF EVERYTHING THAT CAME TO MIND.

STOP
COMMENCING ON MONDAY 19TH APRIL IS THE HEART OF THIS PIECE. THIS PHASE TAKES PLACE WITHIN THE SMALL ROOM AT THE CENTRE OF THE SPACE. INSIDE THIS SMALL ROOM, SALT IS SLOWLY FLOWING FROM THE CEILING INTO A HELPLESS, STRILE PILE ON THE FLOOR.

THE ARTIST STATES:

"I YOU WE ME ARE ALONE IN OUR BODY, STERILE TO ANYONE ELSE'S TRUE EMOTION BUT OUR OWN, NEVER BEING ABLE TO FORGET ABOUT THE SELF WITHIN THIS SENTIMENTAL PLAYGROUND OF LIFE."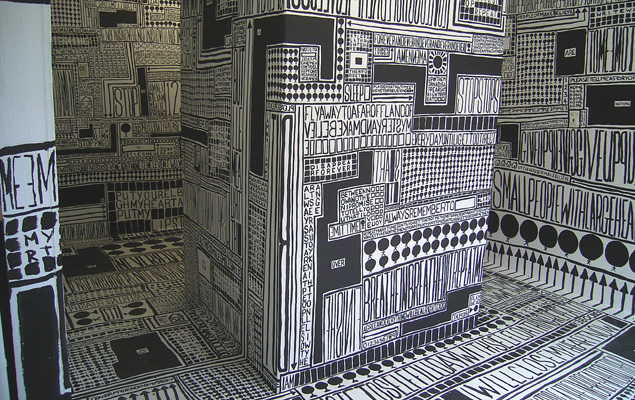 Installation view