Opening hours
Wed- Sat 1- 5pm; Sun 10am- 4pm

Special site-entrance accompanied by the artist
Monday 08 and 15 March, 5.30 – 6.30pm
Unprivileged Highs and Lows
Joanna Karolini
Ends 21 March 2010
'Unprivileged Highs and Lows' challenges the notion of dematerializations by emphasizing the elimination of the 'art-object'. Exploring the given 23m2 project space, this site-specific installation seeks to uncover and request meaning of the ignored, be it glorious or catastrophic.
This is the 4th in the series of 'sounding out space', a series of explorative projects around aspects of space (architectural, emotional, historical, practical…). The 23m² of project space with its public exposure to the street is the object of investigation with a wide range of multidisciplinary approaches; artists, musician, choreographer, a cat, interior designer, spiritualistic medium, refurbishment people, tenants.
(1) Matt Green: 'Present place' , 2008
(2) Kathy Graham: 'Portraits', 2009
(3) Tobias Sternberg: 'Yourself from the outside', 2009
(4) Joanna Karolini: 'Unpriviliged Highs and Lows', 2011
(5) Fiona Larkin: 'Do You Love me Now', 2010/11
(6) Laura Graham: 'THE SPACE in BETWEEN', 2010
All projects are recorded and documented by Fiona Larkin.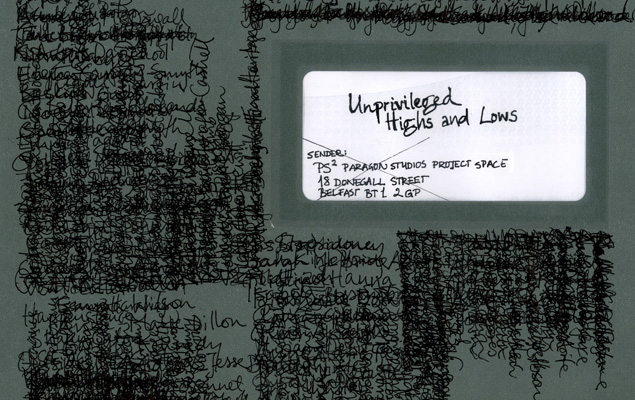 Invitation card
Unpriviliged Highs and Lows

Text: Joanna Karolini
'Every gallery welcomes artists, artworks and audiences.
Everyone brings certain elements into the space (or out of the space), and sometimes mark the space, while others fills it by presence or sound. The exchange is more or less constant; sheltering visions, housing ideas while exiting the imagination and thought.
I am particularly interested in the floor. It carries the heaviest but silent evidence of weight. Unseen and un-noticed, traces are left by artists, artworks and audiences using the gallery. It's my canvas. As in Tobias Sternberg's installation where the door was the main inspiration point for the work within the space, my work will re-negotiate the gallery's own architecture and function, focusing mainly on the architecture of traces left by the cultural activities, on/in/under the floor.'

Are you to hire stilts to rise to the ceiling or to get on hands and knees to sniff anything below the dado? Both high and low are underprivileged areas. You overheard a lot of complaints from artists about being "skied" but nothing about being "floored."
Inside the White Cube, Notes on the Gallery Space, by Brian O'Doherty.