Opening
Friday, 28 October, 6-8pm

Opening hours
Sat, 29.10: Tues-Fri, 1-5pm, Sat 11am-4pm
Water Works ため池
Flax Residencies @ PS2
Takafumi Sakanaka 阪中隆文
Ends 05 November 2016
When Takafumi Sakanaka first visited our new space, it was still a chaotic mess: the old shop furniture, fittings and left-over stock of the Braddell's fishing tackle shop were scattered around and it was difficult to find a way through. In one large and broken display cabinet, Takafumi saw an advertising poster depicting two men sitting in a small boat fishing. He left with the image.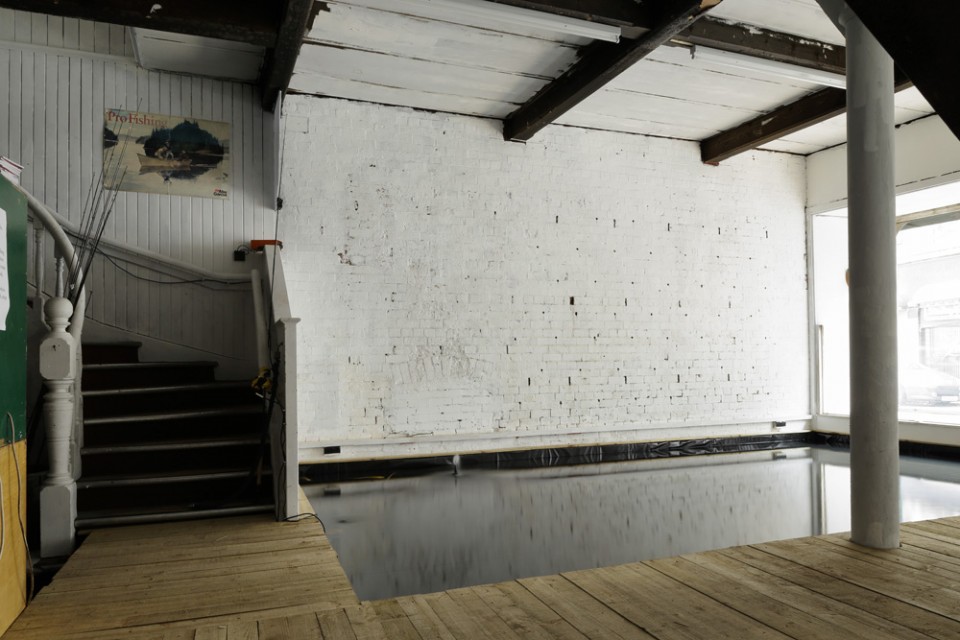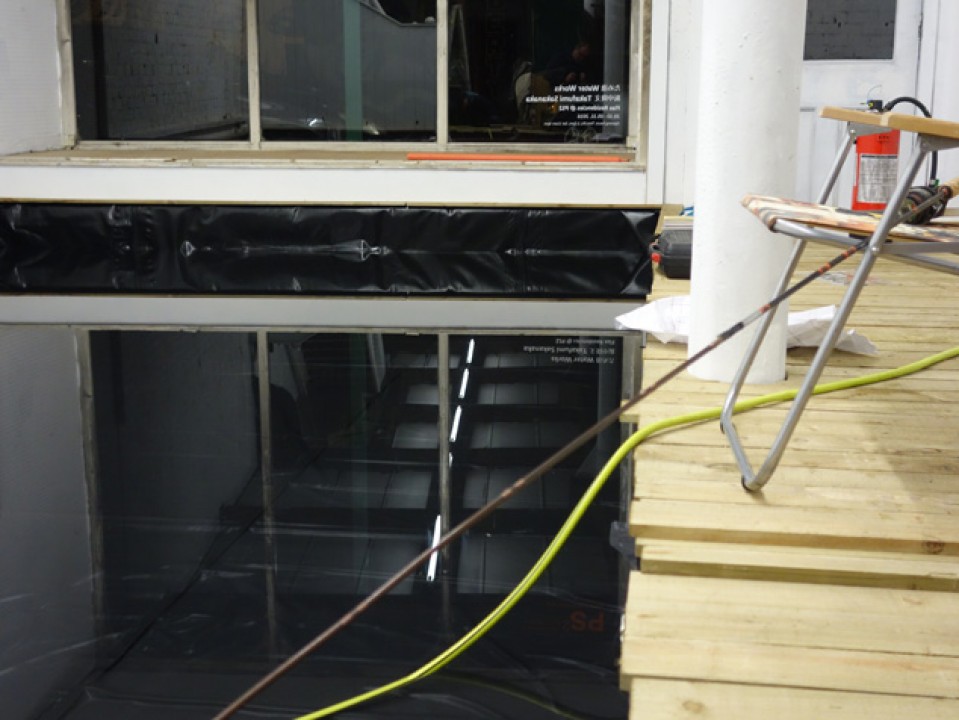 PS² has some experience with water. Apart from leaking roofs, it hosted projects with a large aquarium, filled with fish and aquatic landscapes and a fountain coming out of buckets and paddling pools, gushing up to the ceiling.
Now PS² has moved; just around the corner to 11 North Street, the former Braddell fishing suppliers building.
And our experience with water continues on a grand scale. Less so with the roof, although it leaks as well, but through the project by the Japanese artist Takafumi Sakanaka, who is the current international resident at Flax Art Studios as part of Flax's international exchange programme with the Art Centre Ongoing, Tokyo.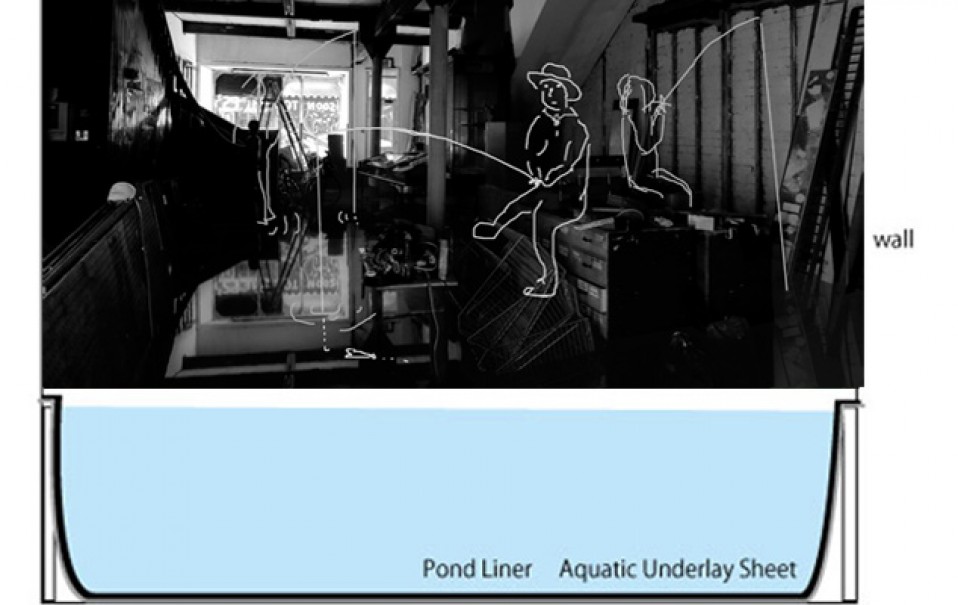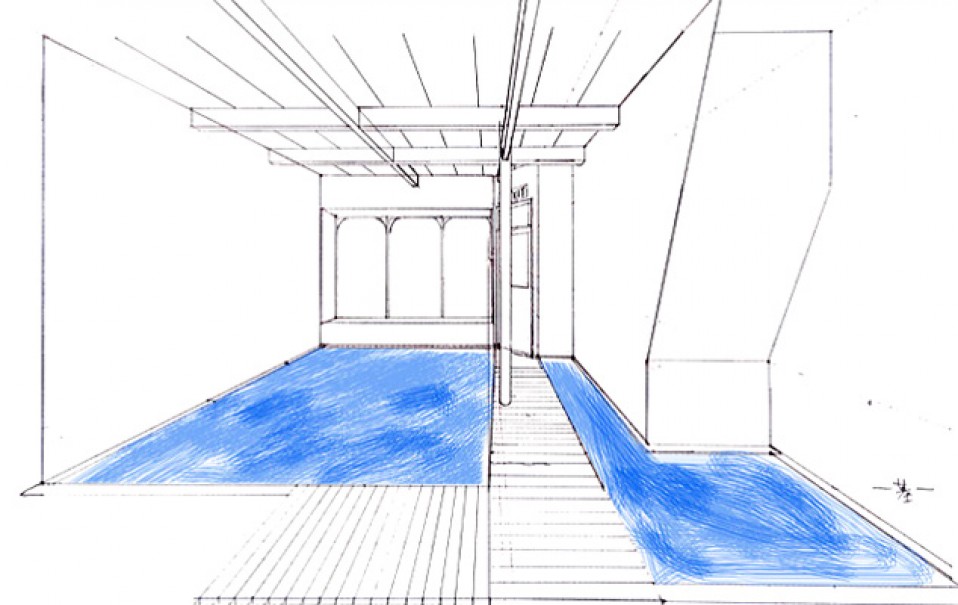 Takafumi has constructed a large pond, filled with 7qm of water, lapping against the walls of the entire front space. What was once stacked with display cases and cabinets, containing rods and tackle, is now a shiny surface, reflecting its surroundings. A calm surface made out of water.
Standing on the bridge which allows the visitor to cross the space, it feels as if the artist has fulfilled a hidden dream of the former shop itself or more so perhaps, its customers: to invite the outdoors, the lakes and fishing waters indoors. An ironic approach in many ways, but also a poetic contemplation of the relationship between a commercial, urban business for outdoor sports and the landscape in which this hobby is performed.
With fish or without, Water Works achieves both: a real situation and a symbolic installation; a wink to the history of its context and a stunning metaphor.

After Tomohiro Nagahata in 2015, this is the second time PS² hosts a project by a Flax Art Studios International Residency artist.The international residency exchange between Flax Art Studios and Art Center Ongoing, Tokyo is funded by the GB Sasakawa Foundation, London.