Opening
Thursday, 02 December 6-9pm
Opening hours
Tues- Sat 12-5pm,

spaced out and in-between
collaborations
Janie Doherty
Ends 11 December 2021
This short project will show a small selection of videos by Janie Doherty, made in collaboration with Locky Morris and Luca Truffarelli.

The project highlights a work practice developed through collaboration and team work, often based on friendship and a curiosity in each other's artistic work and knowledge.
Janie Doherty's background is in contemporary dance and movement, artforms which traditionally are always practised within an ensemble, incorporating different disciplines, like choreography, stage design, lighting, costume, music.
Most of the short videos are set in everyday environments, documenting the responses of Janie Doherty to a specific setting: a lone bus shelter, a bathroom, a commercial unit or a gym. These non- art environments are selected as the stage for a performance by their potential to force a physical and emotional reaction, expressed through movement, gestures, or sequences of dance: a lone bus shelter excretes a threatening mood, translated into ruptured body language; or a soothing bubble bath releases a stream of soft cries.

The four videos in this project capture a lightness of play and improvisation in a vignette style manner. They are short and poignant responses to the character of a site, filmed in a way which sits between private family snapshots and staged artistic documentation, preserving a freshness and awe of what just happened.
Jani Doherty: Breathe, 2019. Videostill, installation view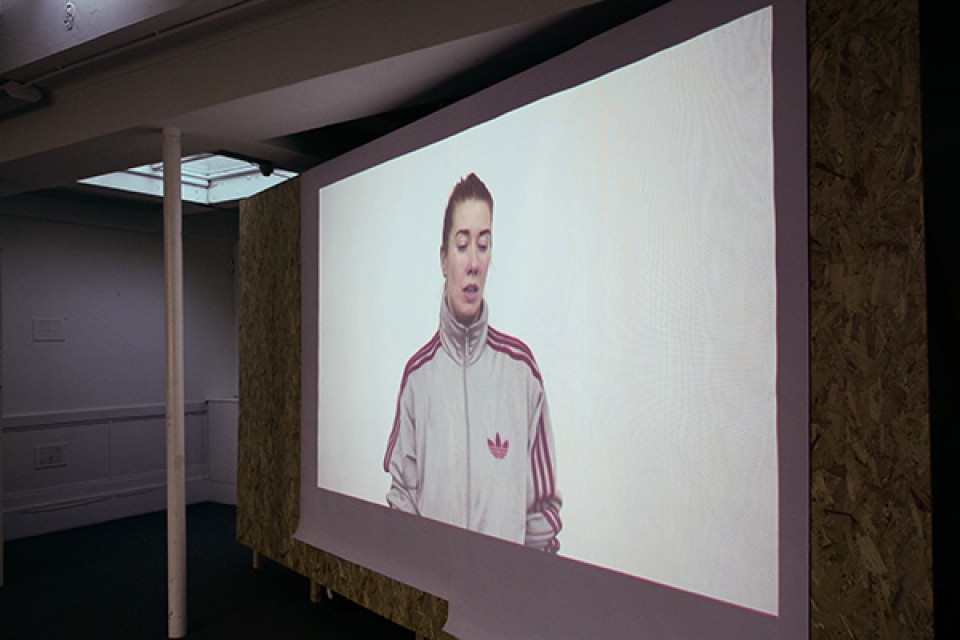 Jani Doherty: Breathe, 2019. Videostill, installation view

Janie Doherty collaborated with Derry based artist Locky Morris intensively during Lockdown.
Locky, equipped with camera and Janie with a bag full of different clothes/costumes, they selected outdoor sites- (partly forced by the Covid restrictions). Similar maybe to diary entrances, they decided on locations, which for both triggered a mood or emotion as a starting point for their scenes: Francesca Bacon, 2020; Underneath we are soft, part 1, 2020.
Breathe, 2019 is a work, filmed by Luca Truffarelli; in Crybath, 2020, Janie Doherty took over all roles, that of performer and video documentation.

This short project is seen together with the following one free radicals by Robin Price. A project based on stage animations in club culture which invites future collaborations or at least, the desire to interact.
Videos
Breathe, 2019, [05:22]
Janie Doherty- dance, choreography
Luca Truffarelli- video
Francesca Bacon, 2020, [00:40]
Janie Doherty- dance, choreography
Locky Morris- video
Underneath we are soft, part 1, 2020, [00:40]
Janie Doherty- dance, choreography
Locky Morris- video
Crybath, 2020, [00:48]
Janie Doherty- dance, choreography, video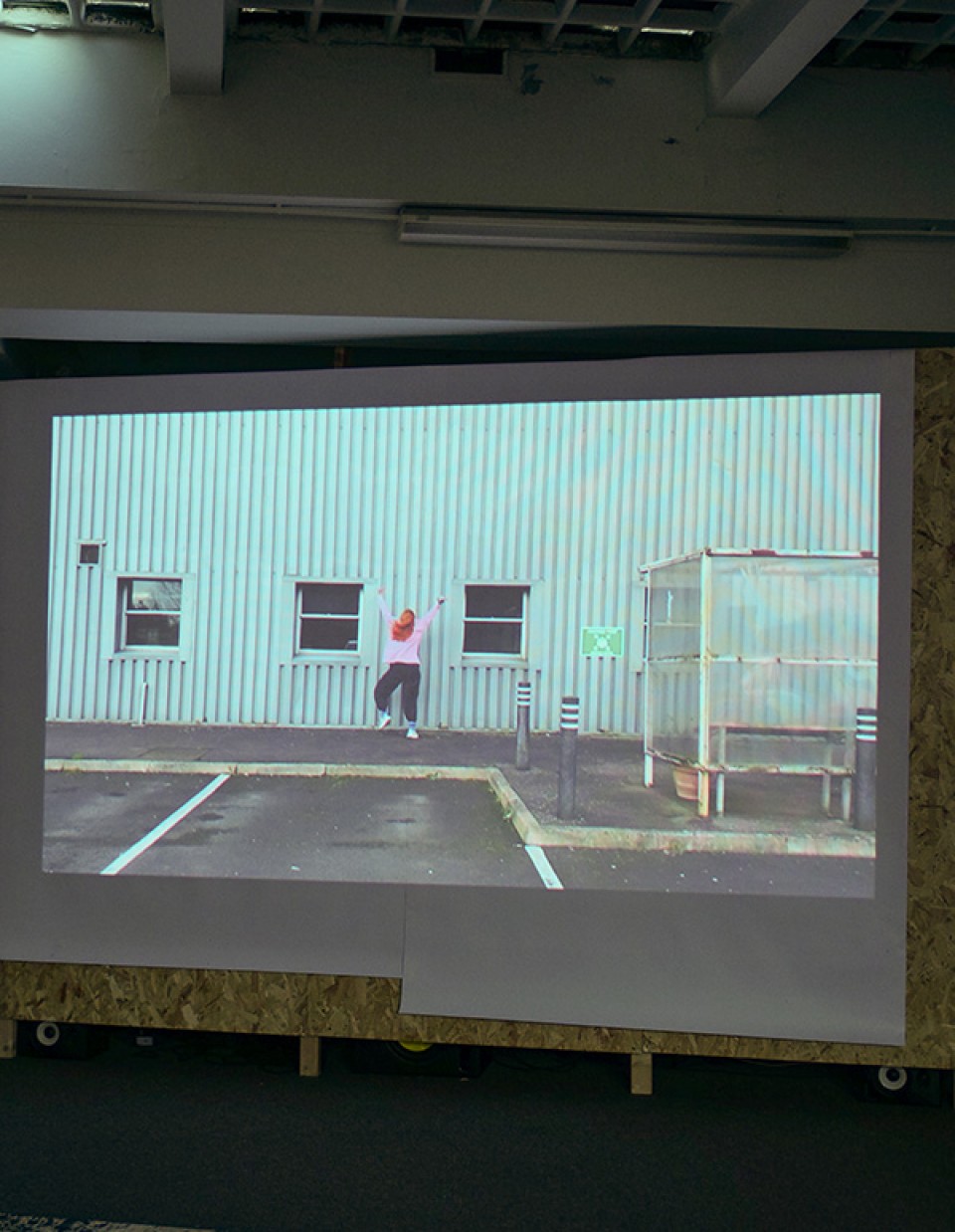 Jani Doherty: Francesca Bacon, 2020. Videostill, installation view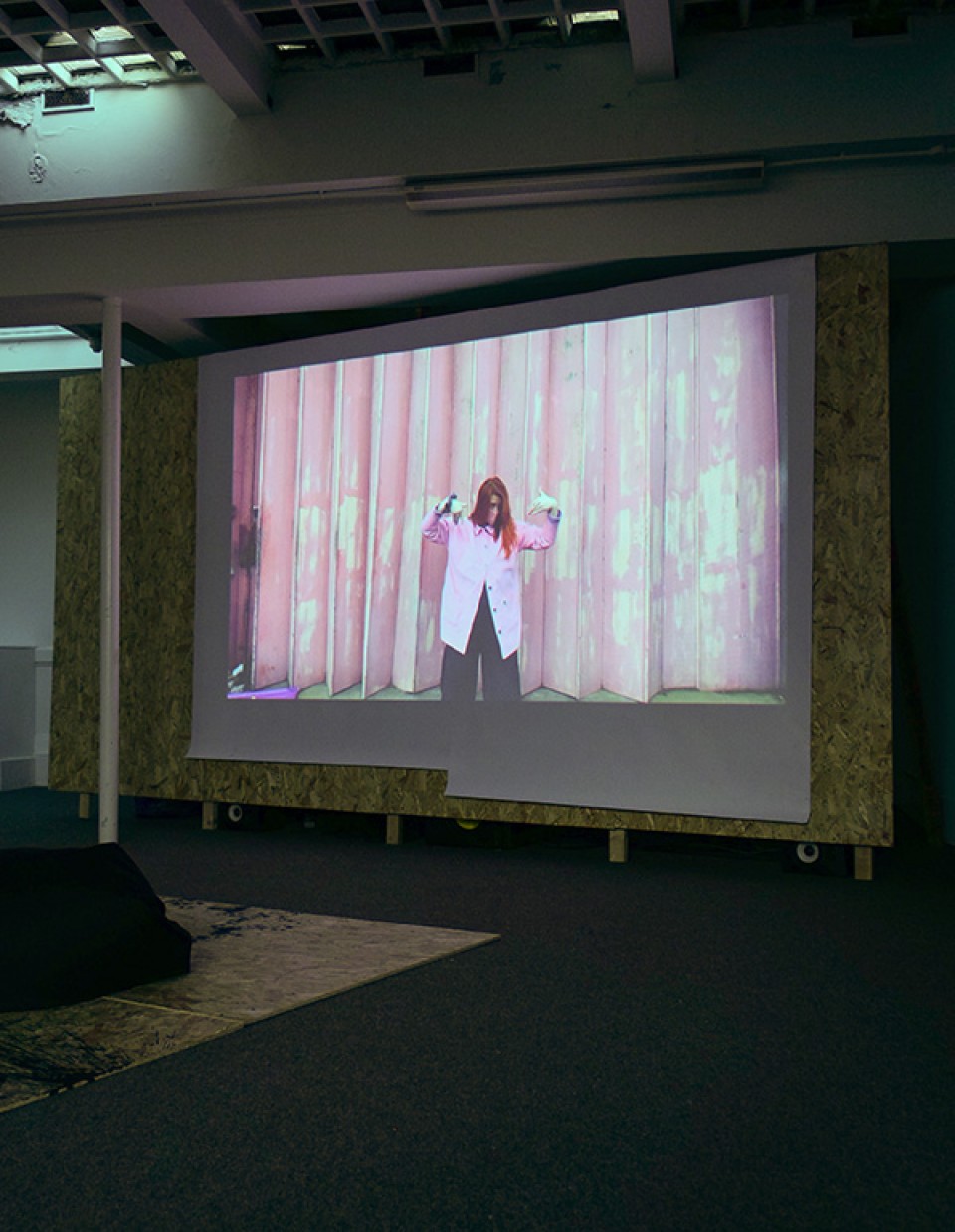 Jani Doherty: Francesca Bacon, 2020. Videostill, installation view
Janie Doherty is a freelance dance artist who is based in Belfast. Doherty enjoys moving in a poetic fashion in unexpected places: supermarkets, post-offices and bakeries. She is fascinated by working-class choreography and the cultural joke with the jab that is specific to a place. Doherty believes that our softness is our strength.
Janie Doherty was part of the 1st cohort of artists of the PS² Freelands Artist Programme 2018-2020.


Locky Morris is an Irish contemporary artist and musician, born in Derry City, where he continues to live and work. Renowned for his early work that explicitly dealt with the conflict in Northern Ireland, he has gone on to develop another working vocabulary that touches on a broad range of subjects, from the highly personal and familial to the political. Still reflecting on the complexities and intricacies of his immediate environment this work extends across photography, found objects, installation, text, sound and video. In addition to his gallery-based practice Morris has also made numerous and large-scale works and interventions in the public realm. His work has also been influenced by his active musicianship.

Luca Truffarelli is a freelance photographer and video maker based in Dublin. He graduated in photography in 2011 and started experimenting and challenging himself in the field of visual arts. Over the past few years he has been involved in contemporary dance and theatre works as a photographer/video maker, visual/set designer and artistic collaborator. Recently he has found a passion for food photography, working alongside some of Dublin's top chefs.

In addition to the Covid requirements, face mask, social distancing (name, phone number, date, time), we now have to ask visitors for:
Proof of vaccination
Proof of a negative lateral flow or PCR test (NHS text or email within previous 48 hours)
Proof of natural immunity following a positive PCR test for COVID-19 within the last 30 – 180 days
Proof or participation in a clinical trial
Proof of medical exemption
Don't forget to bring along your photographic ID.