PS² Freelands Artist Programme
Cohort artists 1: Janie Doherty, Michael Hanna, Julie Lovett, Jan McCullough and Emily McFarland; Cohort 2 artists: BROWN&BRÍ, Jane Butler, Mitch Conlon, Jasmin Märker and Thomas Wells. Curator 2018-20: Alissa Kleist; Curator 2020-2022: Ciara Moloney
September 2018 - December 2023
The PS² Freelands Artist Programme is an initiative funded by the Freelands Foundation that supports creative and professional development for emerging artists based in Northern Ireland, and fosters long term relationships and collaborations between artists and arts organisations.
Selected from an annual open call for applications, the PS² Freelands Artist Programme artists work across a range of media including photography, painting, dance, film, sculpture, installation and performance, and represent the type of fresh, ambitious and publically interactive approaches to art production found in Northern Ireland today.
Over a period of two years, each cohort will focus on and develop significant new work, supported by the PS² Freelands Artist Programme Project Curator, invited mentors, peer learning and critique. The programme also includes the realisation of projects in PS², research trips, a yearly symposium, the possibility to show work in the Freelands Gallery, London, and the use of PS²'s equipment and workshop space.
The PS² Freelands Artist Programme is a five-year initiative (2018-2023). The fourth and final open call for artists to participate in the PS² Freelands Artist Programme 2022-2023 cohort will be in autumn 2021.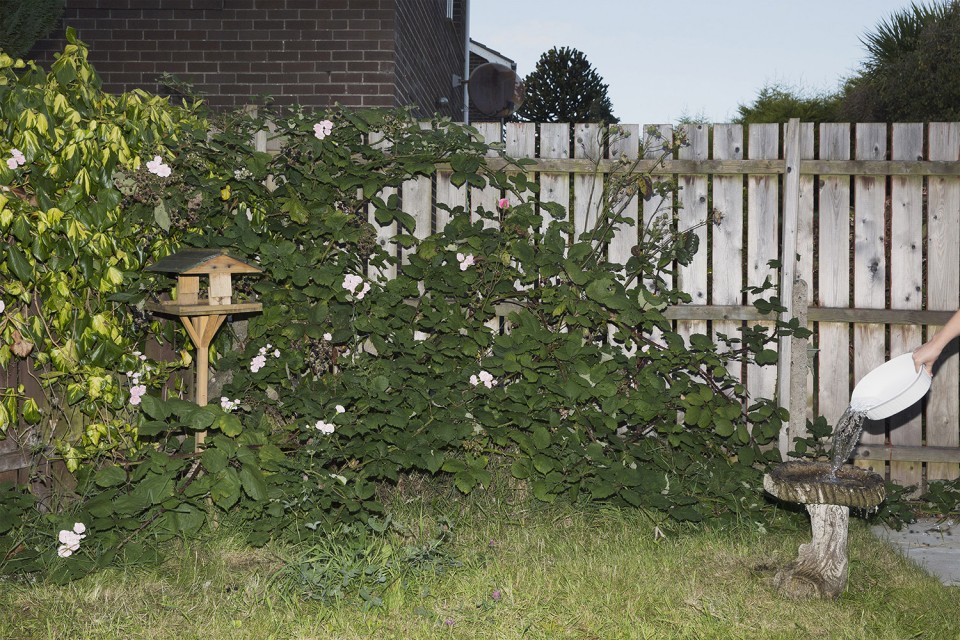 Jan McCullough, Home Instruction Manual, 2015
Michael Hanna, installation image of Predictable Contact, 2017
Artists selected for 2018-20
Through an open call, a panel consisting of artist Alastair MacLennan; PS² Freelands Artist Programme Curator (2018-20) Alissa Kleist; and Creative Director of PS² Peter Mutschler, selected artists Janie Doherty, Michael Hanna, Julie Lovett, Jan McCullough and Emily McFarland.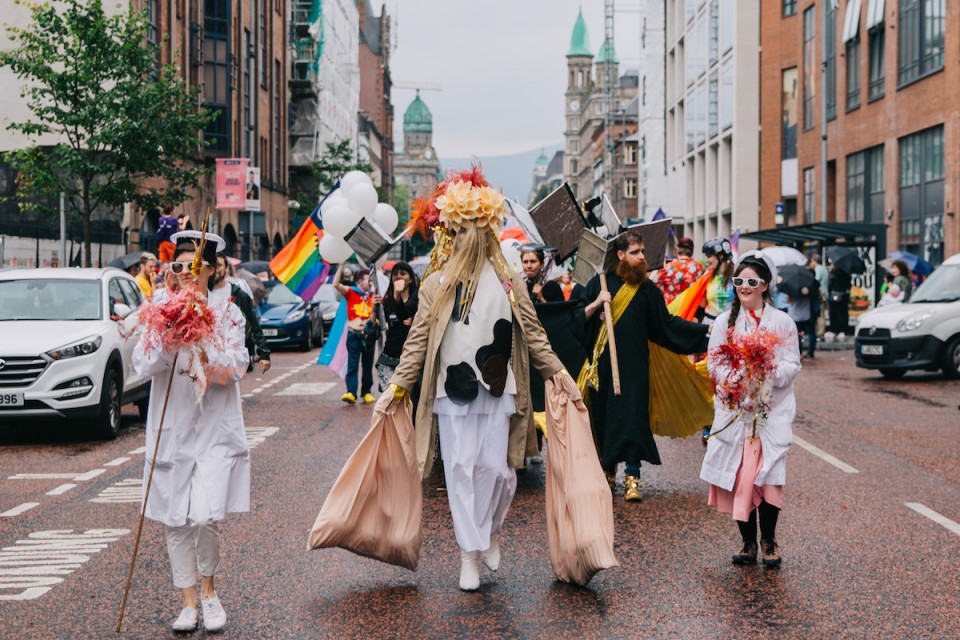 Thomas Wells/Array Collective, As Others See us, 2019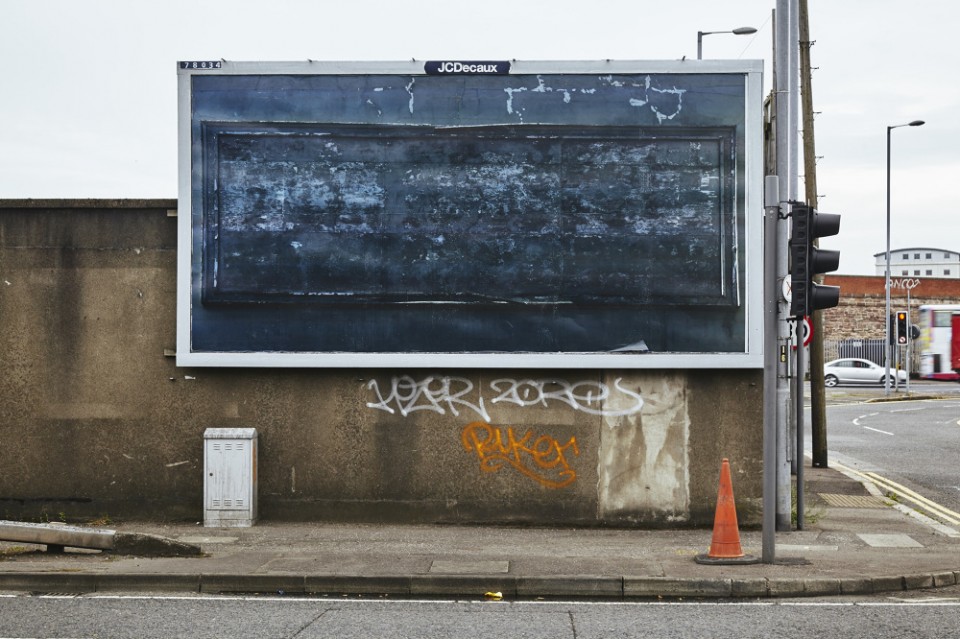 Jane Butler, and yet, 2015
Artists selected for 2019-21

A panel including artist Anne Tallentire; PS² Freelands Artist Programme Curator (2018-20) Alissa Kleist; and Creative Director of PS² Peter Mutschler, selected BROWN&BRÍ, Jane Butler, Mitch Conlon, Jasmin Märker and Thomas Wells, four artists and one artist duo, from an open call for applications.
The PS² Freelands Artist Programme will have a total of three curators in a 2 yearly rotating model.
The 2018-2020 Curator is Alissa Kleist.

The second Curator for 2020-2022 is Ciara Moloney.

Cohort 1 and 2 meeting in December 2019. Image. N.Sim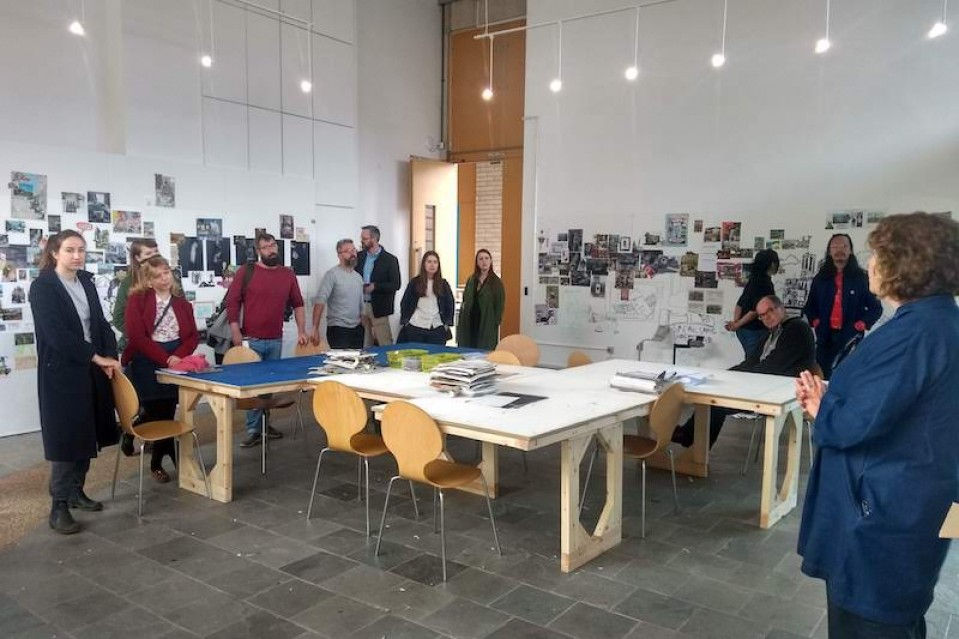 Sheffield group site visit during the 2019 Freelands Artist Programme symposium
The Freelands Artist Programme

The Freelands Artist Programme was created to build and strengthen professional arts practice outside of London and support and enhance collaboration between 80 emerging artists and four arts organisations from across the UK. As with all the Foundation's initiatives to date, the programme was established following extensive research into the current landscape of post-university support for emerging artists in the UK.
Alongside PS², Belfast/ Northern Ireland, Site Gallery in Sheffield, England; g39 in Cardiff, Wales, and Talbot Rice Gallery in Edinburgh, Scotland, were selected to participate in the Freelands Artist Programme. This new programme from the Freelands Foundation provides funding totaling £1.5 million over a five-year period. Each institution will curate a series of two-year programmes with five artists annually, allowing those artists to receive much-needed creative and professional development support.
The winning institutions taking part in the programme were chosen by a selection panel including Elisabeth Murdoch, Freelands Foundation Founder & Chair; Simeon Barclay, Artist; Sacha Craddock, Curator and Writer; Polly Staple, Director of Chisenhale Gallery; and Mark Wallinger, Artist.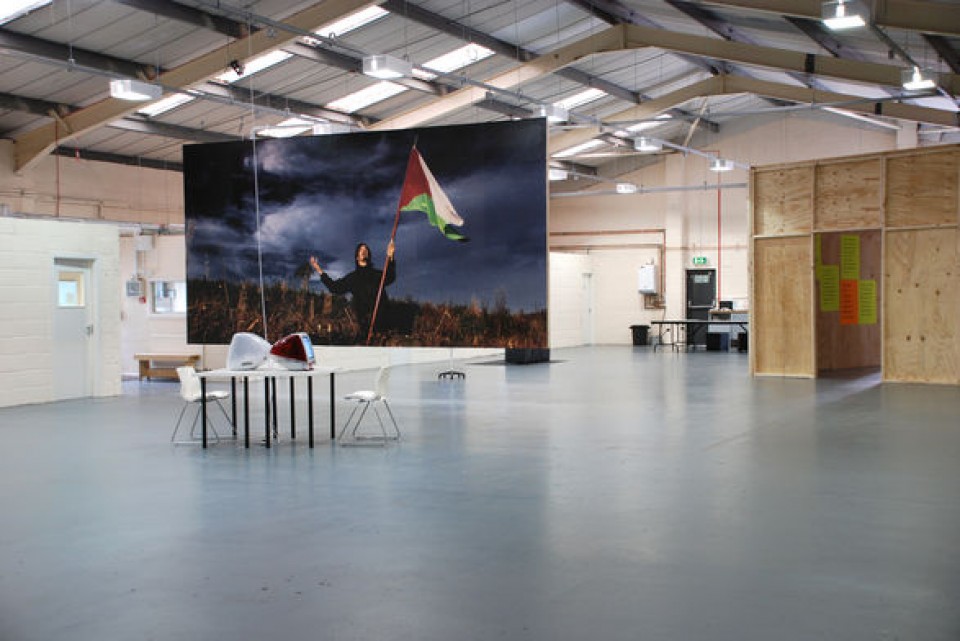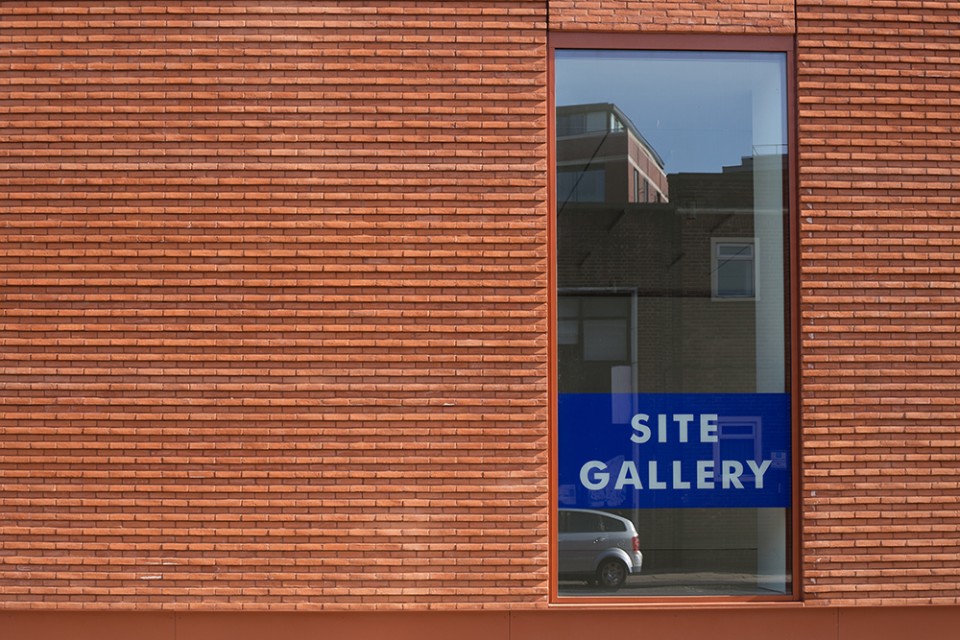 Site Gallery, Sheffield, England
The artists selected by the partner organisations for the first cohort (2018-2020) and second cohort (2019-2021) of the Freelands Artist Programme are:
G39 (Cardiff, Wales)
Cohort 1: Kelly Best, Ian Watson, Fern Thomas, Neasa Terry, Jennifer Taylor.
Cohort 2: Becca Thomas and Clare Charles, Will Roberts, Freya Dooley, Rebecca Gould, Rhiannon Lowe



Cohort 1: Zoyander Street, Yuen Fong Ling, Alison J Carr, Siân Williams, Lucy Vann
Cohort 2: James Clarkson, Maud Haya–Baviera, Victoria Lucas, Conor Rogers, Jo Whittle
Cohort 1: Aideen Doran, Rosie O'Grady, Sulaïman Majali, Stephanie Mann, Tako Taal
Cohort 2: Mona Yoo, Eothen Stearn, Jenny Hogarth, Rae-Yen Song, Sarah Rose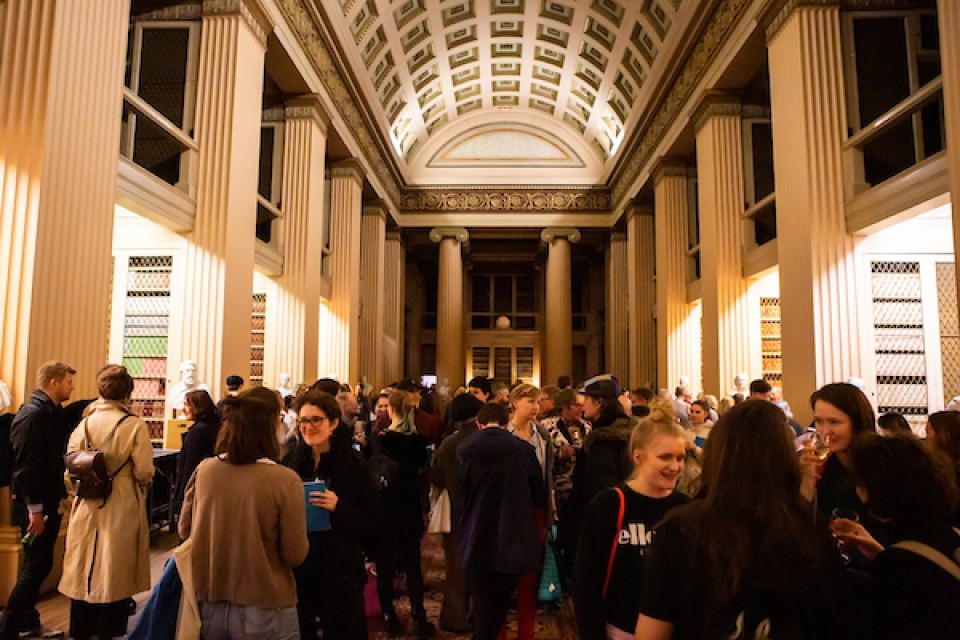 Talbot Rice Gallery, Edinburgh, Scotland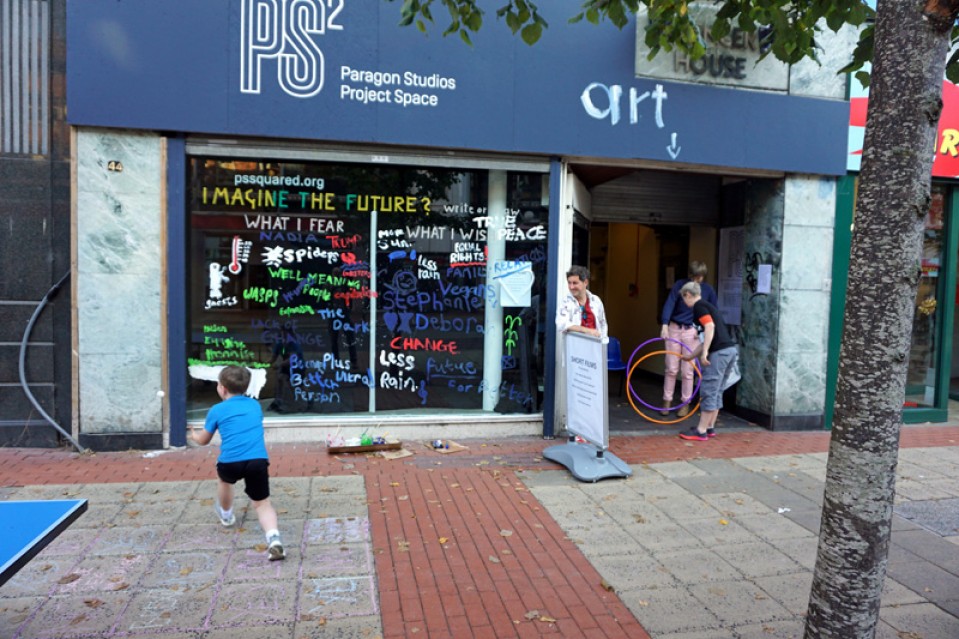 PS² (Royal Avenue), Belfast
Background

As an artist-run organisation, PS² has always worked with artists at the start to mid-career and encouraged risk-taking and experiment, radicalness and difference, and resolve to site context. We have a strong belief in the social relevance of art and are keen to support community-engaged and context-specific projects.
PS² was awarded this funding just after the volunteer-run arts-collective heard that it had surprisingly lost its annual funding from the Arts Council of Northern Ireland due to funding cuts. To make the situation worse, PS² had also lost its premise in North Street due to the regeneration process in the city centre area. Despite this grave situation for the organisation, the artists and the Board decided to struggle on.
The Freelands Artist Programme award came just at the right time and was seen as a cheerful recognition by the Freelands Foundation of the many projects with emerging artists which PS² has supported over the years.
For PS², the Freelands Artist Programme is an ideal opportunity to support artists at the start to mid-career level and to strengthen the arts ecology and the potential for contemporary art in Northern Ireland. By the end of the five-year programme, twenty artists will have participated, so please bear in mind that this call-out for emerging artists will be repeated every year until 2021.
It is hoped that the Freelands Artist Programme will energise emerging artists and contribute to making the region culturally cool and exciting.


This programme is funded by the Freelands Foundation.