Community based project, with weekly online workshops in September - October 2020. The outcome is included in 'right to create'.

Opening
07 January 2021 4-9pm
Opening hours
Tues - Sat 1-4pm
Tangible Selves
Community based project with final process/ outcome documentation in project space
Particpants: Creating Connections group/Moon Base; lead artist: Zara Lyness; project curator: Moran Been-noon
Ends 21 November 2020
About The Project
Tangible Selves aims to recognise different methods of creating a thoughtful self-portrait. Moving away from the traditional face, head and shoulders or selfie image, the participants will explore different methods and materials to create art work that creates alternative representations of themselves individually and as a group. Tangible Selves will explore how different materials and objects can be recognised as proxies that trigger memories and recollection and help us evolve how we think about ourselves. Through conversation, performance, drawing, sculpting, and assemblage, a series of objects, drawing and sound work will be produced that reflect the personalities and identities of each participant and how they engage with each other.
The outcomes and documentation of the work-process of this project will be part of right to create between 07- 23 January 2021.


About The Lead Artist
Zara Lyness has an integrated approach to making, combining sculptural, ceramic, mark making and live processes in her work. She is interested in the individual, relationships and identity. The use of biography and memory is embedded in her practice, through the use of gesture and objects, encouraging the viewer to recognise and recollect a connecting narrative. Making links between the fragmented memory of events and experiences, she explores how perception impacts on the development of identity and power dynamics in relationships and how this can lead to marginalisation.
Her recent ceramic work, incorporated into live performance, suggests bodies as vessels, containing concealed and revealed elements.
Awarded a Graduate Artist Residency at Ulster University in 2017, Lyness returned to study on the Fine Art Master's course part-time in 2019. She is an active member of Pollen Studios and Gallery and Bbeyond.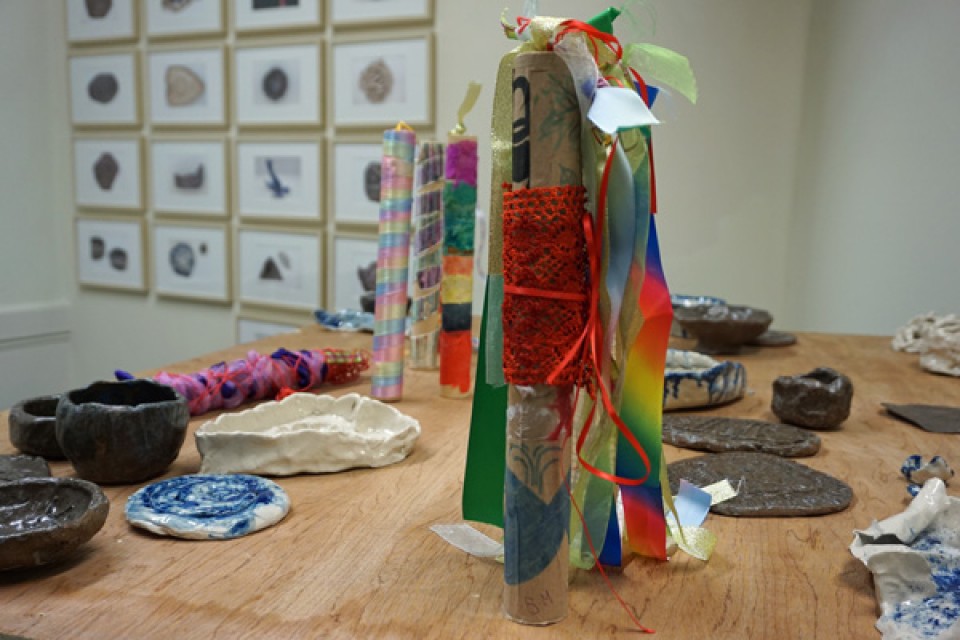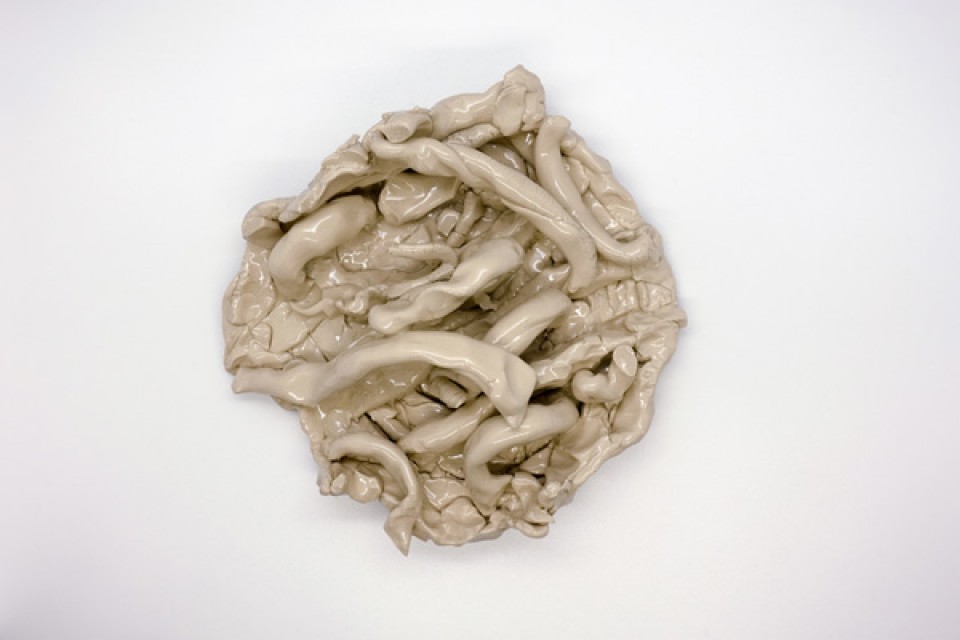 About the curator
Moran Been-noon is a Dublin-based visual artist, independent curator, and art writer. As an artist she predominantly makes moving image installations, with a subject matter focus on political identity and post-migration living. Her recent work involves exploring physical manipulations of voice, skin, and landscapes in order to examine questions of foreignness and belonging. As a curator she is primarily interested in multiplatform group exhibitions, with a commitment to expanded practice. She is believes in inclusive curating, and her current focus is on work created on the spectrum between land art practice, traditionally-feminine creative crafts, and contemporary art practice.
Her writing has featured in such publications as Circa Magazine, The Sunday Times Ireland, and Visual Artists Ireland News Sheet. She is an active participant in the Irish arts community, and worked in the past as a co-director at Platform Arts Belfast and Basic Space Dublin.
Murmurations

This 7min video documents the outcomes of the Tangible Selves, a 6 week collaborative project with weekly online workshops, including Clay work, Sound Rhythms, Collage, Drawing and creating a 'Selfie Stick>
Many Thanks to all participants who have been under strict Lockdown during the time of the workshops, communicating with each other over Zoom. The materials were delivered to each house door as if by art Asda and later picked up again, for the clay to be fired and all objects to be photographed and filmed. Thanks also to Seonaid Murray, Outreach Officer, Moon Base Projects, The Black Box, Zara Lyness, Lead Artist, Catherine Devlin, Photographer and Videographer and Moran Been-noon, Curator and Video Editor.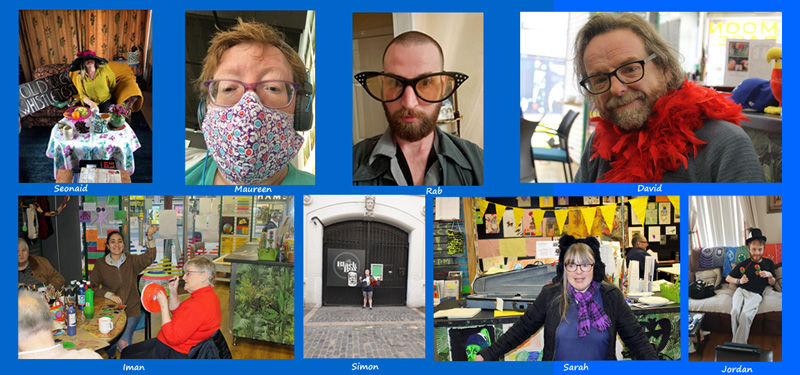 Participants and volunteers, staff
Maureen
'My name is Maureen, and I am a photographer. I have obtained a GCSE in Art very late in life having left school thinking I had no artistic talent eventually taking up photography as therapy. I spent about 10 years looking after my elderly mother who is now in a care home. Now I live in a fold.'

Jordan
'My name is Jordan and I like listening to music and going to concerts. I have a few games consoles which I enjoy playing, and I also enjoy singing.'
Simon/Moon Rock
My 'Moon Name' is 'Moon Rock! Hello, my name is Simon, I like Music and films and my favourite Activity is Moon Music! Here is a photo of me standing outside The Black Box!'
Sarah
'My name is Sarah; I like to draw and l like to listen to music.'
Volunteers Quote and Images
Robert
'Robert is a performing artist who struggles to not take life too seriously, and occasionally succeeds. He is extremely interested in discovering new forms of expression through art.'
Iman
'Hi, my name is Iman, and I am the 'European Voluntary service' volunteer from Spain. I like learning about different cultures, languages, art and poetry.'

David
'Hi, I'm David, and I'm a volunteer at Moon Base and it's great to get the chance to create art with the group. I think that's what we're all about.'

Staff Quotes
Seonaid is 'Outreach Officer' for The Moon Base Projects, run by The Black Box, Belfast. Seonaid loves all Art Forms and Creativity of any kind! Painting is her favourite form of visual Art, especially Impressionism! She can't wait to start 'Tangible Selves'!
Moon Base Projects is an umbrella programme for and by people with learning disabilities run by The Black Box with Outreach Officer Seonaid Murray.
The Creating Connections group meet every Tuesday for a range of Arts based workshops and activities. The group have taken part in; Music, Visual Arts, Dancing; Storytelling; Drama; Poetry and more over the last seven years.
Moon Base Projects create a safe, positive environment for people to express themselves through the Arts. Moon Base Group members are encouraged to be as Creative as they want to be, to ask questions; be curious and use their voice!
At the moment all of the Moon Base Projects are taking place online – using Zoom. The group have worked with curator Moran Been-noon previously - Matthew, one of the group members had some of his artwork included in an exhibition at PS² last year called The Question of being at home. Matthew loves to weave, and he created a whole window full of handwoven pieces to build a curtain of colourful wool to hang in the exhibition. Some of the group took part in a dance workshop in PS² as part of the exhibition and our Moon Music group performed some of their original songs at the opening!

Creating Connections are really looking forward to working with Zara, Moran and continuing to collaborate with PS² on this project, Tangible Selves.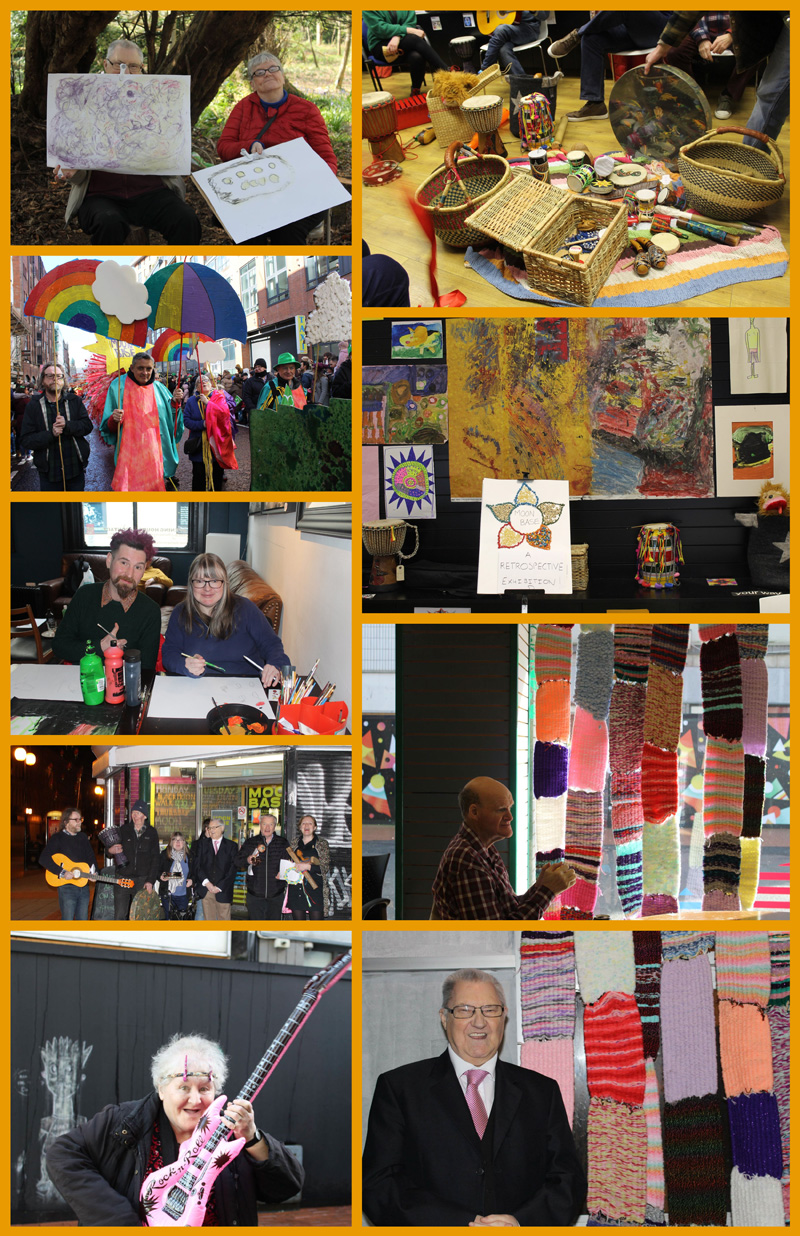 Project images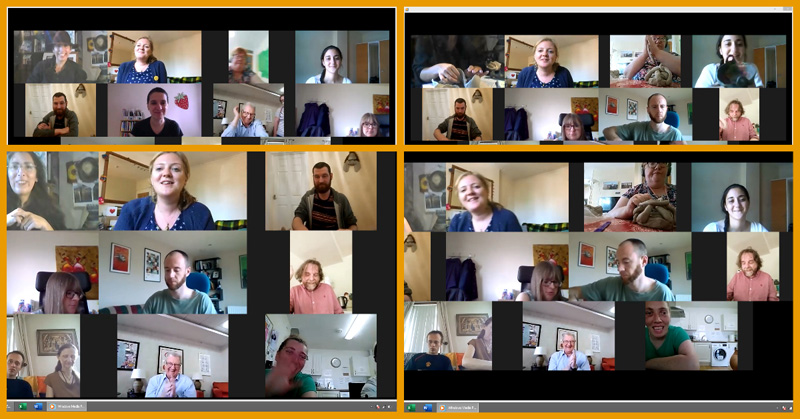 Zoom meeting 15 September with participants, lead artist, curator, volunteers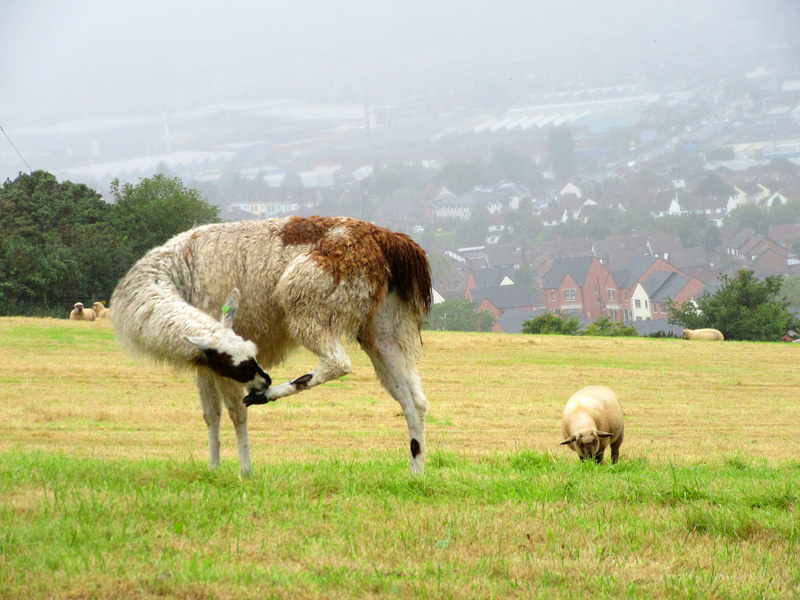 LLama