PS² Freelands Artist Programme 2022-2023
PS² announces the names of the fourth and final cohort of artists who will participate in the PS² Freelands Artist Programme over the next two years
Jacqueline Holt, Susan Hughes, Dorothy Hunter, Tara McGinn and Christopher Steenson. Programme curator 2021-23: Ciara Hickey
Ends 31 December 2023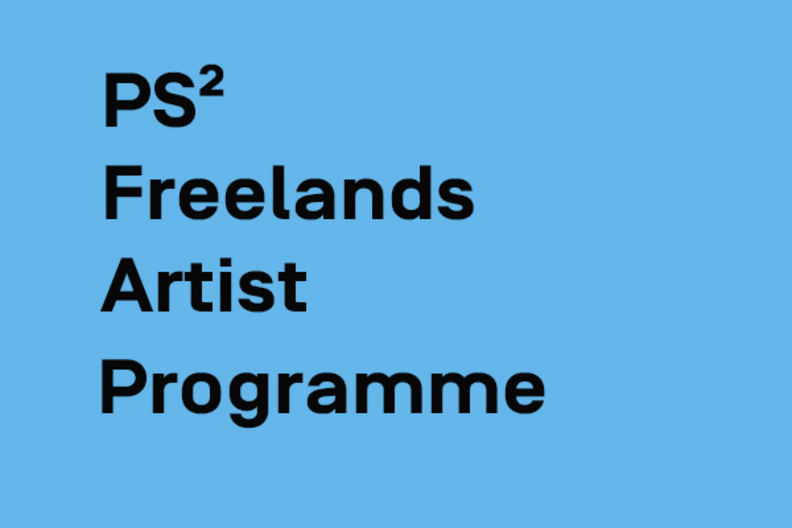 Image credits: (1) Jacqueline Holt- The winter the boiler broke, 2020. Projected photograph from installation of This Moment of Being, PS², Belfast. Image courtesy of the artist; (2) Jacqueline Holt- Clear blue sky, 2018; (3) Susan Hughes- The Dark, 2021. Perspex light box. Photo by Paul Marshall; (4) Susan Hughes- Lost video still, 2021; (5) Dorothy Hunter- damp coolth, 2021. Film still. Image courtesy of the artist; (6) Dorothy Hunter; (7)Tara McGinn- Opening (like a front door made of labia), 2021; (8) Tara McGinn- Detail of: She was in my dream (and then she left again), 2021. Mixed media sculpture. Photograph by Ben Malcolmson; (9) Christopher Steenson- Bird spikes (Connolly Station), 2020. 35mm photograph, image courtesy of the artist. (10) Christopher Steenson- On Chorus, 2020.

The PS² Freelands Artist Programme is an initiative funded by the Freelands Foundation that supports creative and professional development for emerging artists based in Northern Ireland, and fosters long term relationships and collaborations between artists and arts organisations.
PS² is delighted to announce the names of the fourth cohort of artists who will participate in the programme over the next two years:

Jacqueline Holt, Susan Hughes, Dorothy Hunter, Tara McGinn, Christopher Steenson.


A panel including Kate Strain, curator, Ciara Hickey, PS² Freelands Artist Programme Curator and Peter Mutschler, Creative Director of PS², selected the five artists from a recent open call for applications. Their diverse practices represent the exciting and ambitious approaches to art production in Northern Ireland championed by PS².
Their diverse practices represent the exciting and ambitious approaches to art production championed by PS².

During their time on the programme, the five artists will research and develop significant new work. In addition to an annual bursary, each artist will receive ongoing tailored curatorial support; travel budget; research and external mentorship; attendance at two annual symposia; an opportunity to exhibit at PS² and the Freelands Foundation in London; wide network opportunities with the partner organisations and artists and the use of PS²'s equipment and workshop space.

The five artists will join Myrid Carten, Phillip McCrilly, Helouise O'Reilly, Robin Price and Jonathan Ross from the 3rd cohort. Jane Butler, Mitch Conlon, Jasmin Märker, Thomas Wells and BROWN&BRÍ will end their time on the programme this December. The artists from the first cohort Janie Doherty, Michael Hanna, Julie Lovett, Jan McCullough and Emily McFarland ended their stay in the programme in 2020.
To see an overview of the entire PS² Freelands Artist Programme see here.
About the artists

Jacqueline Holt moved to Belfast in 2010 and completed an MFA at the Belfast School of Art in 2012. In 2015, she co-founded AMINI, an artist-led initiative for the promotion and critical discussion of artists' moving image in Northern Ireland. She has exhibited in Belfast, London, Nice and Dublin and was the recipient of a Jerwood Bursary in 2020. Holt had her first solo show in February 2020, This Moment of Being at PS², Belfast. The exhibition was the culmination of her ACES Award, supported by the Arts Council Northern Ireland and in partnership with LUX (London).

Using peripheral and fleeting moments in an effort to capture aspects of life that escape the direct focus of intended production, Jacqueline uses intimacy and closeness as a political stance. Her work questions the legitimacy of the idea of objectivity and the dominant viewpoint as a way of interrogating aspects of practice that are uncomfortable or hidden. She has been working through this process, a sort of psychoanalysis of the conditions of being an artist and enquiring into the existential, egalitarian nature of the moment. Jacqueline works with moving-image, photography and sculpture, using writing as an integral part of her practice and exhibition as a medium to mark a moment in process.
Website
Instagram


Susan Hughes is an artist from Belfast. She is a recent graduate of the MFA programme at the University of Ulster and received graduate awards from the Centre For Contemporary Art (Derry/Londonderry) and Platform Arts (Belfast) and was long listed for the Royal Dublin Society graduate award. She has completed many artist residencies in Ireland and Scandinavia where she has used her traditional fiddle playing as a bartering tool to gain access to local stories.
Susan Hughes' practice centres around the stories of friends and strangers, which lead her down roads of research arriving at the production of artworks in the form of video, installation and sculpture. She and her subjects often describe deeply personal physical sensations through intense encounters with nature. Manufactured materials such as electrical light, digital video and bright perspex are employed as tools to explore and express these natural, yet often psychedelic, sensual experiences. Language is used as a malleable material creating space for the invention of alternative narratives.
Website


Dorothy Hunter is a cross-disciplinary artist, writer and researcher, born in Mid-Ulster and living and working in Belfast. She is a recent graduate of both MA Art in the Contemporary World at NCAD, and MA Art Praxis at the Dutch Art Institute. Exhibitions include Anticipated Fictions; Monumental Configurations at PS Squared, Belfast and 126 Artist-Led Gallery, Galway, The Landis Museum at CCA Derry-Londonderry, and Still (the) Barbarians, EVA International, Limerick. She is currently a co-editor of Critical Bastards magazine and a member of Flax Art Studios, Belfast.
I work across disciplines in my research-led practice, often mixing installation, photography, film, archiving, and writing, in order to explore temporal marking, the political shaping of space, and awkward aftermaths, in-betweens and prior moments. I draw from the increments created in time and the types of temporality or futures that arise from them. Certain narratives and events become visible iterations of ephemeral structures, and perhaps synonymous and/or proxies for other (wider) dynamics. As such, I have worked with changing archives, inherited and concentrating histories, and architectures of information.
Tara McGinn is an interdisciplinary visual artist from Enniscorthy in the Republic of Ireland, based in Belfast, Northern Ireland. She is a co-director at Catalyst Arts and studio member of the Emerging Artist Hub with Flax Studios in the city centre. Selected group exhibitions are the recent Woman in the Machine at VISUAL Carlow 2021, Mex Index screening Displacements 2020 and the upcoming Window Text Series at the CCA in Derry 2021. Solo projects are the recent Nothing Alien is Human To Us at Platform Arts Gallery 2021, Fossa II at Culture Night Wexford 2018 and Words, Werds, Wurds performance at EVO Festival 2017.
McGinn's interdisciplinary practice combines sculptural (re)production, image-based assemblage and writing; developing studio processes to connect, contrast and translate subjects of trauma, memory, identity and space. She responds intuitively to media and embraces the malleability of forms to interrogate meaning and language through storytelling as a layering device. She is developing her emerging writing practice through mentorship informed by reading and research into queer experience, generational trauma, the body as an archive for pain and the impact of political landscapes shaping emotional interiors. While advancing studio-based research in digital media combined with the practical components of her sculptural practice, her intention is to experiment in creating a virtual presence for her work to be disseminated and engaged with in alternative ways through new media.
Website

Christopher Steenson is an artist from Northern Ireland. With a background in psychology and the sonic environment, Steenson's artistic practice began in 2017. Since then he has exhibited his work at national and international levels. Primarily working in the mediums of sound, writing and photography, his artworks often take the form of sound-based public interventions and installations, spanning across boundaries of private and public space.
Christopher Steenson's work forges ways of 'listening to the future', by using field recording, photography and writing as his materials. He is primarily concerned with the shifting elements of our environment, such as declining wildlife populations and the climate crisis, and the entangled role of human activity within these changes.


Steenson's most-recent works have focused on noise pollution and radiospace and their entwined effects on wildlife. His artwork False Detection (2019–21) traces the effects of electromagnetic fields on birdlife, produced by wireless communication infrastructures. One of his most recent projects was On Chorus (2020), a large-scale public sound artwork, made with the support of Iarnród Éireann/Irish Rail. On Chorus highlighted the effects of noise pollution by recording the sounds of the urban spring dawn chorus during the first Covid-19 lockdown and broadcasting these sounds across Ireland, using Iarnród Éireann/Irish Rail's train station PA systems. The artwork used the strategy of networked broadcasting to encourage actions of collective listening, to connect individuals together during times of social distancing.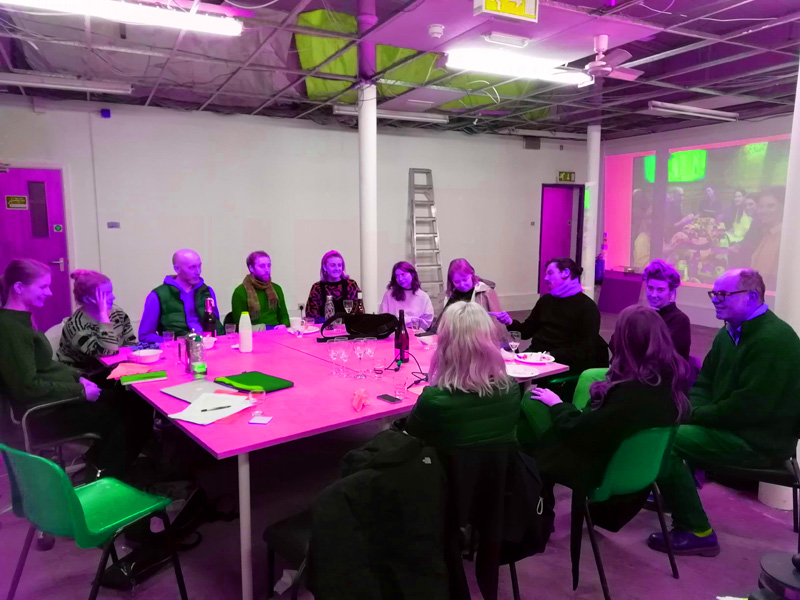 Artist meeting cohort 1 and 2
For general information about the Freelands Artist Programme, the partnering organisations and their selected artists see


About the PS² Freelands Artist Programme Curators
It was important for PS², to put in place a strong curatorial support for the artists, responding to their individual strengths and needs. We devised that role as a 2 yearly rotating position, to keep the momentum fresh and to connect a wider range of curators to the programme, our organisation and Northern Ireland.
Alissa Kleist
was our first curator from 2018 until December 2020.
Ciara Moloney was our second curator from October 2020 until April 2021.
Ciara Hickey is our current curator from May 2021 until December 2023.
About the Freelands Artist Programme
The Freelands Artist Programme supports and enhances collaboration between 80 emerging artists and four arts organisations from across the UK in order to build and strengthen professional arts practice outside of London. As with all the Freelands Foundation's initiatives to date, the programme was established following extensive research into the current landscape of post-university support for emerging artists in the UK.
The Freelands Foundation provides funding totalling £1.5 million to four UK organisations over a five-year period. Alongside PS² in Belfast, Northern Ireland, the other partner organisations taking part include Site Gallery in Sheffield, England; g39 in Cardiff, Wales, and Talbot Rice Gallery in Edinburgh, Scotland. Each institution curates a series of two-year programmes with five artists annually, allowing those artists to receive much needed support across both creative and professional development.